Russia has many enemies – but its actions in Syria may have contributed to events in St Petersburg
Russia's intervention in Syria and Chechnya has led to threats from groups such as Isis, although responsibility for the St Petersburg attack has yet to be established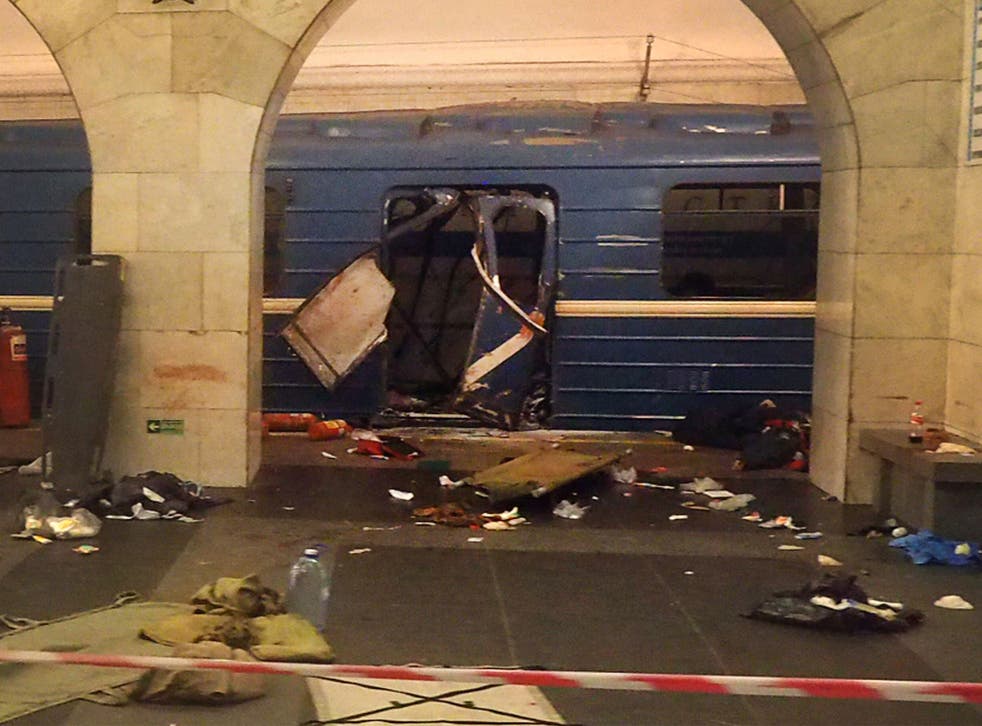 The Russian government was careful in the hours after the murderous attack on St Petersburg's underground system. Vladimir Putin's spokesman said the "cause was being ascertained" while Andrei Przhezdomsky, the head of the country's anti-terrorist committee, stated it was an "an unidentified explosive device". The prosecutor-general added later that it "was a terrorist act".
There is little doubt that that what took place was an act of terrorism. Isis will no doubt claim "credit" as it does routinely with all similar atrocities. But it remains unclear for the time being which of Russia's many enemies were responsible for the carnage.
Rail facilities have been hit in Russia before. Thirty-eight people died in a double suicide bombing on the Moscow metro in 2010. Another explosion, the previous year, claimed 27 lives and injured another 130 on the Nevsky Express from Moscow to St Petersburg. The first attack was initially claimed by far-right nationalists and then by Islamists, calling themselves the "Caucasian Mujaheddin", who were fighting the Kremlin in former Soviet central Asian republics. The group are also believed to have been responsible for the 2010 metro bombing.

Large numbers of Islamists from the Caucasus had gone to join in Syria's bloody civil war. One of the most effective military chiefs of Isis, who played a key role in the group's initial successes there and in Iraq, was Abu Omar al-Shishani, of Chechen and Georgian background, who was killed in a US air strike in Iraq last July. President Putin raised the threat of them returning to carry out attacks in Russia as one of the reasons for military intervention in the conflict two years ago.
Russia has also been accused of lethal covert action to counter the Islamists. A series of killings had taken place across the Syrian border, in Turkey, of men from former Soviet central Asia. The 12 victims have been Chechens, Uzbeks and Tajiks with their exiled communities accusing Moscow of orchestrating the assassinations.
St. Petersburg metro blast

Show all 5
Isis and Jabhat al-Nusra, the al-Qaeda affiliate in Syria, have repeatedly declared they will take jihad to Russia. But they were not, allegedly, the only ones making threats. In 2012, in the run-up to the Sochi Winter Olympics, Prince Bandar bin Sultan, the then head of Saudi intelligence, supposedly told Mr Putin that Chechen Islamists would be activated to carry out attacks in Russia unless the Kremlin stopped its support for Assad. The Prince was rebuffed by a furious Russian President, and soon afterwards Prince Bandar was relieved of the Syria brief by the Saudi King.
There is, of course, no evidence of Saudi involvement in any attack on Russia, but the Syrian factor may have played a part in what happened in St Petersburg. Ordering in his warplanes, President Putin had stressed that "more than 2,000 fighters from Russia and ex-Soviet republics are in the territory of Syria. There is a threat of their return to us. So, instead of waiting for their return, we are better off fighting them on Syrian territory." The blast today could be a reminder that the fight cannot always take place in another country.
Register for free to continue reading
Registration is a free and easy way to support our truly independent journalism
By registering, you will also enjoy limited access to Premium articles, exclusive newsletters, commenting, and virtual events with our leading journalists
Already have an account? sign in
Register for free to continue reading
Registration is a free and easy way to support our truly independent journalism
By registering, you will also enjoy limited access to Premium articles, exclusive newsletters, commenting, and virtual events with our leading journalists
Already have an account? sign in