Sadiq Khan is Labour's only remaining hope of surviving Brexit
Both Corbynite Labour and the Tories appear to have a nostalgic view of a Britain of the past they wish to return us to: in Labour's case, the 1950s – with a Venezuelan twist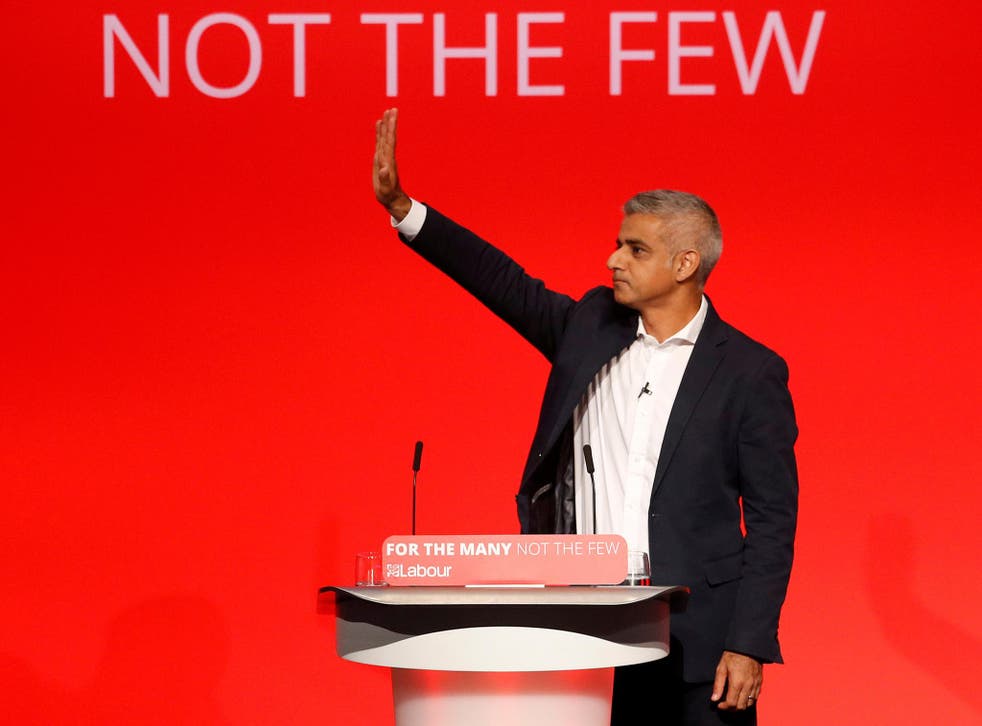 I have been pondering Sadiq Khan's suggestion that Labour may back a second referendum on Brexit, which was then acknowledged by Labour's election chief Andrew Gwynne who refused to rule this out. While it makes perfect sense not to rule any option out at this stage of the Brexit negotiations, I wondered what this might mean for the future of the Labour Party.
Is it a coincidence that Khan's statement comes just two days after a BMG poll found that 57 per cent of people felt that none of the present shadow front bench could fill Corbyn's shoes? And of the list of candidates put forward, Mr Khan ranked highest at 12 per cent?
Whilst Corbyn's achievements cannot be denied, and should in fact be congratulated, the similarities between the problems plaguing our two main political parties are clear. Divided factions between the moderate and extremists in their parties; no consensus approach on Brexit; leaders that garner divided loyalties within the parties and in their supporters in the country...
Then there are the whips and bullying tactics, both trying to germinate magic money trees and acrimonious (and biased) reporting by their respective supporting tabloid press. Both appear to have a nostalgic view of a Britain of the past they wish to return us to; in Labour's case, the 1950s – with a Venezuelan twist.
UK news in pictures

Show all 50
No one can know what will happen at the end of the Brexit negotiation process, but it is far too early to take any option off the table – whether that be remaining in the single market or having a second referendum.
Personally, I am not enthusiastic about a second referendum as it would be discordant and too binary. As a representative democracy, I believe our representatives – namely, MPs – should be doing their job, scrutinising and voting on the deal at the end of negotiations and before EU ratification.
As Mayor of London, where 28 council areas voted Remain and just five voted Leave, it is understandable that Khan would fight for the city and people whose interest he was elected to promote. But we should also be pleased to see a politician of conviction who will stand up and talk about the biggest issue of our times, while others at conference appear to have been either bullied into not discussing Brexit, or are spreading fake news.
Sadiq Khan hints Labour may back second EU referendum
Not allowing debate in order to avoid having to spell out your plans or defend your position, is an intellectually weak and cowardly position. It makes a mockery of Labour Party democracy.
Debating crucial issues about the NHS and social care, education, housing, the economy and pensions, are all intertwined with Brexit, and the final deal Britain manages to negotiate. Instead, falsehoods about EU law preventing public control of rail, utilities and other areas of the economy are being peddled by party leaders. This is simply not the case, and they are using political tactics to fundamentally misrepresent the facts in pursuit of their own agenda.
It is a matter of fact that EU law does not prevent a mixed economy model, which is self-evident if you look at the models many other EU member states adopt – not to mention that many of the UK's utilities are owned by other EU state-owned / controlled companies. These falsehoods must be confronted by competent politicians with integrity – such as Sadiq Khan, Heidi Alexander and Jess Phillips.
In 90 seconds: Labour Party conference highlights
Whether Khan or any other Labour politician is seeking to put themselves forward to fill Corbyn's shoes, if the electorate turns its back on a much more leftist Labour before the 2022 (or possibly earlier) general election, there is a much more fundamental point.
Britain and our democracy is damaged by a cultish Labour Party and a conference dogged by claims of racism, misogyny, bullying: by the fact that a professional political reporter needs a security detail to walk around a conference where attendees are registered and security checked.
We may rightly blame the Tory Party for the mess they are making in executing Brexit and other policy U-turns, but the Labour Party in opposition is not blameless. British democracy has always depended on a strong opposition as an essential component of a robust, well-functioning democratic infrastructure.
The opposition is there to improve parliamentary decision making, ensure debate, accountability and transparency, as well as a scrutiny of legislation and budgetary proposals. When they are failing in this duty, it falls to individuals to take up the baton and exercise their civic duty to provide opposition.
It is not just about having all eyes on being the Government of the day. Those who say a political party has no power unless it is elected underestimate the role of opposition parties.
We must also remember that at the last election, with the Tory party at its best and the Labour Party supposedly at its best, Labour did not win. So, Sadiq Khan and others may be very wise to test the leadership water before a storm hits.
Gina Miller is the founder of the True and Fair Foundation and led the legal challenge against the Government over the right of Parliament to issue Article 50
Register for free to continue reading
Registration is a free and easy way to support our truly independent journalism
By registering, you will also enjoy limited access to Premium articles, exclusive newsletters, commenting, and virtual events with our leading journalists
Already have an account? sign in
Join our new commenting forum
Join thought-provoking conversations, follow other Independent readers and see their replies