Sadiq Khan's victory: a triumph for a tolerant, open and diverse world city
The Mayor of London is the most important directly elected office in the country, but it is the symbolism of electing the Muslim son of an immigrant bus driver that is most striking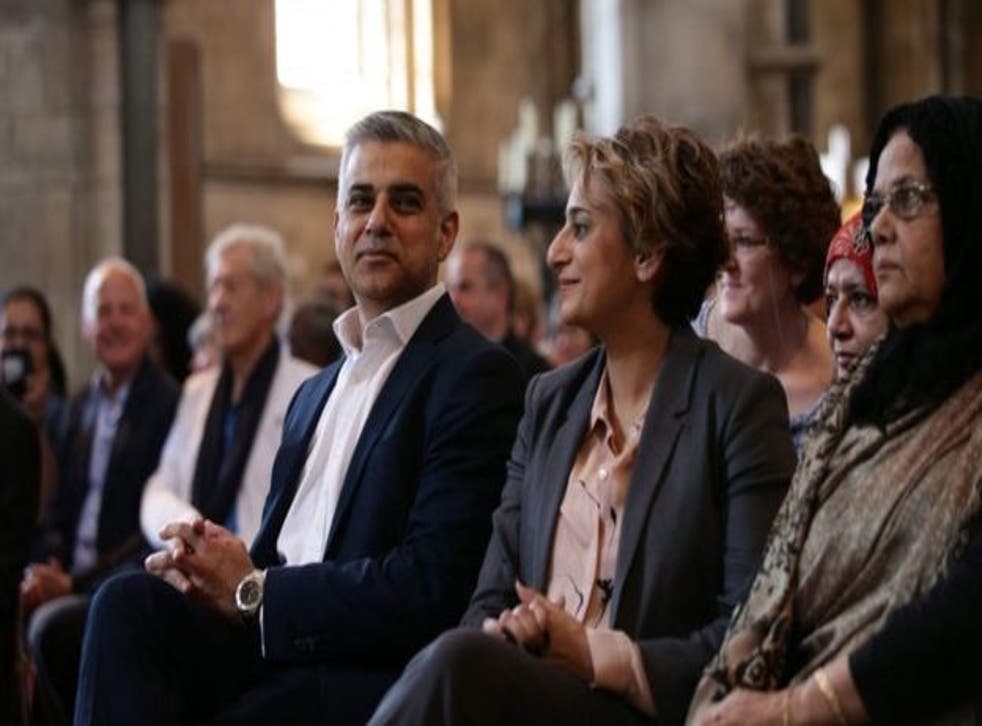 It is customary to deride gesture politics, but there are some symbolic gestures that are well worthwhile. Not that the election of Sadiq Khan by the emphatic margin of 57 to 43 per cent is purely symbolic. The powers of the London Mayor may be limited, but his is still the most powerful directly elected office in the country. Yet it is for the symbolism of electing the Muslim son of an immigrant bus driver that Mr Khan's victory is most striking.
It is significant because Londoners so resoundingly rejected a campaign that seemed designed to appeal to anti-Muslim prejudice. Democracy does not always eschew the baser motives, but this time Zac Goldsmith tried to make a coded connection between "Muslim" and "terrorist" and the voters of London told him to get lost.
Not only that, but they did so on a turnout sharply higher than four years ago – a welcome rebuttal of pre-election gloom about voter apathy and a promising indicator for the EU referendum vote next month.
Now that the election is over, Michael Fallon, the Defence Secretary, has come out to say that he thinks London is "safe" under Mr Khan as Mayor, and that we should not take too seriously things that might have been said in the "rough and tumble" of the campaign. This confirms that Mr Goldsmith's campaign was not only disreputable but that most decent Conservatives knew it.
Either Mr Goldsmith cynically sought to trade on Islamophobia, or he was too weak to stop others doing so on his behalf. Whichever is the explanation, it does not suggest that he was well suited to the office to which he aspired.
The campaign reflected badly on Crosby Textor, the consultancy set up by Sir Lynton Crosby, the director of the Conservative campaign in 2015. Although Sir Lynton was not involved in the mayoral election, his company worked on Mr Goldsmith's campaign, and it was unfortunate, therefore, that he should have received his honour from Prince Philip on Friday.
Mr Khan, on the other hand, ran a good, confident campaign and deserved to prevail. His victory was a triumph not just for the values of tolerance and openness but for social justice, as he stood, more emphatically than his opponent, for spreading the benefits of London's prosperity to all its citizens.
Even the votes for the minor candidates were encouraging for the values for which The Independent stands. In third place, with 6 per cent of the vote, was Sian Berry of the Green Party, followed by Caroline Pidgeon of the Liberal Democrats on 5 per cent and Roger Whittle of Ukip on 4 per cent. We are not convinced that the Green Party is ready to wield power – its experience running the council in Brighton tends to confirm this – but, again, the symbolism of a first-preference vote for the environment is still valuable.
As for Ms Pidgeon, her creditable showing was part of a modest nationwide revival of Lib Dem fortunes. For those who believe in liberalism and pluralism, this is welcome. What is more, she won more votes than the Ukip candidate. A while ago Suzanne Evans of Ukip said that the party did not do well in London because its voters are too well-educated. Her assessment was accurate, but possibly did not reflect as well on her cause as she thought it did.
Also positive was that the Women's Equality Party, founded only last year, secured 2 per cent of the vote, more than George Galloway of Respect, and more than the two candidates at the unpleasant end of the anti-immigration spectrum, Britain First and the British National Party, put together.
But the day, and the next four years, belong to Mr Khan. Important as the symbolism of his election is, what really matters now is that he delivers on his promises to improve the quality of life, particularly for Londoners on lower incomes. London has been a great success story as an open and dynamic world city in the past two decades. Let us hope that success can continue, and can be shared more widely.
Register for free to continue reading
Registration is a free and easy way to support our truly independent journalism
By registering, you will also enjoy limited access to Premium articles, exclusive newsletters, commenting, and virtual events with our leading journalists
Already have an account? sign in
Register for free to continue reading
Registration is a free and easy way to support our truly independent journalism
By registering, you will also enjoy limited access to Premium articles, exclusive newsletters, commenting, and virtual events with our leading journalists
Already have an account? sign in
Join our new commenting forum
Join thought-provoking conversations, follow other Independent readers and see their replies