From Sarah McBride to Ritchie Torres, the LGBTQ election winners who prove Trump was wrong about America
The ruby-red state of Oklahoma voted in the first Black, Muslim, non-binary state legislator in the country, proving that minority LGBTQ candidates can gain traction in traditionally conservative areas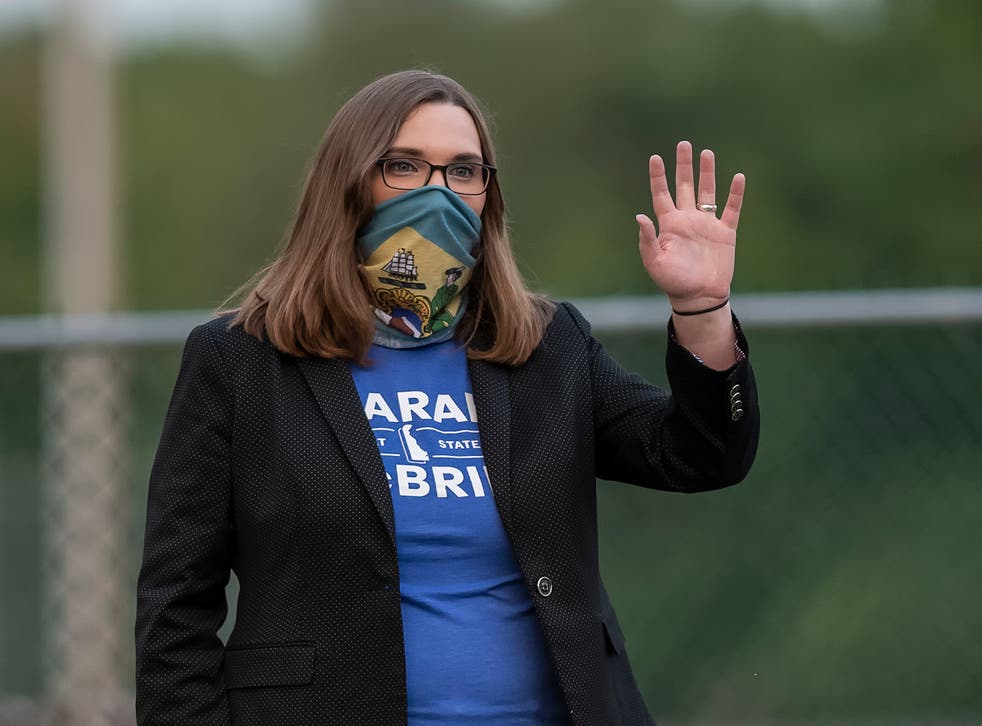 As the world waits for resolution on the 2020 presidential campaign following yet another grueling election night full of uncertainty, I took some hope in the future based on the extraordinary results of LGBTQ candidates across the country. In the midst of the most anti-LGBTQ White House in modern history, queer leaders fought back by getting on the ballot and proving we belong not only in the public square but leading it. When the 117th Congress convenes in January, it will include 11 openly LGBTQ-identifying leaders, the most ever. But that's just the tip of the iceberg. At every level, LGBTQ people made history on Tuesday night, powerfully rebuking the division that Donald Trump and Mike Pence have attempted to foment over four years of hateful actions and rhetoric.
In New York, Ritchie Torres and Mondaire Jones became the first openly gay Black men elected to Congress, and Torres is the first openly gay Afro-Latino man so elected. They join nine other openly LGBTQ House colleagues, including Rep. Sharice Davids, who won reelection in her Kansas district by nearly double digits. Davids became the first openly gay Native American— and one of the first Native Americans — to be elected to Congress in 2018, doing so in a district that had been GOP-held for a decade prior. Even on a tough night that saw a number of House Democratic incumbents lose, all seven openly LGBTQ Democrats in the House successfully defended their seats.
But perhaps the brightest moment of the night was when Sarah McBride became the first openly transgender state senator in US history. McBride initially burst on the national scene in 2016 as the first openly trans speaker at a major party convention when she addressed Democrats gathered to nominate Hillary Clinton. After a well-received memoir and four years working as the National Press Secretary for the Human Rights Campaign, her candidacy was welcomed by activists and elected officials alike in her home state of Delaware, where she successfully led legislative efforts to expand LGBTQ rights. On Tuesday evening, the unofficial results had her carrying at least 86 percent of the vote, the second-highest performance of any candidate on the ballot in Delaware, including Joe Biden.
McBride led the charge in a remarkable night for trans and non-binary political candidates. Lisa Bunker of New Hampshire, Gerri Cannon of New Hampshire, and Brianna Titone of Colorado were all reelected to seats in their respective state legislatures. Stephanie Byers of Kansas became the first openly trans Native American state legislator — and likely the first openly trans state legislator of color — in the United States.
Mauree Turner — elected to the Oklahoma State House with over 71 percent of the vote — became the first non-binary state legislator in the United States; they're also Black and Muslim, which makes their victory all the more notable. Turner's victory is especially potent given their constituency is a traditionally ruby-red state. It dismantles the perception that queer candidates, particularly queer candidates of color and those who are religious minorities, can't gain traction in areas perceived by the rest of the country as conservative.
This run of victories for the trans community began with Danica Roem's historic election to the Virginia House of Delegates in 2017. Roem — who constantly focused on transportation issues in her district while campaigning — won over the GOP-held constituency and sailed to reelection last year with a sizable majority of the vote. Once national news, it's becoming more common to see trans and non-binary people run and win for seats in their state legislatures. Tuesday night was further validation of the wave she started.
Overall, this year saw an enormous increase in LGBTQ people running for office and winning. According to the Victory Institute, nearly 600 LGBTQ candidates appeared on general election ballots Tuesday, a 33 percent increase from 2018. This was whittled down through primaries from over 1,000 LGBTQ candidates who filed to run at the beginning of the year, a 29 percent increase from 2018.
It's not surprising. Donald Trump and Mike Pence have made anti-LGBTQ policies a centerpiece of their governing platform. From banning trans people in the military to arguing before the Supreme Court that employers should be permitted to fire employees solely for being LGBTQ, this administration has shown pervasive hostility to citizens based on their sexual orientation and gender identity.
On Tuesday night, many of those same citizens responded by getting elected, something it's not yet clear Trump and Pence were able to accomplish this year themselves.
Register for free to continue reading
Registration is a free and easy way to support our truly independent journalism
By registering, you will also enjoy limited access to Premium articles, exclusive newsletters, commenting, and virtual events with our leading journalists
Already have an account? sign in
Register for free to continue reading
Registration is a free and easy way to support our truly independent journalism
By registering, you will also enjoy limited access to Premium articles, exclusive newsletters, commenting, and virtual events with our leading journalists
Already have an account? sign in
Join our new commenting forum
Join thought-provoking conversations, follow other Independent readers and see their replies