Saudi Arabia: However repellent the regime, its collapse would be worse – we must do what we can to aid reform
The Saudis need to be made aware that if they are to survive, they must mend their ways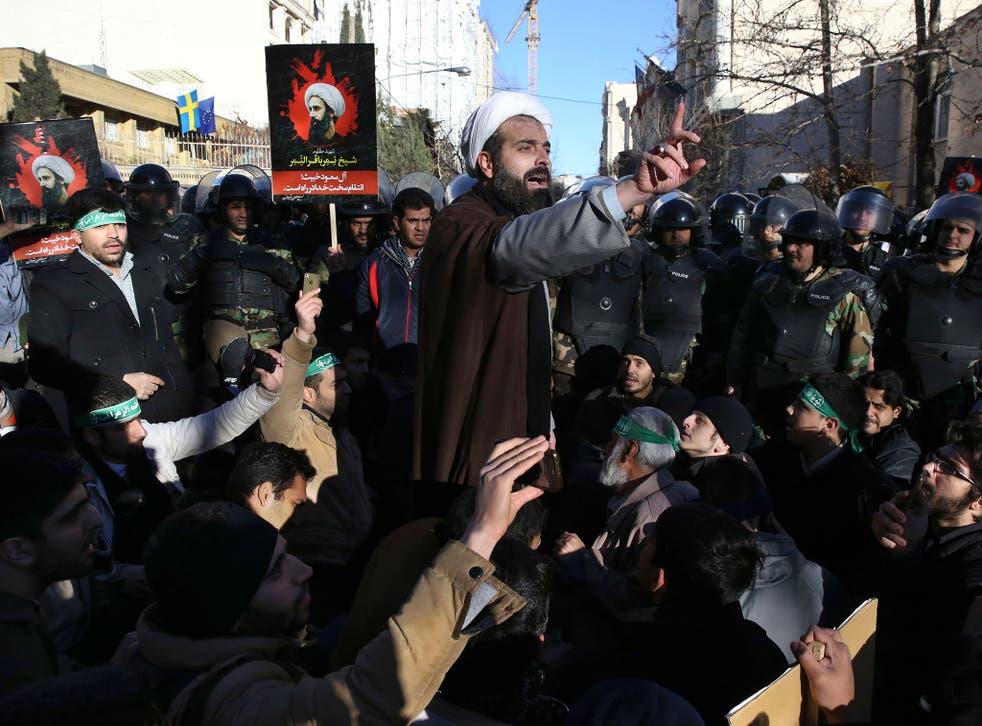 The execution of the Shia Muslim cleric Sheikh Nimr al-Nimr marks another low in relations between the Middle East's two blood enemies, Saudi Arabia and Iran, and another dreaded milestone in a sectarian proxy war that is already raging on too many fronts to be easily contained. The temptation is to say that this is nothing to do with us: that both of these clerical, fundamentalist regimes – violent, vengeful, intolerant, sanctimonious and reminding Europeans of the ugliest phases of our pre-modern history – are equally repellent and we would like as little as possible to do with either of them. Unfortunately, we are deeply enmeshed in both.
Saudi Arabia has bought international legitimacy with its oil wealth, and we have been happy to stand moral surety for the regime as long as the wells kept pumping and the Saudis kept buying our arms. When David Cameron's Government did a deal with the House of Saud, from which its candidate emerged as chairman of the UN Human Rights Council, we didn't know whether to laugh or cry.
The Iranian revolution was a consequence of neocolonialist machinations in the country, for which Britain bore grave responsibility. And the long-term result of the 2003 invasion of Iraq was to put Shias in power in Baghdad, shattering what remained of the Sunni-Shia regional balance. What the 13 years since then have taught us is that, while it is not hard for Western powers to do harm in the Islamic world, it is singularly difficult to do any lasting good. And if that was true in Afghanistan and Iraq, it is equally true of any potential Western role between Sunni and Shia, a sectarian dispute whose roots go back to the age of the Prophet.
Aware of the dire results of recent interventions, the West must tread warily. Yet it is a fact that Saudi Arabia is the source of most of the recent problems between the two sects; and it is Saudi Arabia with which Britain, more than most countries, has leverage.
The latest round of provocations from the Saudis stems from the successful conclusion of talks to limit and monitor Iran's development of its nuclear capacity. The melting of the pack ice between the West and Tehran, in which this agreement was the first and most crucial step, was taken badly in Riyadh, and the ratcheting up of tensions stems from that event. The pitiless war waged by a Saudi-led coalition against Shia Houthi rebels in Yemen is only its most brutal manifestation.
10 examples of Saudi Arabia's human rights abuses

Show all 10
The Riyadh regime is in many ways revolting, but it is not in our interest to see, let alone provoke, the fall of the House of Saud. As custodians of the two holiest mosques, at Mecca and Medina, the Saudis enjoy unique esteem among Muslims. We know from bitter experience in both Iraq and Libya that the downfall of Middle Eastern tyrants leads not to democracy but to chaos; and in Saudi Arabia there is no doubt that both Isis and al-Qaeda hunger for control of the two mosques and the religious prestige that would confer. That is an eventuality it is vital to prevent.
But the Saudis need to be made aware that if they are to survive, they must mend their ways. In particular, the bloody provocations initiated by King Salman since his enthronement one year ago must cease. Britain's decision to cancel its contract to provide a training programme for the kingdom's prisons was a small and belated sign to Riyadh that London was prepared, once in a while and under substantial opposition pressure, to take a stand. We need to see much more of that.
Register for free to continue reading
Registration is a free and easy way to support our truly independent journalism
By registering, you will also enjoy limited access to Premium articles, exclusive newsletters, commenting, and virtual events with our leading journalists
Already have an account? sign in
Join our new commenting forum
Join thought-provoking conversations, follow other Independent readers and see their replies