Banning sausages and bacon from school dinners could save our children's lives – so why aren't we doing it?
Processed meat can lead to cancer, obesity and environmental damage, yet my research showed that 99 per cent of primary school menus still feature it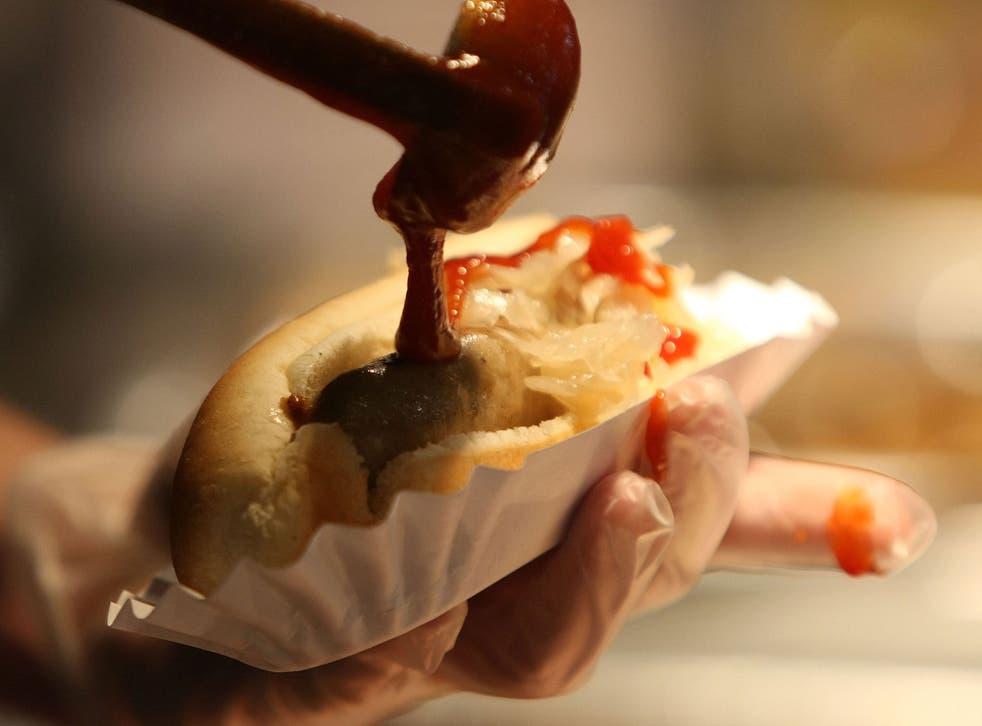 Most of us still remember our school dinners: I was given rubbery sausages and turkey twizzlers. And I'm afraid to report that despite Jamie Oliver's public efforts in the mid-2000s, not a lot has changed. Earlier this year I reviewed every primary school menu across England and Wales, and what I discovered was woefully short of the standard our kids deserve, offering processed red meat on a regular basis.
According to Harvard research released yesterday, women who eat the equivalent of just two or three rashers of bacon a week have a 9 per cent increased risk of breast cancer. This comes after the World Health Organisation (WHO) in 2015 classified processed red meat as a group 1 carcinogen, a cause of cancer in the same category as tobacco and asbestos.
I am a proud parent of a two-year-old daughter, yet there's still only so much I can do at home. Public institutions, particularly schools, need to finally change the food they serve to children in their care.
Jamie Oliver and Hugh Fearnley-Whittingstall call for childhood obesity action
The daily hot meal that schools provide is often a child's main meal of the day, and in some cases their only one. With this in mind we can understand just how crucially important it is that this meal is healthy and nutritious. Yet in our research, we found that 99 per cent of primary school menus still feature some form of processed red meat we know can lead to cancer. This would be a major scandal if it wasn't quite so expected.
We are working with a number of local councils under our new School Plates programme to make primary school menus healthier. Since June, these forward-thinking councils have already together committed to switching about 3.1m meals to meat-free over the next 12 months.
But there is still so much resistance to change. I know bangers and mash and pepperoni on pizzas have long been school-menu staples, but that's hardly reason for them to remain in their current guise. In our experience, young children respond incredibly well to fresh, colourful, vibrant foods and often end up enjoying these the most, not to mention reaping huge benefits down the line.
With extra knowledge and support, councils can quickly and easily introduce menu changes. There is an abundance of healthier alternatives available, packed full of nutrients, vitamins and minerals. These can also save councils money – meat is one of the most expensive food items we buy.
Cancer is not the only health issue at stake here. The WHO regards childhood obesity as one of the most serious health concerns of the 21st century, and in July it was announced that obesity levels in 10 and 11-year-olds in the UK reached their highest point since records began. This is largely preventable with diet and lifestyle and schools playing a crucial role in establishing healthy eating patterns at an early age, which could set all of our children on the road to a healthy and happy future. It's outrageous that educational institutions are encouraging children to eat the very foods we know are so damaging to them.
Unhealthy appetite: Is 'Fatsploitation' fuelling the obesity crisis?

Show all 5
And this is not just about health either. Meat production is one of the leading causes of greenhouse gas emissions, which leads to climate change, and one of the least efficient ways to use our natural resources to feed the planet. It's enormously damaging.
I won't be offering processed red meat to my daughter. I care about her health, wellbeing and the future of the planet she will inherit from me. But individuals aren't enough. Local authorities need to step up and set an example for our children by serving foods that will nourish them to help them grow to reach their full potential – and that doesn't include bacon and sausages.
Together, we can make a huge difference to our future generations. Starting with the food on their plates.
Jimmy Pierson is the UK director of ProVeg International, a global food awareness organisation that works with governments, private companies and public institutions to help the world transition to a more plant-based society
Register for free to continue reading
Registration is a free and easy way to support our truly independent journalism
By registering, you will also enjoy limited access to Premium articles, exclusive newsletters, commenting, and virtual events with our leading journalists
Already have an account? sign in
Join our new commenting forum
Join thought-provoking conversations, follow other Independent readers and see their replies