The parents complaining about strict school rules could do with a lesson or two themselves
At some point in our lives, we have to learn to listen, to accept authority and to face the fact that someone else might know more than we do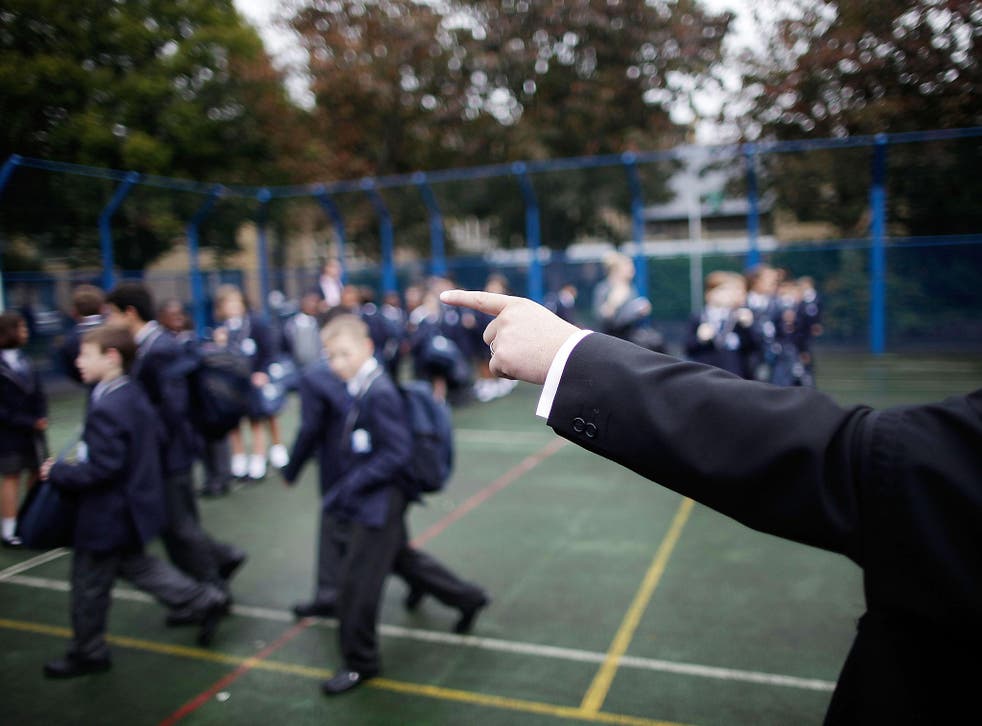 Is Barry Smith a bully or an inspirational leader? Smith must be a glutton for punishment, taking over as head at the worst secondary school in Norfolk, an institution so lacklustre that only one in three pupils managed a GCSE pass in English and maths last year.
Previously, he helped to transform another failing school in north-west London, implementing strict discipline and winning an Ofsted rating of "outstanding". After the Inspiration Trust took over Great Yarmouth High School and renamed it the Charter Academy, pupils and parents were invited to download Smith's new draconian rule book, extending to more than 10 pages. Cue screams of outrage – and that's just the parents.
School for the super-rich open in Grade-1 listed building in Mayfair
Sad, but predictable – in 2017, so many children have been corrupted by the concept of "choice" – which generally means doing exactly what they want, when it suits them. Parents fail to institute boundaries, from bedtimes to polite behaviour – and expect schools to do most of the job of parenting for them. Instead of saying no, parents start a chat about options and rewards.
If my child was going to spend the next five or six years of their lives attending an institution tasked with making them employable, capable of social interaction, responsible citizens, people who appreciate fairness, tolerance and hard work, I'd be pleased if the boss of this establishment (ie the head teacher) had gone to the trouble of laying out guidelines about how the job was going to be carried out.
As Barry Smith has found out, in modern Britain, self-expression rules – and the idea of enforcing please and thank you, not speaking unless spoken to in lessons, and walking between classes in silence facing the front, not pushing and shoving – has caused outrage. A vociferous group of concerned Great Yarmouth parents are moaning on their Facebook page about kids being "upset", claiming that the new regime amounts to "army like (sic) schooling and borderline bullying". I wonder how many of these whingers have jobs and bosses they have to report to?
At some point in our lives (if we want to get work), we have to learn to listen, to accept authority and to face the fact that someone else might know more than we do. Modern parenting seems to offer kids a say in everything from food to bedtime to clothing, so when a school head comes along who dares to ban phones, who insists on silence in class, who expects pupils to sit up straight, not interrupt and look at the teacher when they are speaking, the result is confusion and distress. It's as if the human rights of the young are being threatened!
And yet, if you examine them closely, none of Barry Smith's rules are at all unreasonable or weird – in fact, they read exactly like a description of life in most secondary schools in the UK right up to the 1960s. I don't want to sound like an old grump, but Barry's mantras for the pupils of his Charter Academy precisely sum up the regime in my secondary school in inner London in the late 1950s and early Sixties. When I asked some of my female friends (in their forties and fifties), these were the rules that they had to abide by.
The world's toughest school run

Show all 5
We all sat through school assembly – at my C of E secondary school, Anglicans, Jews, Buddhists and Hindus all sat through a hymn and prayer together at the start of every day. At lunchtime, we filed into a room and ate more or less the same. There were no special prayer meetings, no packed lunches, no veggie options, just more vegetables – in other words the enfeebling, corrupting concept of choice had not been allowed to take root and flourish.
Now, the growing number of religious schools have helped to promote wildly different educational styles – in some, girls as young as five are wearing the hijab, the sexes are segregated and females are treated differently to boys. In some schools, kids wear sloppy sweatshirts, in others, they have opted for smart blazers and ties.
Barry Smith stands accused of being draconian, of turning the clock back, of daring to extend his authority from the school gates into the home – asking that pupils go to bed by 9.30, and get nine hours of uninterrupted sleep, stating that bad behaviour to bus drivers and shop keepers will result in punishment – but what he sets out in his manifesto is a parenting guide for the 21st century. To succeed, Smith will have to extend the school day and teach those rules to the parents.
Join our new commenting forum
Join thought-provoking conversations, follow other Independent readers and see their replies