Seasonal chaos? Pah! I'll still let the train take the strain at Christmas
The fact is that we probably have the rail service that we deserve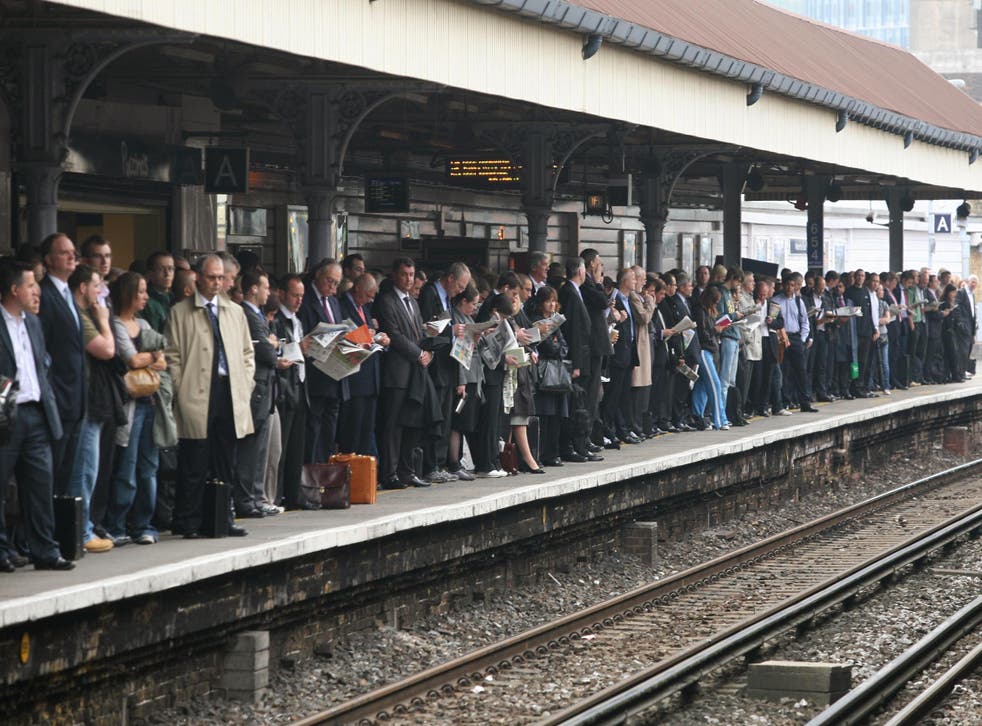 So we can send a man into space, but we can't get anyone to Gatwick. That was the message from the front page of this newspaper yesterday, a picture of Major Tim Peake at the International Space Station juxtaposed with the news that train services to Britain's two biggest airports are going to be suspended for up to 10 days over the Christmas break. It's a good job that very few people want to fly away at this time of year.
At this point, you may be preparing yourself for a rant, against the iniquities of an ill-conceived privatisation programme, or about the dunderheads who have decided to close important rail lines at the very time when people need them the most. You'd be mistaken. It's true that privatisation has created an unequal rail system for Britain – there's a world of difference in the experience you might have on Great Western (bad) or Southern (not quite so bad) from that on Chiltern Railways (excellent) – but my own impression of modern-day train travel is largely positive.
This may be because I am old enough to remember how things used to be, when, for instance, there was a maximum of one train every hour between London and Manchester, and the journey took a shade less than three hours. Now, the trains are almost as regular as a 94 London bus, and it's a two-hour trip in relative comfort.
The popularity of train travel would suggest, however, that I am not alone in my opinion: as Simon Calder pointed out in these pages yesterday, passenger numbers have doubled in the past 20 years to more than 1.6 billion every year.
The fact is that we probably have the rail service that we deserve. This is a small island with too many people concentrated in one or two areas, and trying to service the huge amount of commuter traffic in comfort and efficiency is probably an unrealistic ambition. Nevertheless (and I stress that this is largely based on anecdotal evidence) the daily unending, unendurable misery that was once experienced by most London commuters has abated somewhat.
My own experience as a commuter was earlier this year, when I used the Chiltern line from Oxfordshire to Marylebone, and I couldn't have been more impressed with the service. The trains were invariably on time, I always got a seat, and there was the added benefit of watching the beautiful Chiltern countryside roll by while you knew that traffic would be nose to tail on the M40. "Let the train take the strain." It couldn't have been a more apt slogan.
All this said, you'd need to be missing the empathy gene not to feel the pain of those who will attempt to head off from Heathrow or Gatwick this Christmas. At least they know where they are, so to speak. They've had plenty of warning, as Network Rail is keen to avoid the catastrophic problems travellers suffered last year when engineering works finished late and people were left stranded on the Saturday after Christmas.
So spare a thought, too, for those trying to make sense of our in-demand rail network. It's not like they have to send a rocket more than 220 miles into orbit to dock with a craft which itself is travelling at 17,000mph. It's a much more difficult job than that.
Register for free to continue reading
Registration is a free and easy way to support our truly independent journalism
By registering, you will also enjoy limited access to Premium articles, exclusive newsletters, commenting, and virtual events with our leading journalists
Already have an account? sign in
Register for free to continue reading
Registration is a free and easy way to support our truly independent journalism
By registering, you will also enjoy limited access to Premium articles, exclusive newsletters, commenting, and virtual events with our leading journalists
Already have an account? sign in
Join our new commenting forum
Join thought-provoking conversations, follow other Independent readers and see their replies