I'm allergic to secondary schools – but now I have to send my son to one, I've realised how much things have changed
'They get detention if they talk during meditation!', I've heard amid the chatter. Meditation? We'd get sent to the headmaster at my school if we were caught meditating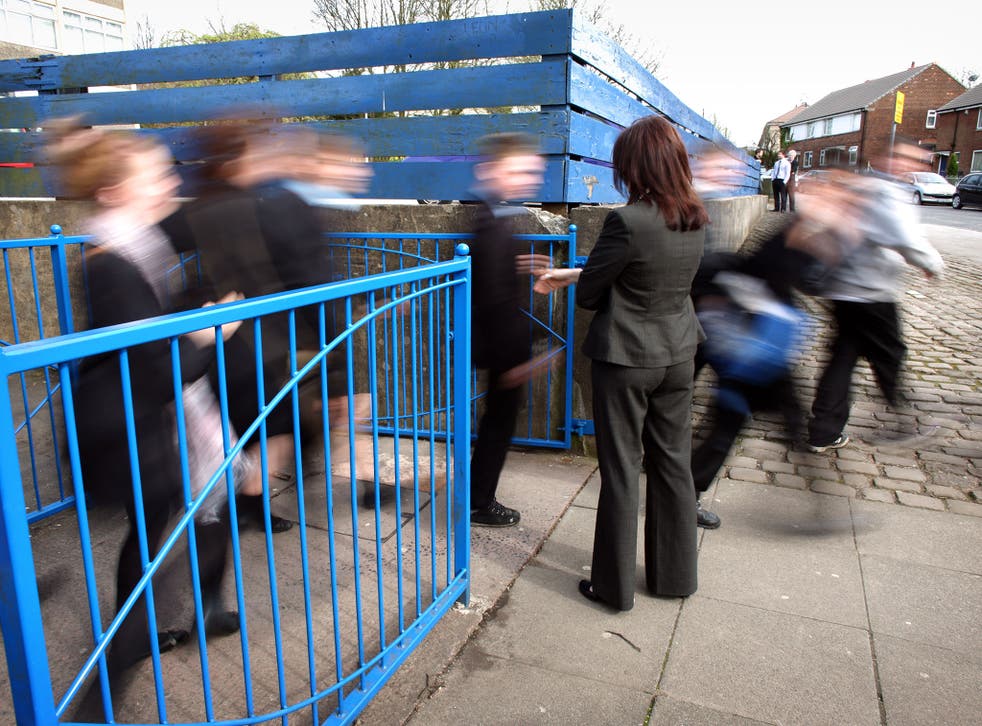 I have a phobia. Not a normal one like spiders or heights, or people who say "haitch" instead of "aitch". I have a phobia of secondary schools.
Soon, by law, I will have to send my son to one. I can hardly home educate, can I? My strengths are putting down drunk hecklers and upcycling dolls' houses. Neither much use during a physics GCSE exam.
My own leap from primary school to secondary was traumatic. How could it not be? Over the course of the summer, you go from being among the eldest in your school to being a tiny tiddler. Aged just 11, you are suddenly in a place with actual, professional teenagers charging down the corridors as you shuffle along carrying a rucksack which is somehow bigger than you are.
Undiagnosed dyslexia and various chaos at home meant that once out of the cosy primary bubble, I was all at sea. The 30 most academic children were creamed off the top of the 200-strong year group. They were put in a special class where they got to learn Latin. Seeing as I wrote backwards and thought that you could eat pi, I was put in the lower sets where the emphasis was on typing and cookery. I might mention that I am typing this using two fingers while periodically spooning hummus into my mouth from the tub.
The most expensive schools in the world

Show all 10
I was marked as a "no-hoper" at the age of 11. Thank goodness for Asterix books – at least they exposed me to a little Latin.
So disengaged was I at school that I once sat through an entire class discussion about euthanasia thinking we were discussing young people in India and Pakistan.
This was the Eighties, of course. Our culture, and our schools, have moved forward since then. And I have to face my phobia.
Now I have joined the huddle of parents fervently discussing their school options. Things seem to have changed a lot from when I was freezing in shorts, miserably shuffling about a freezing field with a hockey stick.
"They get detention if they talk during meditation!", I've heard amid the chatter. Meditation? We'd get sent to the headmaster at my school if we were caught meditating.
My son goes to a primary school in our leafy London suburb. I was the bingo caller at a school fundraiser recently. I made up all my own calls: "They're tutoring their kids, you didn't hear it from me... 53. The catchment area includes the council estate... 88."
No one can blame parents for trying to get what they believe is the best education for their child. Some sacrifice time with their children so they can put in more work hours to afford private school. Others move away for smaller class sizes or grammar school. Horses for courses and all that, but don't come crying to me when, at the end of an expensive education, your child decides to change his or her name to Pickle Starlight and live up a tree, or when you become so lonely and isolated (because you've moved) that you have to join the local satanist group for a bit of company.
High school students freak out when Barack Obama surprises them to give message of encouragement
The ones who really baffle me are those who fake belief in God to get into a faith school. If that God turns out to be real, he's gonna fry you: "You have the cheek to show your face when you've only pretended to believe in me? Well, you've got what you wanted – your son's a lawyer but you, sugar-tits, are going to hell!"
I understand the lure of a good public school. They have really got the hang of instilling high expectations: "You, boy, are a skilled negotiator – I expect at the very least Foreign Secretary; perhaps even Prime Minister."
At my school, the careers advisor would have said: "You're very good with people, aren't you? May I suggest receptionist at the Wimbledon dogs?"
Who wouldn't want the skill of sounding utterly confident and authoritative even when you're talking tosh? Happily, by allowing us to see their real-time thoughts, social media has to an extent, removed the Wizard of Oz-type curtain away from those who use their posh prattle to belittle or intimidate those of us who are state school educated.
Us "potted plants", as Tory contender Jacob Rees-Mogg once tenderly called non-Oxbridge types, have to teach our own children that these people are not better than you, they don't deserve more than you and, if they have been stuffed in a boarding school at the age of eight, probably need a gigantic cuddle. Forget all that "hug a hoodie" nonsense – if you really want to change the world, spoon a toff, give them love. You never know when you'll need them to get you out of prison.
Register for free to continue reading
Registration is a free and easy way to support our truly independent journalism
By registering, you will also enjoy limited access to Premium articles, exclusive newsletters, commenting, and virtual events with our leading journalists
Already have an account? sign in
Join our new commenting forum
Join thought-provoking conversations, follow other Independent readers and see their replies