Shaker Aamer released: Another prisoner let out. Another empty promise on torture
The Government promises to end a barbaric practice, but it's taking an age to acknowledge how complicit the UK is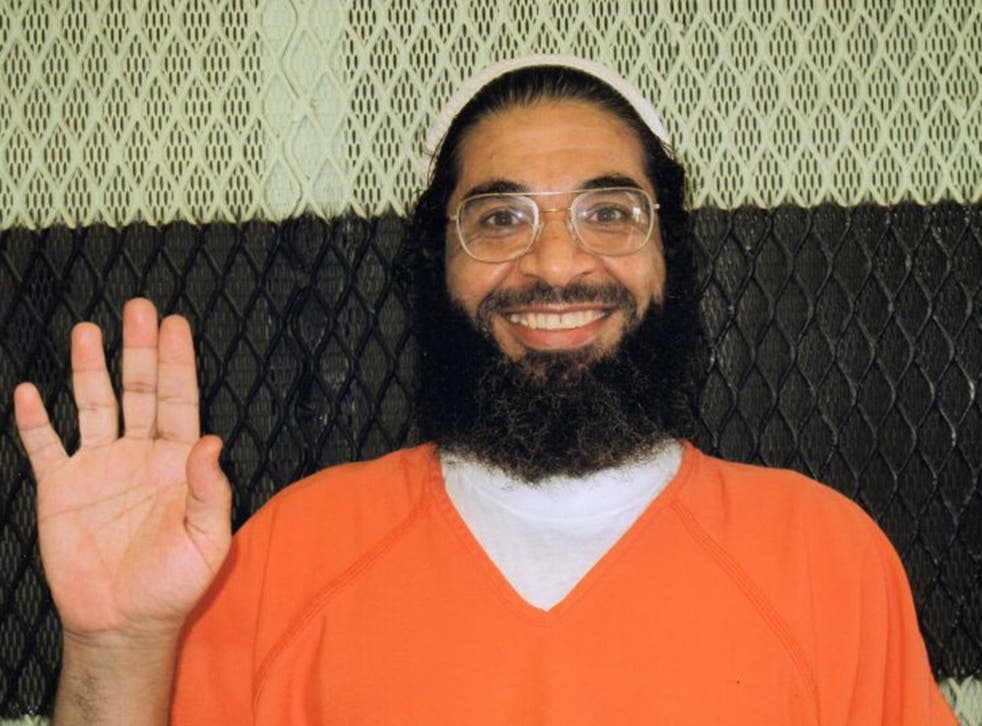 Let's begin with the strongest justification that supporters of torture can offer. Just before the bomb was set to explode, word came through from Saudi Arabia – where interrogators were reportedly torturing an al-Qaeda suspect – that the device could be found inside a printer cartridge aboard a plane at East Midlands Airport. When it was located, the bomb was only 17 minutes away from detonating.
It was one of two devices designed to bring down two US aircraft in mid-flight in 2010. The information was transmitted so swiftly from Riyadh to Derby because two British secret service agents were said to be on the spot – not inside the interrogation chamber, but nearby, suggesting questions to the interrogators and analysing the answers. This is the incident to which David Cameron was presumably referring when he said earlier this year Britain's relationship with the Saudis had saved hundreds of lives.
Such practices are about to be thrust into the spotlight once again with the release of the final British detainee from Guantanamo Bay. Shaker Aamer claims that during his 13 years of detention without trial, he encountered torture used routinely by US intelligence and its allies – and that British agents were complicit in it. Such torture, he claims, produced the discredited information linking Saddam Hussein with al-Qaeda that was used to justify the Iraq war. That is one of the practical arguments against torture; it can produce false as well as real confessions – not ideal when facing a ticking time bomb.
No one denies that some fairly unspeakable acts have taken place. A report by US senators into CIA interrogation techniques unveiled waterboarding, sleep deprivation, shackling, cold showers, diet and temperature manipulation, something called "rectal rehydration", and even the use of mock executions.
Torture is routine among the secret police of many US allies. The Saudis cane suspects on their palms and soles, suspend them by their arms, administer mind-altering drugs and deny them sleep. In Pakistan, another former Guantanamo detainee, Binyam Mohamed, claims he was tortured in CIA custody, again with the knowledge of the British security services.
Kenya's counter-terrorism unit, the ATPU, is said to use similar techniques. The man who went on to kill Fusilier Lee Rigby near Woolwich barracks in 2013, Michael Adebolajo, said he was beaten and threatened with electrocution and rape during his detention in Kenya in 2010. British MPs on the Intelligence and Security Committee adjudged that British agents had been negligent in not investigating the ATPU which "has a close working relationship with HM government".
In the face of all this, British political rhetoric is tough. The Prime Minister said in 2010: "Let us be clear: torture is wrong. Torture is always wrong. Those of us who want to see a safer, more secure world, who want to see this extremism defeated, won't succeed if we lose our moral authority."
But if the rhetoric is robust, the actions are less so. David Cameron has set up two inquiries into the issue. The first, under a former appeal court judge Sir Peter Gibson, was told in 2010 to determine whether British politicians or agents had been complicit in the "rendition" of terror suspects to countries using torture. It was supposed to report within 12 months, but two years later it was scrapped, with the Government citing complex legal reasons. Earlier this year, an inquiry into the Adebolajo allegations was announced, under another former Lord Justice of Appeal, Sir Mark Waller, but nothing has been heard of that.
In the light of all this, many will be unimpressed by the declaration on Thursday from the new chairman of the Intelligence and Security Committee, Dominic Grieve QC, that a substantial inquiry into UK involvement in torture is "our longer-term priority".
So, why the gap between words and action here? The "ticking time bomb" justification for torture can seem persuasive. Behind the scenes many agree with the argument advanced by no less a figure than the one-time great defender of civil liberties, the Harvard law professor Alan Dershowitz. After the 9/11 terrorist attacks on the United States, he argued that non-lethal torture should be legal, within limits. Needles thrust under the fingernails of suspects should be sterilised, the great jurist suggested, and only after warrants issued by a judge.
An ethicist would describe this realpolitik argument as consequentialist. We are judging the rightness of an action by looking at its consequences and asking whether, on balance, it does more harm than good. Ironically, terrorism – with its destruction of human life and civic peace in the name of some "greater good" – is the ultimate consequentialism. It exposes the power of the counter-argument which insists that some actions are just plain right or wrong in themselves. Resorting to torture cheapens the civilisation we claim to be seeking to defend. It undermines the very values for which we are fighting.
Politicians understand this. They want to maintain the moral high ground which allows them to criticise other nations when they fall short. But in practice, British governments appear prepared to turn a blind eye to the failings of our own side. They do not like it when the veil is lifted, as it was by the former head of the Government's legal service, Paul Jenkins, who revealed last week that Cameron had reacted with "intense irritation" to the new ministerial code underlining politicians' overarching duty to comply with international law.
Our secret service seems less squeamish. The former head of MI5, Sir John Sawers, has publicly insisted that torture does produce "useful information" and can be "effective in the short term". He rejected the accusation that the activities of British intelligence had helped to radicalise Michael Adebolajo and the hostage-murderer Mohammed Emwazi (dubbed Jihadi John on some media). Keeping this country safe from terrorism, Sawers argued, "means you have to build strong relationships sometimes with regimes you don't always agree with".
Of course, torture is "utterly unlawful, totally repugnant, and contrary to our national practices", he added. The ambivalence of our ruling classes is clear. They are wrong. Torture is not acceptable in any circumstances. It is always wrong.
Paul Vallely is visiting professor in public ethics at University of Chester
Register for free to continue reading
Registration is a free and easy way to support our truly independent journalism
By registering, you will also enjoy limited access to Premium articles, exclusive newsletters, commenting, and virtual events with our leading journalists
Already have an account? sign in
Register for free to continue reading
Registration is a free and easy way to support our truly independent journalism
By registering, you will also enjoy limited access to Premium articles, exclusive newsletters, commenting, and virtual events with our leading journalists
Already have an account? sign in
Join our new commenting forum
Join thought-provoking conversations, follow other Independent readers and see their replies