Don't call social services just because I refuse to overload my children with Christmas presents
Come and visit me with a card your kid has drawn and we'll drink together and have a laugh. That's much more useful than a hamster that dances when you clap your hands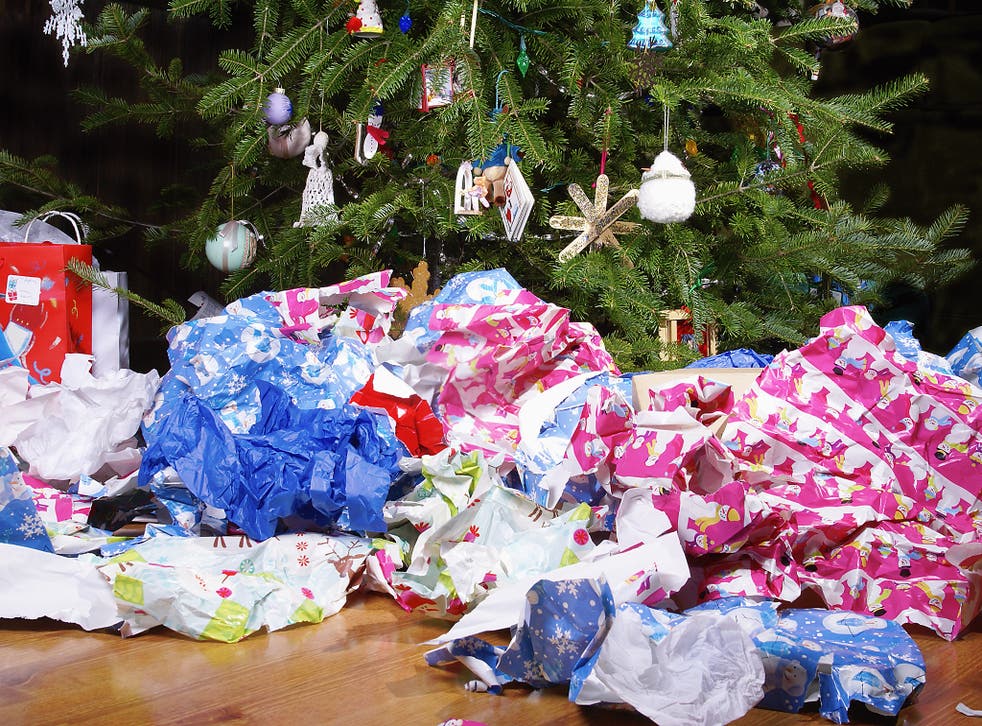 I never had Christmas presents growing up.
Don't feel sorry for me. I didn't know any different. I was given money, a fiver usually, at the spring equinox celebration Norooz instead. It's an ancient Iranian/Zoroastrian thing. We celebrate the first day of spring. Kids get money and we all jump over fire.
Take away the health and safety nightmare, and it's really a delightful festival.
MSNBC trolls Trump with a montage of Obama wishing everyone a 'Merry Christmas'
The thing I did miss out on was the Christmas tree. What I would have given to have one of those gaudy, prickly wonders in our house! But my immigrant parents didn't get it: "You want to bring a tree into the house? Why? The are trees in the garden. Go and decorate them."
I'll never understand why my atheist parents were happy for me to go carol singing, worship the baby Jesus at school and make a tinsel halo, but drew the line at hauling a Norwegian fir tree up the stairs to our little flat. They had moved to a Christian country, for goodness sake. If they had integrated fully and bought me baubles, Brexit might never have happened.
The Christmas presents palaver didn't really touch me until I was a grown up, having relationships with English men whose families now felt obligated to buy me Christmas presents. I got a call from a boyfriend: "My nan's in Marks and Spencer's. She's in a flap and doesn't know what to get you for Christmas."
I didn't know what to say. A 75-year-old woman I had never met was in a flap in Marks and Spencer's in Nottingham because of me.
Christmas 2016 around the world: in pictures

Show all 14
"Nothing," I said, "Please tell her not to go to any trouble." There was an irritable sigh and an explanation that she had to buy me something as I was spending Christmas Day with them and "she'd be upset if she didn't have anything for you".
I thought of things she could get me from Marks and Sparks which weren't too expensive. A side of salmon, a batch of croissants.
"A nightie!" I cried in panic.
I got several nighties that year. One from his nan, one from his mum, another from his sister and one from their neighbour who also popped in on Christmas Day and hadn't wanted to leave me out.
If anyone needs a now vintage Marks and Spencer's nightie, let me know. I've kept them all in mint condition. I've always preferred pyjamas, anyway.
When I had my first child, piles of plastic stuff wrapped in jolly paper snaked up to the ceiling. I realised I'd been an outsider to the traditional "magical" Christmas which seemed to mean children bombing it down the stairs and savagely ripping open boxes of future landfill.
Partners had seemed so appalled by the fact that I hadn't been given Christmas presents that I overdid Christmas for fear of being accused of negligence towards my own children.
I stayed up until 3am, wild-eyed and covered in glitter, swearing at football tables I tried to put together and wrapping hexagonal boxes of bastard chocolate. At 6am, when the children padded down to see the mountain Santa had brought, I was a grumpy, growling grinch. I had filled the house with STUFF. I bought magic sets and board games. I bought slinkies and pots of slime. I bought little things that came in gigantic boxes, designed to briefly bring wonder and awe until they were opened to reveal some nonsense that could have fit into a sandwich bag.
Not anymore. I've had it with the utterly useless clutter Christmas brings.
Don't call social services, Santa will still stop at our door. I will do "the magic". I'll fake footprints in the snow with shoes borrowed from a big-footed neighbour. I'll do mince pies and carrots for Rudolph. I am not a monster. I just won't do "stuff". I won't make a pile of presents the main event.
The best crop of presents I ever got was for my 40th, when I asked all gifts to be second-hand or handmade. It's a great way to get your friends to give you the vase they have which you've always admired, or to make you a playlist of songs they know you will love. You'll get some eye-watering attempts at adult craftwork, but that's part of the charm.
I applied that to Christmas, too. Come and visit me with a card your kid has drawn and we'll drink together and have a laugh. That's much more useful than a hamster that dances when you clap your hands.
The one thing I do go absolutely to town on, though, is trees. You will find a Christmas tree drenched in baubles in every room in my house. That little chip on my shoulder will always be filled with glitter.
Register for free to continue reading
Registration is a free and easy way to support our truly independent journalism
By registering, you will also enjoy limited access to Premium articles, exclusive newsletters, commenting, and virtual events with our leading journalists
Already have an account? sign in
Register for free to continue reading
Registration is a free and easy way to support our truly independent journalism
By registering, you will also enjoy limited access to Premium articles, exclusive newsletters, commenting, and virtual events with our leading journalists
Already have an account? sign in
Join our new commenting forum
Join thought-provoking conversations, follow other Independent readers and see their replies