Single sex or co-ed? Why don't more schools try a bit of both
It is now fairly indisputable that girls do better academically at single-sex schools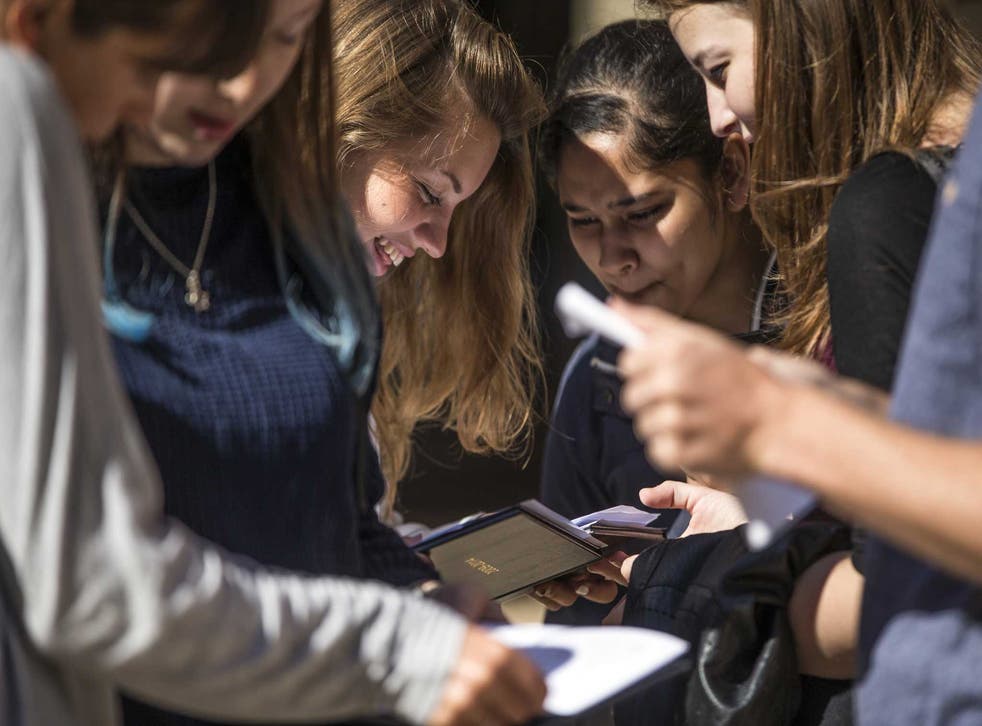 In his 1873 bestseller, Sex in Education, Or a Fair Chance for the Girls, Edward H Clarke laid out his arguments for single-sex schooling. Among other things, the American academic and doctor explained that if girls were subjected to the rigours of studying alongside boys while having their period, they could damage their reproductive organs irreparably.
Things have moved on since then, a bit. There is still a tendency when discussing single-sex schools to deal in stereotypes and gender waffle. Even the arguments for it tend to cast girls as easily distracted flibbertigibbets or delicate flowers who can only truly blossom in the chemistry lab if there aren't any noisy, naughty boys around, poking fun at their safety goggles and looking up their lab coats.
The arguments against it largely revolve around the false idea that when girls leave school – after seven chaste, happy years of never clapping eyes on a male their own age – they will get the shock of their lives when they enter the real world, which is full of the spotty brutes. Earlier this month, Richard Cairns, head of Brighton College, helpfully mansplained that girls from single-sex schools are at a "huge disadvantage" if they don't learn to "socialise with the opposite sex" before the age of 18. He may have confused schools with convents.
One matter that is now fairly indisputable is that girls educated at all-girls schools do better academically than those at mixed schools. Research published yesterday by SchoolDash showed that, in single-sex state schools, the proportion of girls getting five good GCSEs was 75 per cent, dropping to 55 per cent in mixed schools. Even when skewing factors – single-sex schools tend to be grammars; co-ed schools have a greater proportion of pupils from poorer backgrounds – are taken into account, the results still show that pupils at all-girls schools have a clear advantage. They are also more likely to study traditionally male-dominated subjects such as maths and science. Boys gained much less advantage from single-sex education.
My own schooling was mixed, with classes taught separately until GCSE options, but with a fully mixed sixth form and co-ed extra-curricular activities. It suited me very well; perhaps more schools should try it.
Certainly, the SchoolDash research suggests that some schools are serving girls far better than others. The next step must be to work out exactly why that is, identify what it is that they're doing better – not least encouraging girls to study every subject, whether traditionally "male" or not – and roll it out to all schools.
A step back for diversity
Who better, really, to play Michael Jackson than Joseph Alberic Twisleton-Wykeham-Fiennes – a quintessentially English actor best known for playing William Shakespeare and Robert Dudley, Earl of Leicester? Fiennes will play the King of Pop in a new film based on the urban legend which holds that, in the wake of the 9/11 attacks, Jackson, Elizabeth Taylor and Marlon Brando fled to Ohio in a rented car.
It's one way to draw attention to your new opus, I suppose, announcing a piece of racially dubious casting at the time of the biggest diversity row Hollywood has ever seen. At the risk of being "racist to white people", this is pure provocation.
In 2014, 73.1 per cent of characters in the top 100 films were white. There is already an unholy trend for casting dark-haired white actors as Syrians, pharaohs and any other characters casting directors think they can just about get away with. If white actors are now willing to play black characters, diversity might as well pack its bags and go back to waitressing on Sunset Strip.
"He was probably closer to my colour than his original colour," Fiennes said. Oh that's OK then, Joe. As you were. I look forward to your Martin Luther King.
Saints preserve us, they're back!
The 1990s have never been more now. The cast of Friends has announced a sort of reunion, Point Break is back in cinemas and there's a new series of Cold Feet filming. This week, All Saints – hooray! – announced that they were getting back together, while Kula Shaker – wait, what? – have sold out London's Roundhouse next month.
It's the done thing to moan about comebacks, to huff about nostalgia and declare one's fears about damaged legacies and so on, while secretly feeling old and glad that it's now OK to have "Pure Shores" on your playlist again. How can the band that never quite left your iPod be reuniting already?
I am mainly thrilled about All Saints, having spent my GCSE years wearing combat pants and droning the opening to "Never Ever" at every house party. There is one piece of cultural excavation, though, which crosses the line: Top Gun 2, which was all but announced this week. Tom Cruise back on screen looking younger than Maverick did in 1986 is the last thing anyone wants.
Register for free to continue reading
Registration is a free and easy way to support our truly independent journalism
By registering, you will also enjoy limited access to Premium articles, exclusive newsletters, commenting, and virtual events with our leading journalists
Already have an account? sign in
Register for free to continue reading
Registration is a free and easy way to support our truly independent journalism
By registering, you will also enjoy limited access to Premium articles, exclusive newsletters, commenting, and virtual events with our leading journalists
Already have an account? sign in
Join our new commenting forum
Join thought-provoking conversations, follow other Independent readers and see their replies