Taking money from the NHS isn't going to solve the crisis in social care
If a social worker knows a vulnerable person is safe in a hospital bed, they have an incentive not to raid their community care budget even though that would save money overall and improve the person's quality of life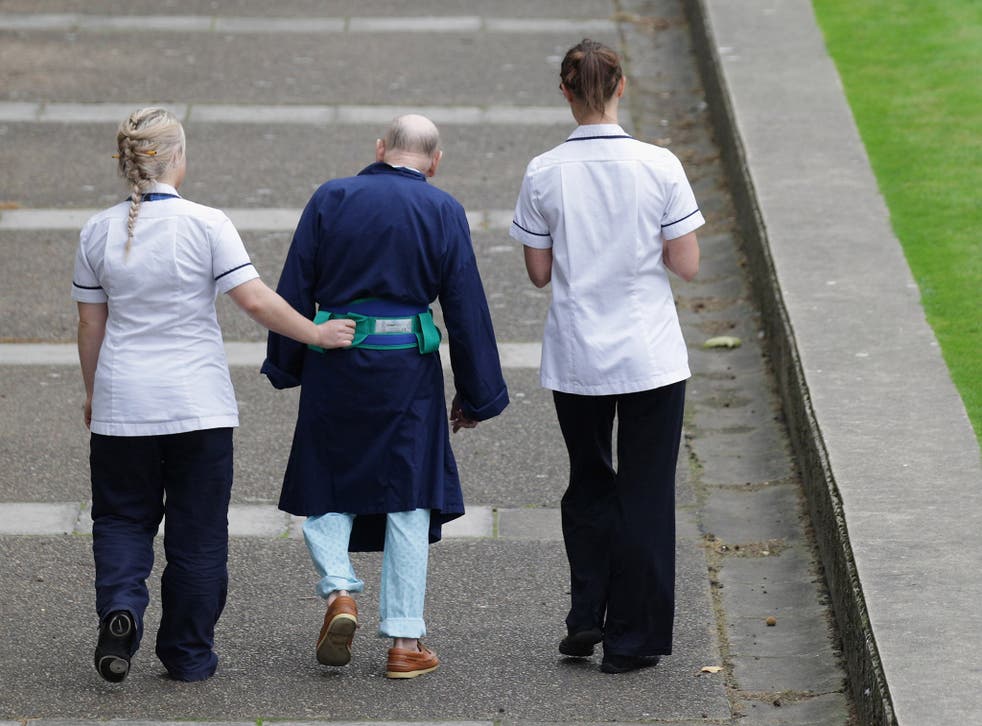 When the woman asked how long it would be before care services were in place to allow her mother to return home from hospital, the social worker replied: "How long is a piece of string? She'll need someone else stopping having a carer before she can."
The story, told to the helpline of the charity Independent Age, is happening hundreds of times a day across the country. Social care is approaching a "tipping point," according to the Care Quality Commission (CQC) regulator. That would be bad enough, but it is not the end of it. The creaking system now threatens to blow off course the five-year NHS plan, under which the service in England will receive £8bn of extra government money and make £22bn of efficiency savings by 2020.
Successive governments have made headline-grabbing announcements of an extra billion or two for health while quietly cutting the less glamorous social care provided by local authorities. Naturally, they have been happy for councils to take the blame. But robbing Peter to pay Paul is now making Paul poorer.
According to Age UK, the number of people aged 65 or over in England not receiving the social care they need has risen to a new high of 1.2 million – one in eight – up by a staggering 48 per cent since 2010. Some privately-run care homes no longer accept council-funded residents because local authorities cannot afford the higher fees for those who pay their own way. Declining care in the community means the elderly are more likely to end up in accident and emergency departments. Once admitted to hospital, they often cannot be sent home because they would not get enough support. Bed blocking is at record levels – even before winter sets in.
There are some projects to integrate health and social care, which should provide the "win, win" of improved care and saving money. But things are moving slowly; the two services still work largely on parallel lines and with separate budgets. There are not enough financial incentives to collaborate. If a social worker knows a vulnerable person is safe in a hospital bed, they have an incentive not to raid their community care budget even though that would save money overall and improve the person's quality of life.
"It is the economics of the madhouse," said Joe Anderson, the Mayor of Liverpool, who plans a referendum on a 10 per cent rise in council tax in 2018. Local authorities are allowed to increase the local tax by 2 per cent for social care, but in Liverpool this year that did not cover the cost of paying carers the National Living Wage. The amount spent on adult social care in the city has fallen from £222m to £152m a year since 2010, despite the rising elderly population.
When Philip Hammond sifted through the mountain of bids for money ahead of next Wednesday's Autumn Statement, he will have found an unusual degree of unanimity. As well as the CQC, NHS trusts, NHS managers and the Local Government Association have all highlighted the problems engulfing social care. Conservatives, including Sarah Wollaston, who chairs the Health Select Committee, have joined MPs in other parties in calling for the sector to be given priority because its problems are now hurting the NHS.
World news in pictures

Show all 50
Three health charities – the Health Foundation, King's Fund and Nuffield Trust – found that social care faces a £1.9bn funding gap next year. Even Simon Stevens, chief executive of NHS England, admits that social care should take priority. The word in Whitehall is that Jeremy Hunt, the Health Secretary, and Sajid Javid, the Communities Secretary, who is responsible for local government, are sympathetic.
These people can't all be wrong. Of course, those working in the field sometimes cry wolf, but it is obvious that this crisis is real.
Switching money from the health budget is not going to work. The NHS is already struggling to stick to its five-year budget and to deliver much-needed "parity of esteem" for mental health. A new source of revenue is needed.
With opposition parties posing little threat, Theresa May could live up to her promises of reform and to tackle "burning injustice" by providing money upfront to encourage health and social care to integrate, paving the way for an eventual merger. It would ensure that her government is not defined only by leaving the EU, a fate she wants to avoid. Sadly, with the public finances taking a massive hit from Brexit, the most we can probably expect from Hammond is another sticking plaster.
Join our new commenting forum
Join thought-provoking conversations, follow other Independent readers and see their replies