The Independent's journalism is supported by our readers. When you purchase through links on our site, we may earn commission.
Social justice warriors angry with Chris Gayle for flirting with a reporter should remember Maria Sharapova did it first
Having watched the video, I felt pretty let down with the hype; it was like Star Wars all over again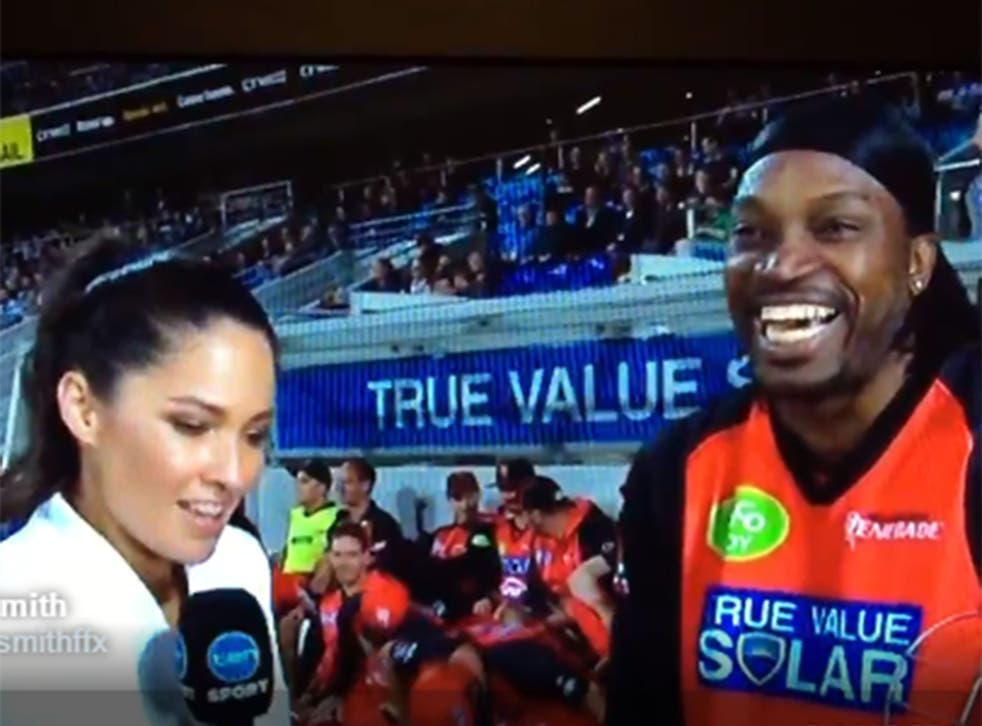 Poor Chris Gayle has become the latest sacrificial lamb for social justice warriors.
The cricketer, described as "the greatest West Indian player of his generation", was being interviewed by an attractive female presenter – wait, can I say that? - when he decided to take a chance on love. In an impulsive moment he asked her for a drink, and, as it became obvious she wasn't interested in said drink, he quickly added, "Don't blush, baby."
Had you read about this moment in the news, you would have expected to see something far juicier from the footage. Across the Twittersphere, a load of humourless people condoned Gayle as "pathetic" and "disrespectful". Someone even called his failed romantic attempt sexual harassment.
Chris Gayle flirts with interviewer live on air
Having watched the video, I felt pretty let down with the hype; it was like Star Wars all over again. The clip is – after all - 16 seconds of nothing. In fact, it almost makes me feel sorry for Gayle. Clearly bowled over by the interviewer's beauty, he splutters the invitation out like a nervous schoolboy. And as she frowns at him, and he responds "Don't blush, baby", you sense that it's actually him who's shrivelling up inside.
It makes me want to give him a big hug, and gently say: "Don't worry, Chris, there's plenty more fish in the sea!"
Anyway, my condolences hardly matter because Gayle has thrown a huge metaphorical cricket ball at the moralist mob. Let's face it, they were probably bored over Christmas, with nothing but Downton Abbey and the Strictly Come Dancing final to whinge about. Now they have fresh meat to chew over in the shape of a not-all-that-clever sports star: the new poster boy for sexism.
But, come on, we all know that asking someone on a date is not a crime – otherwise there'd be no such thing as procreation. Equally, calling someone "baby" is not sexual harassment. Bloody hell, has anyone ever been to Leeds? You can't get on a bus without someone calling you "love", and they all seem pretty happy.
Daytime TV controversies

Show all 15
Describing Gayle as sexist is even more ridiculous given the ease with which female sport stars flirt. In January 2014, Maria Sharapova took a shine to an Australian presenter, saying to him on television: "You have so much good self-esteem when you speak, it's really nice", before adding, "I was just admiring your form".
Even though "You have so much good self esteem" makes her sound like Borat, you don't hear her being ticked off for sexual harassment – which, I'd like to add, is a very serious offence.
Gayle has been hounded by commentators, who have accused him of using his social entitlement as a male to prey on presenters – but women get away with complimenting men all the time. If anyone's milking their social entitlement in the flirtation stakes this time around, it's women.
Register for free to continue reading
Registration is a free and easy way to support our truly independent journalism
By registering, you will also enjoy limited access to Premium articles, exclusive newsletters, commenting, and virtual events with our leading journalists
Already have an account? sign in
Register for free to continue reading
Registration is a free and easy way to support our truly independent journalism
By registering, you will also enjoy limited access to Premium articles, exclusive newsletters, commenting, and virtual events with our leading journalists
Already have an account? sign in
Join our new commenting forum
Join thought-provoking conversations, follow other Independent readers and see their replies