Sorry Angela Merkel, but after 10 years it's time for you to go
Europe's most influential leader finds herself facing a crisis that may spell the end of her Chancellorship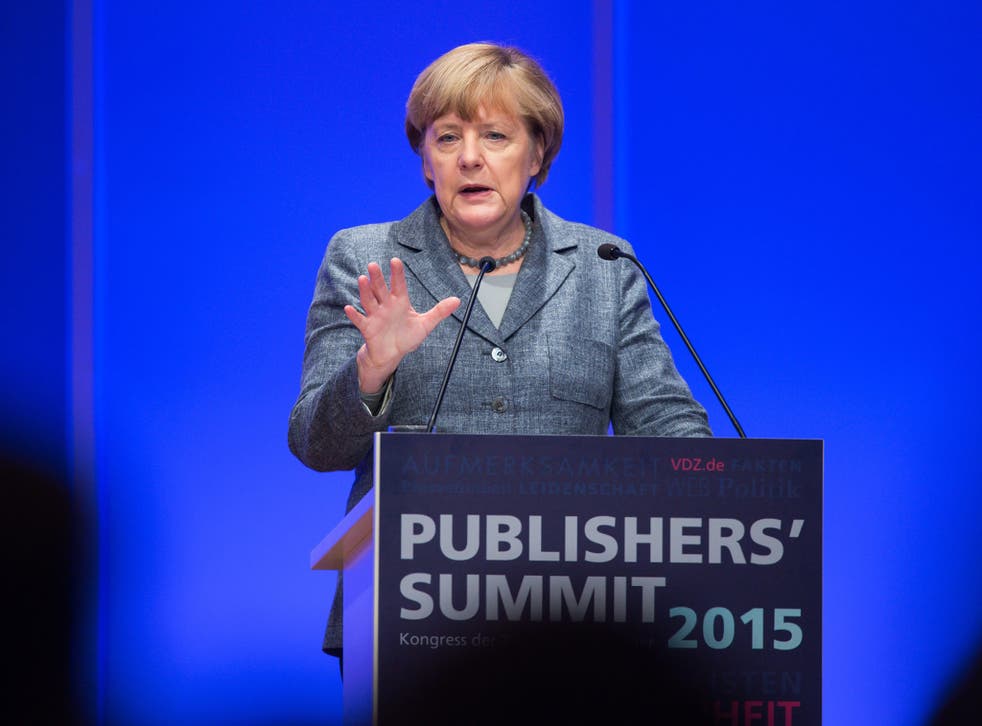 What is it about the rule of 10? Ten years at the top in European politics seems to be more than enough and Angela Merkel, who celebrates a decade as Chancellor of Germany this autumn, is finding this out fast. Suddenly, instead of barking orders to Europe, she is begging other states to share the burden of her emotional response to the migrant crisis.
Europe's most influential nation grows ever closer to matricide as her stance on the crisis sees her increasingly ostracized. Repudiated by her coalition partners, by German business and trade unions who say they cannot integrate the new arrivals into the economy and by local councils who say they do not have the housing space, herposition is precarious.
The crisis in Germany may well become to Merkel what the poll tax was to Margaret Thatcher – the moment when a previously dominant leader totters on the a unshakeable plinth. Merkel may now be entering the Auf Wiedersehen zone, as history has shown that there is no dominant European leader who has gone beyond ten years in office without the situation turning sour.
Take Merkel's own mentor, Helmut Kohl. At the end of his decade of power in the early 1990s, he reigned supreme. Kohl had presided over the end of Sovietism, his nation's reunification, strong economic growth with a decent helping of social justice and the birth of serious green politics.
And then it all just collapsed. The costs of unification were massive, requiring heavy new taxes on West Germans. Kohl became embroiled in accusations of illicit party fund-raising, which in many countries would have led to arrest and prosecution.
He had no answer to the conflict in the Balkans and his young protégé, Angela Merkel, started to criticize her boss publicly. In the space of a couple of years, Kohl moved from dominance to detritus and was easily beaten by Gerhard Schröder in the 1998 election.
This rule of ten applies elsewhere. A decade after the celebrated General de Gaulle took power in France in 1958, the country was described infamously as just being "bored" by Le Monde. A few weeks later, the civil unrest of May 1968 exploded. De Gaulle's inept handling of the revolt led to his departure in 1969 after a referendum he initiated calling for constitutional reforms was defeated.
François Mitterrand, also had a good first ten years, but his last period in office, up to 1995, was a disaster. France has now changed the rules to make French presidential terms five years long each, but no one genuinely believes that a future French president can possibly stay in power for more than a decade.
Spain's most successful Prime Minister, Felipe Gonzalez, had ten glorious years of modernization post-1982, but he insisted on continuing. After a great decade, his last years in power were marred by secret death squads and ever-increasing levels of party political corruption. That issue still plagues Spain to this day.
Soaring above them all is Margaret Thatcher who had ten domineering years after entering No 10 in 1979 but lost had power wrestled away from her as she tried to go on and on.
So if there is an iron law of European politics, it is for leaders to take the door marked exit as the ten-year rule completes its cycle. That is why David Cameron was wise to announce he would not stay on beyond 2020 just as Tony Blair was smart to get out on the tenth anniversary of winning the 1997 election.
Mrs. Merkel may think she can buck the "rule of ten" and be perpetually successful and of course, all rules are made to be broken. If she insists on beating Konrad Adenauer's 14 year term in office or outdoing Helmut Kohl's 16 years (and thus staying as Chancellor until 2021), she may be able to sit like a latter-day Queen Victoria. But the precedents aren't pretty.
If Mrs. Merkel believes she is indispensable and goes on into a second decade of power, perpare for disappointment. It has already begun as the dramatic and generous move to offer shelter to two or million refugees has so sour, so quickly.
Denis MacShane is a former Minister of Europe and a writer on European policy and politics. His latest book is Brexit: How Britain Will Leave Europe (IB Tauris)
Register for free to continue reading
Registration is a free and easy way to support our truly independent journalism
By registering, you will also enjoy limited access to Premium articles, exclusive newsletters, commenting, and virtual events with our leading journalists
Already have an account? sign in
Register for free to continue reading
Registration is a free and easy way to support our truly independent journalism
By registering, you will also enjoy limited access to Premium articles, exclusive newsletters, commenting, and virtual events with our leading journalists
Already have an account? sign in
Join our new commenting forum
Join thought-provoking conversations, follow other Independent readers and see their replies