Southern Rail is a disaster because we never gave our railways a reason to provide good customer service
What incentive, financial or personal, does Jean-Pierre Farandou, the French boss of the Paris-based multinational Keolis – the ultimate 35 per cent owner of Southern – have to concentrate on the nightly misery of commuters at Victoria station?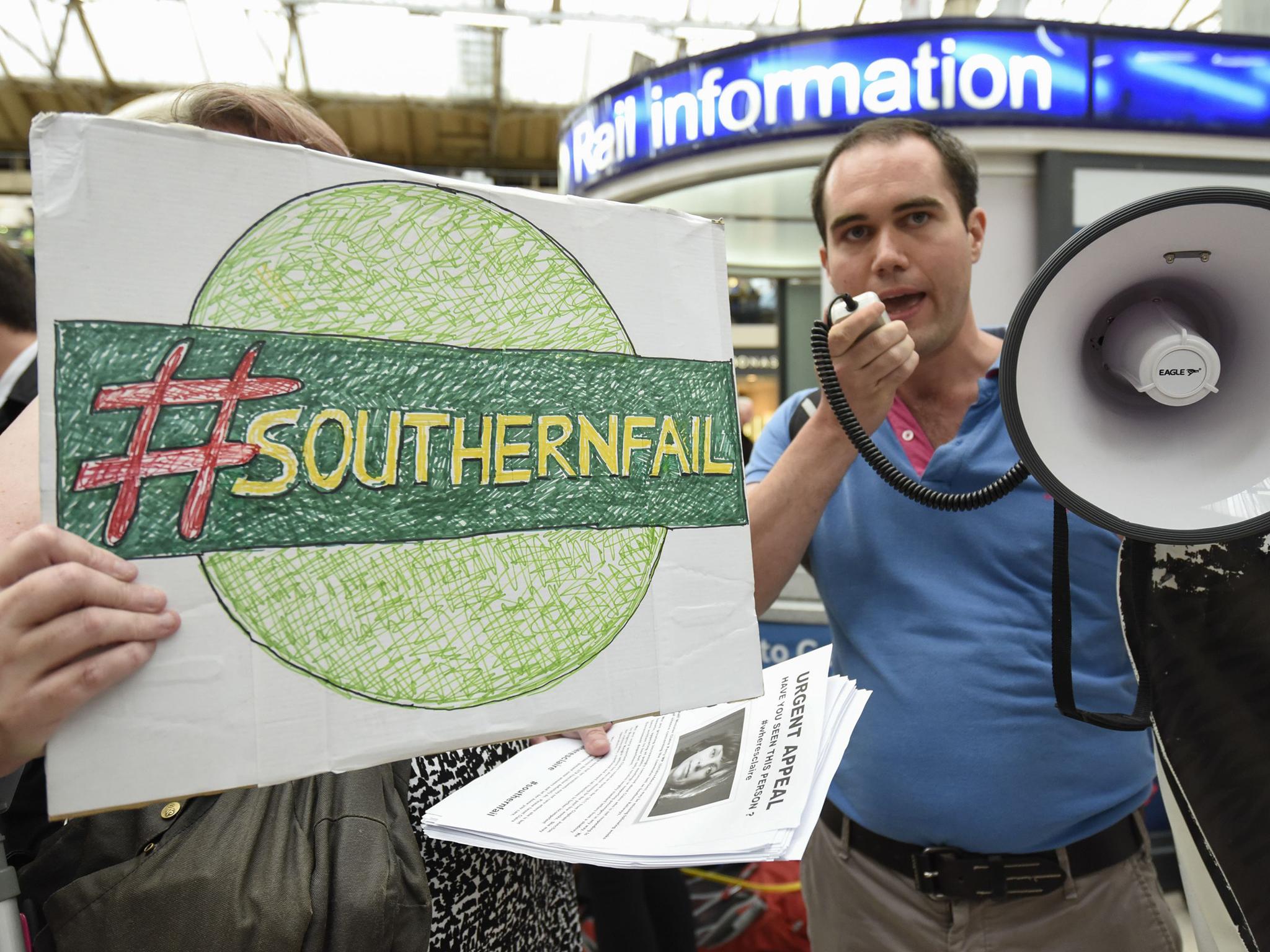 Who should run the railways? Who should pay for the railways? Welcome to two of the great arguments of British life which get more heated with each passing year, but which never get any closer to a satisfactory resolution.
A large part of the problem is that the two issues tend to get mixed up.
Take the second question first: who should pay? Major rises in fares in recent years largely reflect the Government's decision to cut the taxpayer subsidy to the industry. The proportion of rail costs met by taxpayers has fallen from 50 per cent a decade ago to around 25 per cent today.
Passenger complaints about rises in fares – they will go up by an average by another 2.3 per cent in January – are often met with the rejoinder that more people are travelling by rail than ever before and that it's only fair that passengers fork out, rather than the general taxpayer.
Commuters stage protest against Southern Railway at Victoria station
It's true that someone has to pay for the railways. And it may well be fair, in theory, that the cost is primarily borne by passengers, given that many people never use the train. Yet this rejoinder hits the buffers of irrelevance since the problem with fast-rising fares is not just cost but efficiency. Passengers would not be so aggrieved about above-inflation fare hikes if the service they were receiving was high quality and steadily improving.
But we all know that doesn't describe the British railways. Average fares are expensive relative to comparable mainland European rail systems, suggesting UK passengers are not getting especially good value for their money. Meanwhile punctuality remains patchy, and on many overcrowded commuter services it is downright poor. Southern Rail, a key component of the country's largest franchise, is a well-publicised disaster zone.
The failings stem from the structure of the rail industry. John Major's original privatisation of British Rail 20 years ago, which split control between a host of private train companies and a private track maintenance firm, was plainly botched. Track maintenance had to be hurriedly renationalised when Railtrack collapsed 15 years ago in the wake of the lethal Hatfield crash.
The Transport Secretary Chris Grayling's new plan to increase efficiency involves mandating closer coordination of Network Rail, the public body responsible for track maintenance, with franchise operators. But the rail unions see this is as preparing the ground for a Conservative reprivatisation of Network Rail.
Meanwhile, Labour's Jeremy Corbyn is steaming off in the other direction, pledging renationalisation of the entire network, both trains and track maintenance. The public, on this issue at least, lean towards Corbyn, with support for renationalisation in opinion polls at around 60 per cent.
Yet privatisation versus nationalisation is the wrong prism through which to conduct this debate. For a start, it is too simplistic. A natural monopoly such as a train franchise will always be closely regulated by the state and profit margins kept in check, as indeed they are. And public ownership is plainly no guarantee of efficiency, as Network Rail's weak performance has demonstrated.
The crucial factor, which is given too little attention, is the coordination of incentives. The disaster of Southern Rail stems from the particular nature of the government management contract under which it runs the franchise.
Southern collects money from passengers and passes it directly to the Department for Transport in return for a flat fee. But Southern's managers have very little financial incentive to improve the service. It doesn't help that Southern is a lonely outpost of a sprawling private transport empire, owned by a long line of other holding companies. What incentive, financial or personal, does Jean-Pierre Farandou, the French boss of the Paris-based multinational Keolis – the ultimate 35 per cent owner of Southern – have to concentrate on the nightly misery of commuters at Victoria station?
Compounding the problem further is that Chris Grayling's Department for Transport is compelling Southern to implement contentious changes to train drivers' working practices, while ministers refuse to engage directly with the increasingly militant union. It's not only right-wing press barons who like the taste of power without responsibility.
If our politicians board ideological trains to either full privatisation or full nationalisation, we will never arrive at a satisfactory and efficient British railway. The route to that happy destination lies through much clearer lines of management accountability across the many points of the network and the slow, but essential, rebuilding of public confidence in the individuals who run our railway.
Join our commenting forum
Join thought-provoking conversations, follow other Independent readers and see their replies