For people like me, Sri Lanka's democratic crisis is a painful memory of the horrors we suffered during the violence decades ago
Thirty-five years ago, I was a young Sri Lankan living in London when a general election was 'suspended' and a spate of ethnic cleansing horrified the world. Decades of violence and mass killings followed – we can't allow this to happen again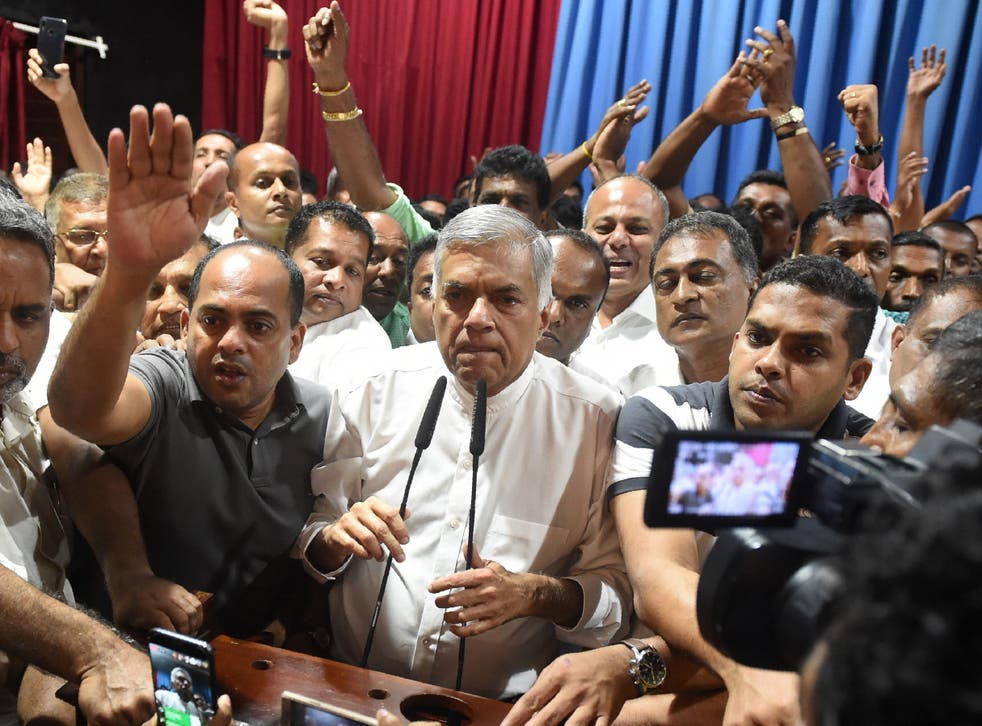 Sri Lanka is in crisis again, after a few years of fragile peace. The president has sacked the prime minister – which he has no constitutional power to do – and appointed someone else. He has also postponed the reopening of parliament. Supporters of rival politicians gather on the streets of Colombo, the biggest city.
I am vividly reminded of the horrific scenes 35 years ago, shown on television and in newspapers across the world. State-backed thugs burned out and murdered members of the Tamil ethnic minority in Colombo and beyond, as police looked on or even lent a hand. I was a young Sri Lankan living in London. Phone lines were jammed with frantic callers: it took me days to discover that my parents were still alive. Others were not so lucky.
The authorities claimed it was a spontaneous act by some in the Sinhalese majority, retaliating after an ambush by Tamil separatist fighters in which soldiers were killed. But the wave of ethnic cleansing was clearly carefully planned, as armed men with voters' lists swept through one neighbourhood after another. Many Sinhalese in fact sheltered Tamil friends.
Like many others, I felt shocked and betrayed by those in power. But looking back over the half-decade before, the government of the day had gradually undermined the norms which keep people's worst passions in check.
The presidency had been given huge powers, judges were intimidated, strikers attacked and the rule of law whittled away. Measures which were supposed to stamp out the violent fringe of Tamil nationalism ended up swelling its ranks, as young people were held without charge and abused, losing their trust in the state.
Civilians were murdered by the armed forces, an historic library in Jaffna burned down with the encouragement of ministers. A distorted version of Buddhism, far removed from core teachings of wisdom and compassion, was used to whip up hatred. In a rigged referendum, voters supposedly agreed to "postpone" the election in 1983. Instead, the island suffered arson, killings, a refugee crisis and deepening divisions.
In the wake of the "riots", the government cracked down on peaceful channels for dissent. Some young Sinhalese from poorer backgrounds, fed up with lack of opportunities, joined a rebellion led by the JVP (Janatha Vimukthi Peramuna or People's Liberation Front). Many Tamils, feeling rejected by and unsafe in Sri Lanka, joined armed groups fighting for a separate state in the North and East of the island.
The rebels, as well as security forces, went in for human rights abuses. The rebellion in the South was crushed with great brutality. Numerous Sri Lankans of my generation 'disappeared', their remains heaped in mass graves, families left without even a body to grieve.
Sri Lanka's humanitarian crisis

Show all 15
The other revolt took far longer to suppress, as ruthless Tiger leaders wiped out rival Tamil groups and dissidents and murdered Sinhalese and Muslim civilians. Child soldiers were sent to their deaths, as were suicide bombers, as a deathly cult flourished around the supreme chief Prabhakaran.
Even government ministers lost their lives to assassination amidst the chaos that had been created. When the Tigers were finally defeated in 2009, thousands of civilians were killed in the last few months of the civil war, as both rebel and state forces ignored the laws protecting non-combatants. The president at the time was Mahinda Rajapaksa.
His increasingly dictatorial behaviour and refusal to address human rights concerns led to his defeat at the polls in 2015 by an alliance for national unity. President Maithripala Sirisena and Prime Minister Ranil Wickremasinghe, though unimpressive in many ways, began to rebuild trust among minorities. Democracy was also partly strengthened, though much remained to be done.
It is this alliance which has now come apart, Sirisena has appointed Mahinda Rajapaksa as prime minister. There are widespread fears of a downward slide. Now, as in the past, international politics plays a part, as rival Asian and Western powers jockey for influence.
A return to the levels of violence of the 1980s is still far off. But those of us old enough to remember and fortunate enough to have survived, and younger people with an interest in history, are aware of what can happen when the powerful begin to tear up the rulebook, page by page. Already the situation is volatile. In other countries too, when constitutional safeguards have been ignored, there has often been an unhappy ending.
The president felt able to make his move in part because there is widespread dissatisfaction. Ordinary people often feel powerless and struggle to make ends meet. Yet a leader who promises a better future, if only he is allowed to do whatever he pleases, is likely to make matters even worse.
Support free-thinking journalism and attend Independent events
Human rights are about more than freedom of speech and movement, fair trials and protection from torture, important as these are. Having affordable food, shelter, healthcare and education are also basic rights. When people feel unheard, insecure and not valued, fear and hatred can grow, while democracy is weakened.
Many Sri Lankans are putting themselves at risk to defend democratic values, with support among those throughout the globe who care about justice for all. There is still hope of halting a downward spiral. I, and many others, will keep praying not to see past horrors replayed.
Join our new commenting forum
Join thought-provoking conversations, follow other Independent readers and see their replies