Now Thanksgiving is over the US government can go back to destroying Native American land at Standing Rock
While we love to proudly proclaim the darkest chapters of Native American history have come to an end, there are about 300 members of the Sioux Nation camped out in Standing Rock, North Dakota who would probably beg to differ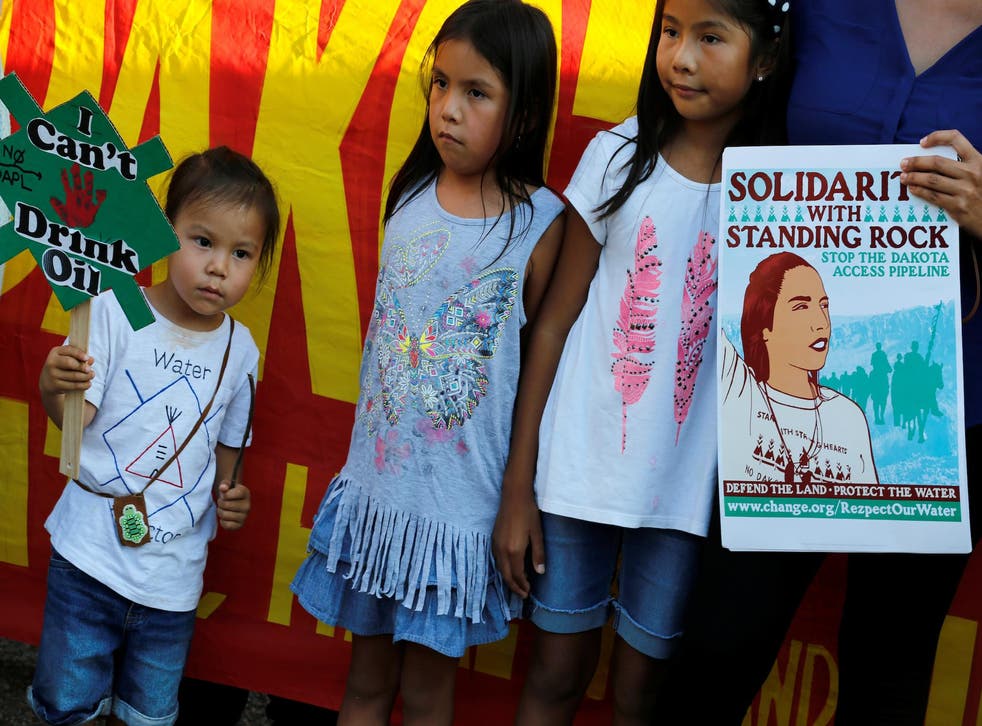 Everyone loves Thanksgiving. It's the ultimate celebration of well-deserved rest, unabashed gluttony and crucial reflection. It's an ever-increasingly rare opportunity to press pause on our busy lives, zoom out for a moment and remind ourselves what truly matters. Thanksgiving is about counting your blessings.
Perhaps that's why for some, the pageantry and symbolism of it all has become so depressingly ironic.
In case you weren't spoon-fed the storybook version from birth, Thanksgiving traces its roots back to the fall of 1621, when a group of Native Americans supposedly first joined a gaggle of intrepid English puritans in a harvest feast to celebrate their unity, diversity and the unbridled optimism that both cultures would be able to coexist harmoniously.
Nearly 400 years after that celebration, many Native Americans now spitefully observe it as a National Day of Mourning. You can hardly blame them. Constant encroachment, greed and the arbitrary, grandstanding notion of White America's so-called Manifest Destiny has led to generations of genocide, forced assimilation and over 500 broken treaties.
But this is 2016 – that's all in the past, right?
Standing Rock protests continue: 'Water is life'
Thanksgiving Day has always been a much-needed opportunity to boast about how much we treasure our relationship with Native American friends, and show them that there's still plenty of hope for equality. We've changed, and things are getting better. Yet while we love to proudly proclaim the darkest chapters of Native American history have finally come to an end, there are about 300 members of the Sioux Nation camped out in Standing Rock, North Dakota who would probably beg to differ.
You see, while most of us were sitting down to a roaring fire and well-deserved feast on Thursday, Native American protesters in Standing Rock were still reeling from a 10-hour clash with law enforcement officers. More than two dozen people were taken to hospital with severe head injuries, internal bleeding and hypothermia after being hit with rubber bullets, tear gas and water cannons in sub-freezing temperatures.
Their crime? Standing in the way of profit.
For a couple of years now, the US Government has been working to finish a $3.8bn pipeline through North Dakota in order to quickly and cheaply carry crude oil down to Illinois. It's super-efficient, super smart and will make all the oil companies super happy. There's just one problem: that pipeline is set to run within a mile of the Standing Rock Sioux Reservation – which is a little bit of land the government grudgingly set aside for local tribes in an 1851 treaty. Now, by developing so close to the reservation, experts fear the oil pipeline may contaminate the reservation's water supply.
From the outside looking in, this seems like an open-and-shut case. The government signed an agreement with the Sioux not to come near this scrap of land, and so they've got to pull out of the project. Hell, public health is at stake. For once in the history of Western civilization – just this once – it's in everyone's best interest to follow through on promises made and let the little guy win. But then again, think of all that money. We can't let that go, right?
Chances are we won't. After all, we've not got a great track record honouring our word.
But that doesn't mean hope is lost. It doesn't mean we can't rally behind our friends and neighbours to stand up for what's right. And that doesn't mean we can't take Thanksgiving's useless sentiments of togetherness and transform them into meaningful action. But if Americans are even remotely interested in preserving what's left of our patchwork cultural heritage, they'd better act now.
A lot can happen between Black Friday and Thanksgiving – and the way things are headed right now, it looks like just enough time to finish a pipeline and break another treaty.
Join our new commenting forum
Join thought-provoking conversations, follow other Independent readers and see their replies