Straight white leftie people need to stop calling me a 'Blairite' and saying they love my 'queerness'
When I performed with my drag troupe, the PR manager of the venue thanked us for 'helping to draw the punters in by standing outside'. Our simply getting fresh air was apparently a zoo attraction, bringing the 'Pink Pound' to their business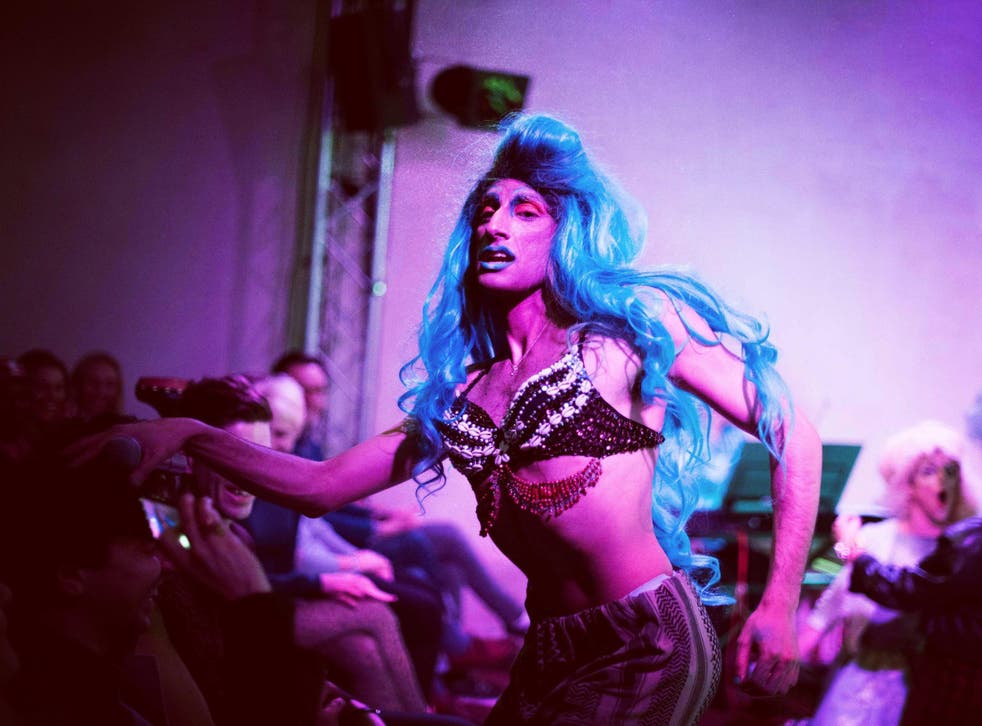 When I heard about the devastating shootings in Orlando last summer, I only wanted to be around LGBTQI+ people. Instead, I was trapped abroad at the most heterosexual wedding imaginable. When I brought up the news the day after it happened, a homophobic relative said this to me: "Don't be so dramatic, Amrou. Why are you turning this into a gay thing? Shootings happen all the time."
As the Orlando vigil in Soho demonstrated, the LGBTQI+ community needed to grieve collectively, without the event being reclaimed on heteronormative terms. Owen Jones could not have been more right to walk off Sky News during its review of the Orlando headlines – I'm amazed he was able to endure the interview as long as he did.
As a gender-queer Arab gay man, the Orlando horror terrified me. When I expressed why online, I was sent a text the following day by a "straight white male" friend (bear with my use of this by now clichéd term) which read: "Amrou, I want you to know that I love your queerness."
Though the message was intended as a sign of support – a "don't be scared, I'm with you pal" - it bothered me. Reducing queer into a noun – queerness - makes it feel like a thing that can be acquired and owned.
I'm not a Furby. I live the emotional labour of being queer 24/7. Furthermore, a straight man feeling compelled to validate my queer position quite frankly pissed me off. Who asked for your approval, babe?
The top 15 worst countries to be gay in Europe

Show all 15
Here's an instance where my "queerness" has been exploited to pacify the guilt of straight privilege. My drag troupe Denim was recently asked to support an act at a venue in East London. When we were outside, mentally going through our set of songs, the venue's straight PR manager joined us. He expressed his gratitude to us for bringing the "Pink Pound" to his club, and for helping "draw the punters in" by standing outside (word for word quotes).
Our simply getting fresh air was an apparent zoo attraction, unbeknownst to us. And we were not even being reimbursed for our performance that night. Our invitation provided the venue with a façade of "liberal open-mindedness," and attracted LGBTQI+ customers, but we were not compensated. We felt like the queer cherry on top to an otherwise straight cake – without being offered a bite.
Reductively skewing someone's identity for personal benefit is also prevalent within queer and leftist groups. Here are two examples of what I mean. I was recently thrilled when QX, a popular gay scene magazine, featured a piece on my experiences as an Iraqi-Egyptian drag queen in London. I was also baffled when someone in the LGBTQI+ community posted the feature on Facebook, venting their fury at QX's profiling another "white muscled gay".
Now I'm entirely just not white. Nor muscled. I'm from Iraq and Egypt - and muscles have a tricky time sticking on me. But this person's presumption of QX's guilt reveals a lot –a blind-sighted will for a gay magazine to screw up, so that they could be the one to point it out and seem politically pious.
Big Gay Kiss protest - In pictures

Show all 8
I experienced it again during the second of Labour's leadership elections. While I voted for Corbyn the first time round, Brexit flagged up some concerns, and I was on the fence during the second contest. So I raised this during a drink with leftie friends, hoping to evaluate both sides of the debate before making a decision.
Before the conversation even started, a friend quickly jumped at my "Corbyn-doubt," barking at me – with manic glee – that I was now "a Blairite", and thus an "Iraq war apologist". Once again, I'm from Iraq. In fact, I had family living in Baghdad during the UK's bombings of it. In this instance, my yet unconsolidated opinion was exploited and twisted so that someone else could feel noble in their political position.
I've had my identity tokenised and homogenised on both sides; by heteronormative spaces, who exploit my "queerness" to appear progressive, and by people within queer spaces, who erase facets of my identity when wanting to self-congratulate.
So here's my plea to everyone, on all sides: let's please remember that identities are an infinitely complex, fuzzy, paradoxical set of intersections. They are not things that can be reduced for the sake of making a point.
Register for free to continue reading
Registration is a free and easy way to support our truly independent journalism
By registering, you will also enjoy limited access to Premium articles, exclusive newsletters, commenting, and virtual events with our leading journalists
Already have an account? sign in
Register for free to continue reading
Registration is a free and easy way to support our truly independent journalism
By registering, you will also enjoy limited access to Premium articles, exclusive newsletters, commenting, and virtual events with our leading journalists
Already have an account? sign in
Join our new commenting forum
Join thought-provoking conversations, follow other Independent readers and see their replies