The government is about to cancel a billion-pound energy project in Wales – if this happened in London, there would be uproar
What is it about creating jobs outside of London while protecting our communities from climate change that the Tories don't like?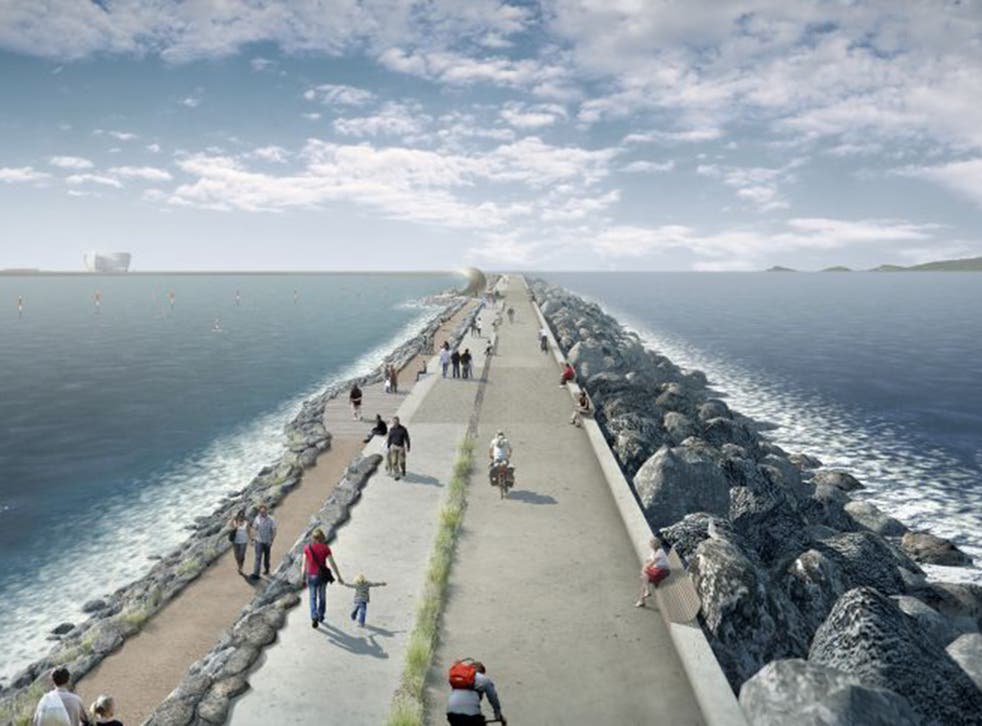 There have been times, during the last eight years of Tory rule, when the Conservatives' bluster and sloganeering really have been breathtaking.
During the 2017 general election campaign, the Tories promised us they would electrify the Trans-Pennine, Midland Mainline and Great Western routes – but they scrapped that just six weeks later.
They insisted they would devolve key transport decisions. That was binned too. While Labour has promised to deliver a Crossrail for the North and pledged £10bn to it, the Tories' "Northern Powerhouse" has turned out to be not just empty rhetoric, but a slap in the face of anyone who dared to hope the UK's economic imbalance could soon be corrected.
The Tories are now scheduled to add another line to their list of failures. They will announce whether or not they support a zero-carbon power plant in Swansea, producing energy for hundreds of thousands of homes, and creating thousands of jobs.
Turbines built in a wall in the sea that harness the power of the tides so that we can turn the kettle on in the morning. Infrastructure built to last for more than a century. Any ambitious, decisive and forward-thinking government would jump at a project like that, wouldn't they?
Filmmakers use 100-year-old photograph to map effect on climate change on a glacier
You know what I'm going to say next: this just isn't the kind of government that Theresa May goes in for. Consequently, she and her business secretary Greg Clark are poised to reject plans for this "tidal lagoon" project in Swansea. And if that is what happens, a devastating blow will have been struck, both to the future of low carbon and renewable electricity generation in this country, and to the prospect of making our economy fundamentally less London-centric.
This is one enormous project, but it could pave the way for further lagoons located near our much neglected coastal towns. And it would be an extraordinary opportunity to export world-leading expertise across the globe.
I've been calling for the government to bring their decision forward and support this project for two years. The Labour government in Wales has pledged to invest in it, and the government's own review has said that tidal lagoons are a carbon-cutting, job-creating and secure investment at a competitive price.
The benefits of this specific project would be enormous: an estimated 2,000 high skilled jobs, millions of pounds in investment for Swansea and clean energy for 150,000 homes.
Lisa Murray's climate change photography

Show all 12
Crucially, the construction of the lagoon would also lead to supply chain work for 1,000 businesses across the country. This is why the crusade against the north-south divide forms a virtuous circle: one project in Swansea would bring work all around the country – to Rugby's general electric plant, which would manufacture the Lagoon's turbine engines, and to steel works at Port Talbot and elsewhere in the UK, which would make most of the 100,000 tonnes of steel needed for the project.
Just as importantly, the UK would be supporting its low-carbon sector – one of our fastest-growing – and we'd be at the forefront of a world-first technology. But if Britain trails behind the renewable revolution, UK jobs will suffer – and so will the planet's climate.
That means more extreme weather patterns: flooding and storms that already cause enormous damage to our communities, right here in Britain.
So it seemed to many people in Swansea that the lagoon project was guaranteed. But now we discover that they're going to say no. It's immensely disappointing.
This government, which has broken so many promises – on the living wage, on eliminating the deficit, on protecting frontline policing and cutting criminals' reoffending rates – are rowing back on yet another project. What is it about creating jobs outside of London while protecting our communities from climate change that they don't like?
And yet, we can hardly be surprised. This is a government that demonstrated how little it cared when it scrapped the department for energy and climate change. They've still not started electrifying the railways, they have slashed support for renewables, they've sold off the green investment bank and they have overseen a collapse in new renewable investment of over 50 per cent. After their dodgy deal with the climate sceptic DUP, is it any wonder that we are on course to miss our climate targets?
Labour made an important promise in our manifesto: we would back an ambitious target of ensuring that 60 per cent of the UK's energy comes from zero carbon or renewable sources by 2030.
We mentioned specifically the need to commit to ambitious new projects to support manufacturing, create new jobs and meet our climate targets, including providing the necessary investment to ensure Swansea tidal lagoon goes ahead.
When the climate is changing, industry is transforming, and our country's economy remains appallingly unbalanced towards the City and the capital, a government that cannot show such ambition is a disgrace.
Rebecca Long-Bailey is the shadow business secretary and Labour MP for Salford and Eccles
Register for free to continue reading
Registration is a free and easy way to support our truly independent journalism
By registering, you will also enjoy limited access to Premium articles, exclusive newsletters, commenting, and virtual events with our leading journalists
Already have an account? sign in
Join our new commenting forum
Join thought-provoking conversations, follow other Independent readers and see their replies