Syria air strikes: 'Peace President' Obama had to take stronger action against Isis after beheadings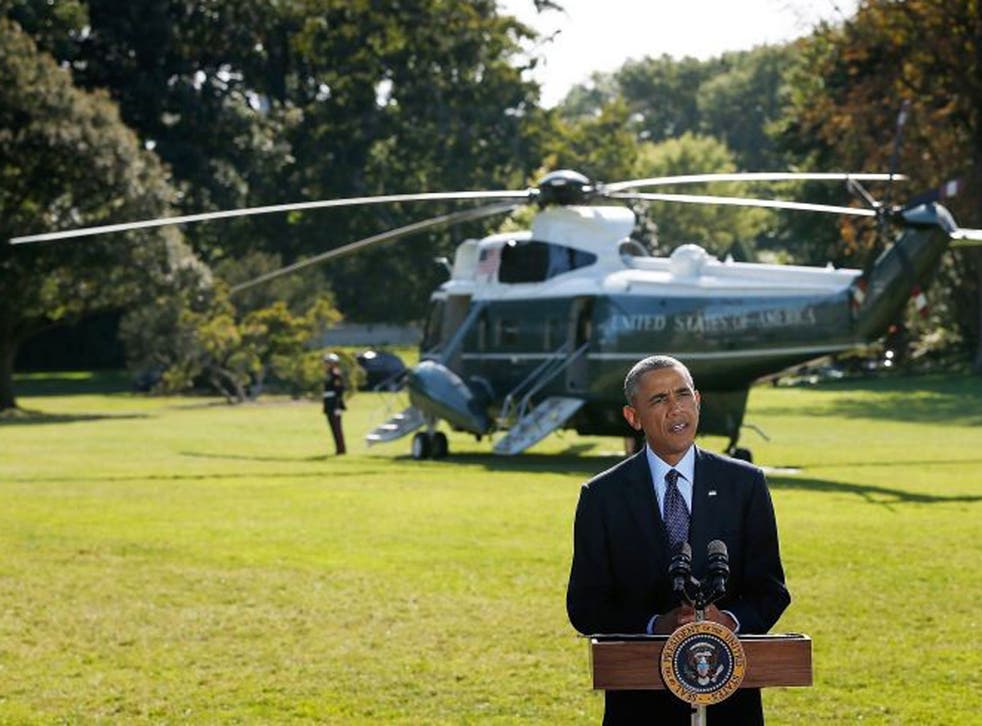 He was supposed to be the "peace President" who would end America's entanglements in the Middle East and forge a new and better relationship with the Arab world. Now, US policy has gone full circle.
By launching air strikes in Syria against Isis, Barack Obama has enmeshed himself in a new conflict, whose legal underpinnings are scarcely less shaky than those once used to justify George Bush's 2003 invasion of Iraq. Mr Obama called that war a "dumb war" – and his opposition to it helped earn him his election victory in 2008. How times have changed. The wars in Iraq and Afghanistan, which the President made it his goal to end, lasted respectively eight and 13 years (assuming that withdrawal of US combat troops from Afghanistan is completed as scheduled by the end of 2014). But now another conflict is under way, one that by the President's own admission is open-ended, and which his body language makes abundantly clear was the last thing he wanted – until public horror and outrage at the beheadings by Isis of two American civilian hostages left him no option.
Theoretically, victory will be gained by a combination of air power and the action of regional allies against Isis. But if that does not work, then the possibility remains of American boots on the ground – an option ruled out by Mr Obama but not by General Martin Dempsey, chairman of the Joint Chiefs and his top uniformed adviser.
If anything, moreover, this war is even more complex than its predecessors, with even more variables that the US cannot control. In his statement on the air strikes, Mr Obama insisted that "this is not America's fight alone". He points to a coalition of 40 allies against Isis to underline the point.
But alliances in the region are complex, uncertain and ever shifting. Will Iraq's new and more inclusive government, whose formation was seen by the White House as an essential pre-condition for US action, live up to its billing? What about Turkey, a Nato member whose attitude to Isis is deeply ambiguous? And what of the fact that attacks on the militant Islamist group might strengthen the position of President Bashar al-Assad in Damascus, to whose removal Washington is still formally committed, but who is as adamantly opposed to Isis as Mr Obama?
That paradox in turn brings further problems. Russia, one of the Assad regime's two key supporters, is already raising objections to the air strikes. So is Iran, the other main backer of the regime. The fact, however, is that in many respects, the US and Shia Iran, its arch rival in the region, have a common interest in destroying the extremist Sunni Isis. And all this as negotiations on curbing Iran's nuclear programme are nearing the moment of truth.
No wonder Mr Obama had so many misgivings about authorising the air strikes that he strenuously opposed earlier in Syria's civil war, when the moderate Syrian opposition, who would then have been the beneficiaries, are now much weaker than before. "No action the US takes can eliminate the fact that the campaign against the Islamic State [Isis] involves major risks," says Anthony Cordesman, a former senior Pentagon official who is now an analyst at the Csis think-tank in Washington.
Compounding the difficulties has been Mr Obama's sinking domestic popularity, caused largely by his uncertain trumpet on foreign policy, especially in the Middle East. His overall approval ratings hover around 40 per cent. But a recent poll showed just 33 per cent of Americans support his handling of foreign policy, against 53 per cent who disapprove. Impossible it may be in practice, but Americans expect their President to shape world events, not merely to react to them – yet all the while avoiding a repeat of Afghanistan and Iraq.
Under the circumstances, Mr Cordesman argues, the US had no choice but to take stronger action. This was "critical to reducing the distrust coming out of previous indecisiveness over Syria, over withdrawal from Iraq, and Arab concern that the US was tilting towards Iran".
Register for free to continue reading
Registration is a free and easy way to support our truly independent journalism
By registering, you will also enjoy limited access to Premium articles, exclusive newsletters, commenting, and virtual events with our leading journalists
Already have an account? sign in