Iran is extending its regional power in Syria – this is Israel's worst nightmare
The prospect of Iran having a direct corridor to its borders, and even military facilities inside Syria, not to mention the possibility of being able to link up directly with Hezbollah, is Israel's current nightmare – and it has started issuing explicit warnings to this effect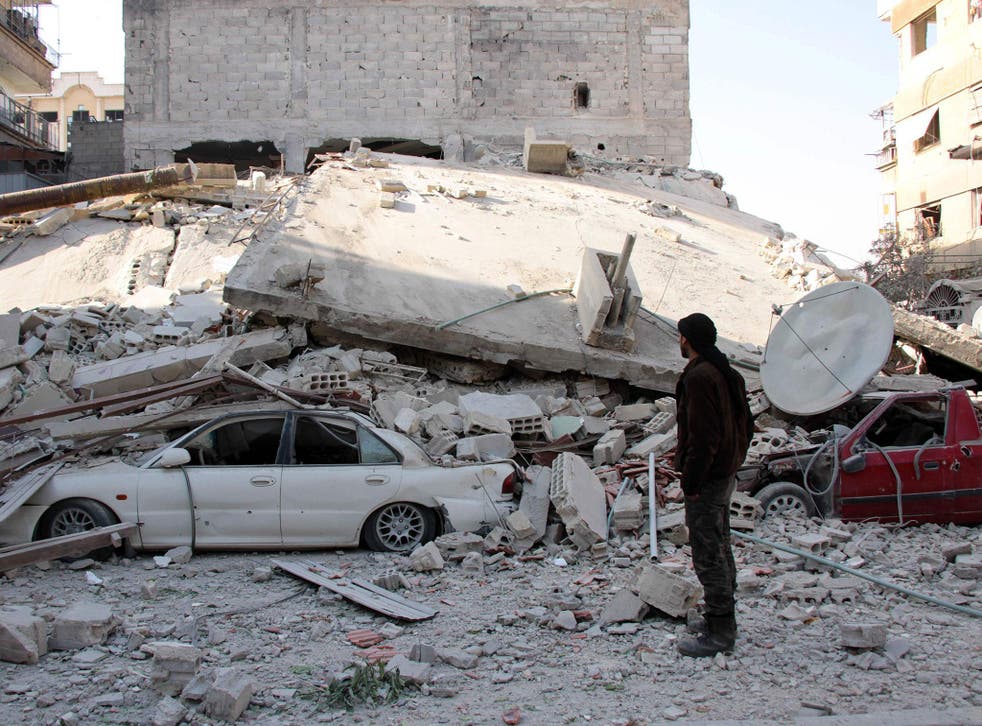 The conflict in Syria seems to be hotting up again, just as it should be cooling down. Today US forces launched air strikes – the first for some time – in support of rebel forces that had come under Syrian government attack in a disputed area near the Iraqi border. Just a few days before, the UK minister for the Middle East, Alistair Burt, expressed "deep concern" about reports of chlorine attacks on the rebel-held enclave of Eastern Ghouta outside Damascus – phrasing that sounded very like an attempt to revive flagging public support for the rebel cause.
With President Bashar al-Assad looking more secure than he has since the conflict began seven years ago, with any territorial gains being made almost entirely by the government side, and with Syrian Kurdish forces – who did much to defeat Isis – now increasingly fighting for their own interests near the Turkish border, the time has surely come for the variegated anti-Assad opposition to sue for peace. Rather than obstructing the Russia and UN-brokered peace efforts and trying to maximise their position on the battlefield – as they appear to be doing – the US and the UK should be encouraging their proteges to sit around the table. Anything else simply prolongs the suffering on all sides.
Thus far, aside from Assad – who is weakened, but still in power – there seem to be two real winners in Syria. One is Russia, which has played its military and diplomatic hand with unaccustomed deftness. The other is Iran, which has been able to extend its regional influence. But there is another winner, which has kept a strikingly low profile, and that is Israel.
Turkish attack on Afrin, northern Syria – in pictures

Show all 9
My last but one visit to Israel was about a year after the Syrian civil war began, and I recall officials noting both the proximity of the conflict – smoke from the fighting could be clearly seen from the Golan Heights – and Israel's determination, if at all possible, to remain aloof. The war then was seen in the context of the Arab Spring – a process that wise Israeli heads saw as the start of a historic shift that could take many decades, not something that was amenable to outside influence in the short term.
I have just been in Israel again, thanks to the UK-based think tank Bicom (the British-Israel Communications and Research Centre), and was able to observe how successfully Israel has pursued its policy of detachment, but also how many risks now lurk if – as it seems – the Syria conflict is drawing to a close with Assad, albeit a diminished Assad, still in place.
What struck me, above all, was the paradox. Given the mayhem that exists just across almost all its borders, Israel today feels somehow more stable and secure than it has ever done. And the reason offered by senior military and political officials was that this was the first time since its founding that Israel faced no threat from any state on its borders. The attentions of all its neighbours are currently directed the other way.
Video appears to show Syrian fighters signing Jihadi sings on frontline in northern Syria
This is not to say Israel does not feel threatened – it minutely tracks the activities of Hezbollah across its borders with Lebanon and Syria – although the actual fighting in Syria has moved northwards and eastwards compared with before. Hamas is still tunnelling into Israeli territory from Gaza. But the Palestinians remain divided, and Israel has to an extent managed any threat away, with fences and walls and hi-tech surveillance. All in all, to me, as a regular visitor over the past 30 or so years, Israel feels less on edge than it has ever done – and the public mood, as gauged by long-standing residents, supports this.
If this is so, then there are implications for Israeli politics. Security has been the prime concern of the state since Israel was founded. What if it slips down the agenda? What might that mean for national cohesion, for compulsory military service, for the famed Israeli resilience, for Israel's sense of itself? Already, a lesser preoccupation with external security is fostering a more introverted discussion about the nature of the state and the compatibility of democracy and Zionism. Perhaps, after 70 years, Israel is becoming a more normal country; maybe this is how long state-building takes. And might a new-found sense of security, in principle, improve the prospects for a settlement with the Palestinians?
Then again, maybe this is just an interlude. With a few discrete exceptions, Israel has successfully remained aside from the Syrian conflict and its offshoots. It has treated some of the injured from the fighting (according to medical need, doctors insist, not allegiance), and returned them across the border. Without admitting responsibility, it has also from time to time struck convoys it believed to be supplying Hezbollah forces in Lebanon. Any involvement has thus been highly circumscribed and wholly on Israel's terms.
The luxury of having options, however, could be coming to an end. Any resolution of the Syria conflict looks likely to leave parts of the country, including the area closest to Israel, outside central control and potentially disputed. An end to the main conflict could also remind combatants of old enemies, such as Israel.
There is also the widespread expectation that a weakened Syria means a stronger Iran – an Iran, what is more, with a degree of influence in Damascus that could make Syria akin to a client state. The prospect of Iran having a direct corridor to its borders, and even military facilities inside Syria, not to mention the possibility of being able to link up directly with Hezbollah, is Israel's current nightmare – and it has started issuing explicit warnings to this effect.
This is also where Israel's honeymoon with Donald Trump becomes more complicated. Ostensibly, US-Israel relations have rarely been better. Israel never got on with Barack Obama, and his successor's announcement that the US embassy would move from Tel Aviv to Jerusalem was music to Benjamin Netanyahu's ears. But Trump's disparagement of the Iran nuclear agreement introduces uncertainty that Israel does not need. The US Secretary of State, Rex Tillerson, said last month that the US would be keeping a military presence in Syria, in part to combat what Washington, too, sees as rising Iranian influence.
One consolation might be the recent signs of unrest in Iran, which included public hostility towards foreign operations draining money from the home front. But Israel is experienced and wary enough not to bank on Iranian leaders suddenly having to watch their own backs. It will surely have its own contingency plans for a resurgent Iran – and they could entail more than looking on.
All of which is to say that until now Israel has played its non-interventionist cards adroitly, improving its somewhat chequered international reputation in the process. But the days of standing on the sidelines may be numbered. And then will it be the old Israel that tended to act first and think later, or a new, more considered and calibrated version that steps back into the regional fray?
Register for free to continue reading
Registration is a free and easy way to support our truly independent journalism
By registering, you will also enjoy limited access to Premium articles, exclusive newsletters, commenting, and virtual events with our leading journalists
Already have an account? sign in
Join our new commenting forum
Join thought-provoking conversations, follow other Independent readers and see their replies