Syrian refugees are dealing with coronavirus and a harsh winter – they need our support now more than ever
The added stress of the pandemic means those displaced by war are at further risk of abuse, exploitation and gender-based violence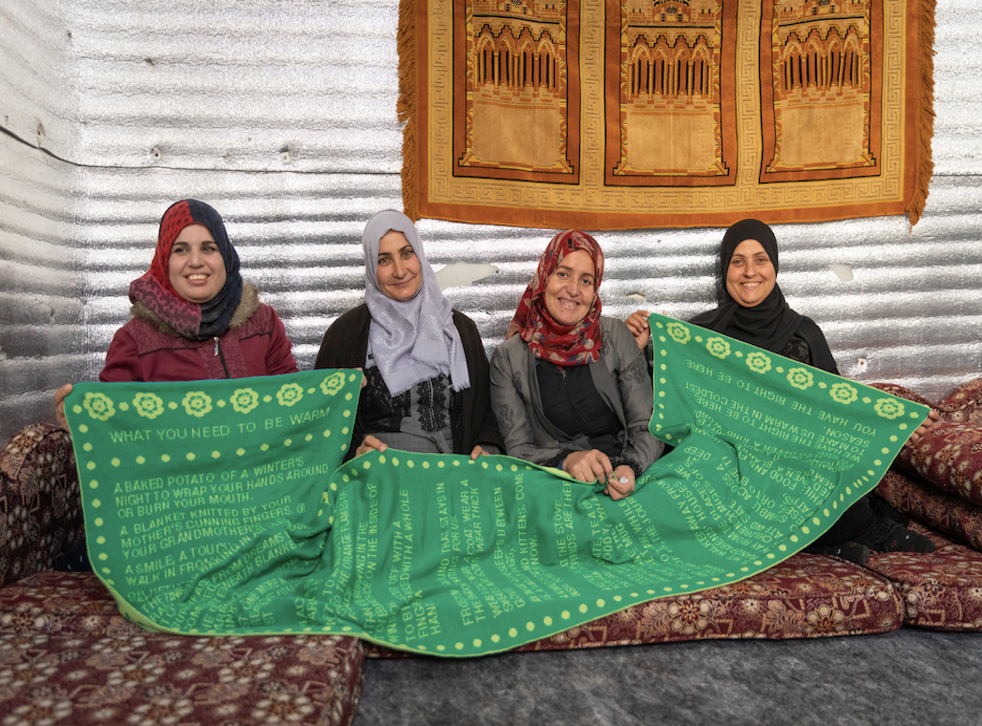 Last year I travelled to Jordan with the United Nations High Commissioner for Refugees (UNHCR) to meet Syrian refugees living in Azraq camp. I learnt so much from that visit, and I saw what it looks like to have resilience in the face of unimaginable difficulty.
Like everyone else, I had no idea that in 2020 all our lives would be turned upside down by the coronavirus pandemic, or that the trip would be one of the last times I would travel for the rest of the year.
Perhaps that's why the people I met in Jordan have stayed with me, or perhaps it's because the stories they shared were so heartbreaking and yet the families were so focused on what they had and not what they had lost, on making sure their children are safe and happy.
I remember being overwhelmed at just how big the camp was, with its rows and rows of shelters for the 35,000 refugees who live there. And how bitterly cold it was, especially at night.
One of the refugees who invited me into their home was Nisreen. She told me how before the war she used to enjoy the cosiness of winter in their home in Syria, but now their shelter would be unbearably cold and icy without their gas heater. But she also said that knowing her family is now safe is the most important thing and as long as she has that, "All the hardship doesn't matter."
That feeling, that keeping warm is not just about temperature but also our families and memories, is what Neil Gaiman wrote about so brilliantly in the poem What You Need to be Warm, which raised money so that UNHCR could provide more essential blankets, heaters and warm clothes for refugees.
This poem was knitted into a "Solidarity Scarf", and one of the highlights of my trip was meeting four talented designers and craftswomen who designed the border for the scarf. I was lucky enough to see their joy and pride when they saw the finished result and it's a moment I'll never forget.
When I came back to London I knew that part of my job was now to help create more understanding for refugees and encourage people to support in whatever ways they can. I kept thinking about the people I'd met, and when the pandemic started I worried about how on earth they would manage social distancing or handwashing when they didn't even have their own tap or toilet.
Thankfully, UNHCR has been working hard to make sure that refugees have what they need to stay safe – from accurate information to soap and PPE – but it's an enormous task. As well as the Syrian refugees living in Azraq, there are hundreds of thousands more living in other camps and towns across Jordan, Lebanon, Turkey and Iraq.
Just as the coronavirus is affecting our lives in so many ways in the UK, Syrian refugees' lives have been severely impacted. Many have lost their jobs, particularly those who rely on informal work, and more than a million refugees and displaced people across the Middle East have been pushed into poverty by the pandemic. The added stress and demands of tackling a deadly virus on top of everything else – for individual refugees and the organisations and institutions protecting them – has caused what's called a "coping crisis", which means refugees have an increased risk of abuse, exploitation and gender-based violence.
But there are also reasons to be hopeful. The vaccination programme here is bringing much-needed optimism – my grandparents received theirs last week, which is so reassuring for my family. Just last week, Jordan became one of the first countries to start Covid-19 vaccinations for refugees and it's so important that other countries follow their example and include refugees in their vaccination plans.
Syrian refugees have coped with so much already (shockingly it will soon be the tenth anniversary of the Syrian war), but the threat of coronavirus on top of another harsh winter means they need our support now more than ever.
Tanya Burr is an influencer, actress and supporter of UNHCR, visit the website to find out more and support the #BelowZero winter campaign
Register for free to continue reading
Registration is a free and easy way to support our truly independent journalism
By registering, you will also enjoy limited access to Premium articles, exclusive newsletters, commenting, and virtual events with our leading journalists
Already have an account? sign in
Register for free to continue reading
Registration is a free and easy way to support our truly independent journalism
By registering, you will also enjoy limited access to Premium articles, exclusive newsletters, commenting, and virtual events with our leading journalists
Already have an account? sign in
Join our new commenting forum
Join thought-provoking conversations, follow other Independent readers and see their replies