Tax credits cuts: Stand by for a U-turn from George Osborne in next month's mini-Budget
Of course, it won't be presented as such, but with so many families losing money, an 'adjustment' will be made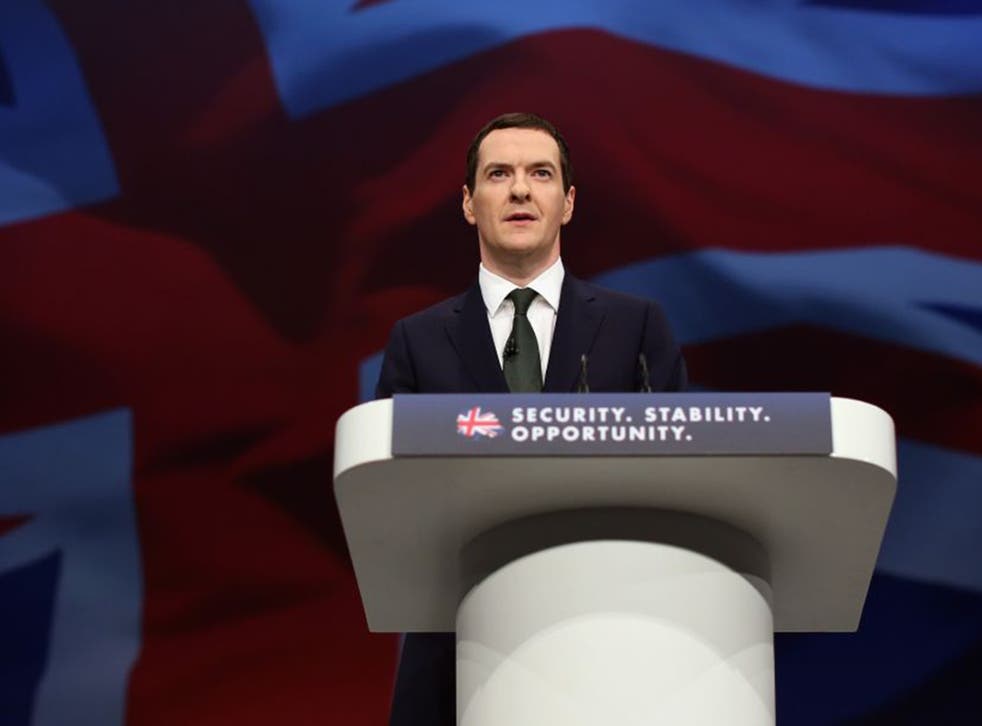 Tory high command has been plunged into chaos as it emerged that George Osborne is to make a sensational U-turn on his cuts to tax credits in next month's mini-Budget. That is how I would report the contents of this column if I were writing for a different newspaper. Oh, and if I had any inside information on which to base the story.
So, yes, it is a guess. But it is a guess based on a lot of information in the public domain. The cuts to tax credits in April are going to take an average of £700 a year away from six million households with someone in paid work and with children. That is an average figure, calculated by the respected Institute for Fiscal Studies, using what it calls the "better case" assumptions about the effects of the National Living Wage, which also comes in in April. So that means many millions of working households, containing more millions of people, will lose more than that.
These are big losses. The political storm is coming. It has not broken yet, but it is foreseeable. Lots of MPs foresee it. Foremost among them Boris Johnson who – a big clue, this – wants to be prime minister, and who told LBC last week that the Conservatives had to "mitigate and palliate" the impact of cuts to tax credits. "I'm asking my guys in City Hall to look at all the impacts in London and to see what we can do about making some proposals to Government about it."
The Sun launched a campaign a week ago against the cuts. A mass market newspaper with a lower-income readership that doesn't tend to back hopeless causes.
It is also a guess informed by conversations with insiders who are familiar with the way the Chancellor works. One said that Osborne "will want to soften the blow without it looking like a climbdown". Look out, I was told: "Contortions of epic proportions to follow." Another, by the name of John McTernan, who used to work for Tony Blair and is therefore familiar with the way chancellors work, said: "I was in those meetings with the Treasury. The ones where they were convinced that the cuts were fine. The ones where they are right and your objections are economically irrational."
Jeremy Corbyn's pop-up regime change in the Labour Party may have temporarily disoriented some Tories. As McTernan says, "the lack of an effective opposition may well have lulled Osborne into a false sense of security".
But I do not believe that the Chancellor is as politically inept as this. Gordon Brown refused to listen to the warnings about abolishing the 10p income tax rate, but it didn't come into effect until after he was already prime minister. Osborne's succession to the top job is not yet assured. The outgoing Mayor of London is his main rival, and the opinion-poll ratings drawn from millions of hard-working lower-income families are at stake.
So ignore the bravado. Osborne and David Cameron have insisted in public that the cuts to tax credits will go ahead. In private, they say that "tough choices" have to be made and that the British people voted for them in May. Which part, they do not quite ask, of £12bn savings from welfare did the voters not understand? To which the answer is: the part where they start to take effect.
More specifically, the part where they start to take money away from hard-working families who have striven, played by the rules, and generally done their duty. The part where they start to mock the Prime Minister's warm One Nation rhetoric, the "social justice" of his conference speech. "Freedom. Democracy. Equality." He said those words. Brave and welcome they were, the words he chose to say in the first conference speech of the rest of his premiership, liberated to say what he means to leave as his legacy. But how hollow they will sound when the letters setting out how much each family will lose arrive just before or just after Christmas.
The only question is what form the "epic contortions" will take. The Autumn Statement on 25 November is the obvious stage for Osborne's, um, adjustment. Sir Nicholas Macpherson, the top Treasury civil servant who is currently teaching a course on economic history at King's College London, told his students the other day that the Budget was a chancellor's big chance to sell himself, so Brown upgraded the Autumn Statement as a chance for a second Budget. Osborne, who is more like Brown than he likes to admit, will make a show of this year's, not least because he will also use it to unveil the Spending Review that will detail departments' spending plans for the next four years.
But I think he will also announce changes to "mitigate and palliate" the effect of cuts to tax credits. Frank Field, the free-thinking Labour MP, has suggested he should cut less from those on the National Living Wage and more from those earning a bit more. That would be too obvious a retreat, and it would be bad for work incentives. He cannot raise the National Living Wage further, because that would start to cost a lot of jobs. So I would have thought that he will find a way simply to cut income tax or National Insurance contributions for the low paid, possibly linked to children. This might be full circle to reinventing the pre-1976 child tax allowance, but it could keep hundreds of thousands of children above the poverty line.
After all, his and the Prime Minister's objection to tax credits is that they are "a merry-go-round" of taking money in tax and then giving it back, according to household circumstances, in tax credits. The trouble is that he pledged to end the merry-go-round by simply taking money in tax and not giving it back.
Where will he find the money? The magic money tree, of course. Just as in the last parliament Osborne stopped trying to close the deficit after two years, while pretending the plan was unchanged, this time he could ease the public spending cuts trajectory after just one year. Stand by for contortions of epic proportions.
Join our new commenting forum
Join thought-provoking conversations, follow other Independent readers and see their replies