Ted Cruz is quickly finding out his trip to Cancun really, really wasn't worth it
After hours of silence and speculation, the Texas Senator released a statement today saying he was just 'trying to be a good dad'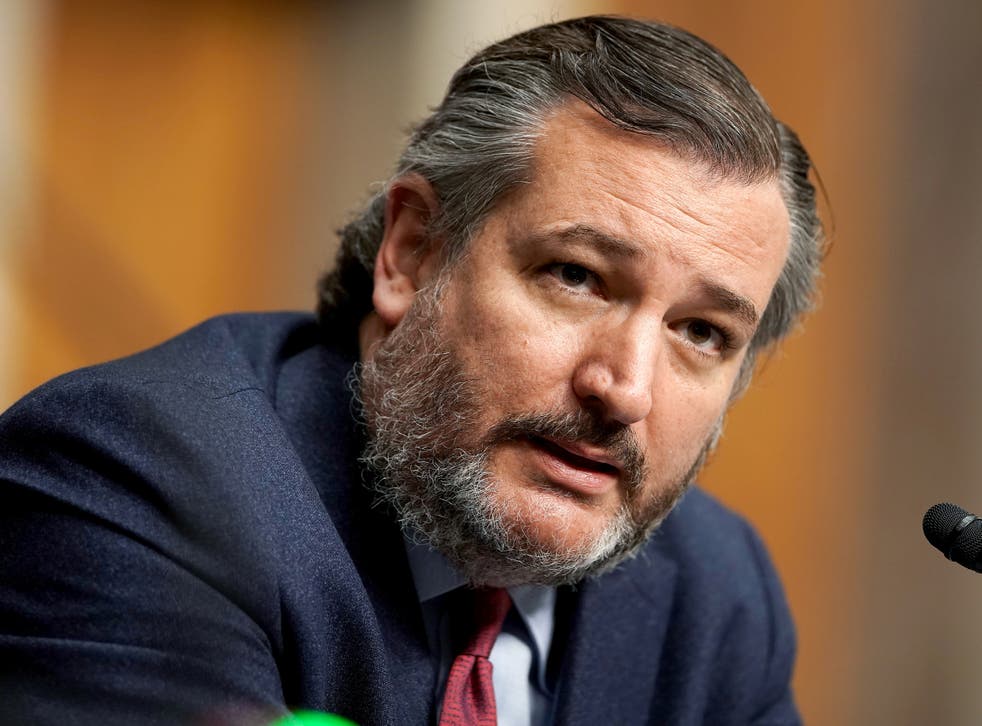 Leer en Español
Cancun is gorgeous this time of year. Today, it's in the mid-80s, with light winds and a low chance of precipitation. But rain and thunderstorms are set to hit tomorrow, so Ted Cruz won't be missing out on much.
Still, that'll be cold comfort when he arrives back in snow-blanketed Texas, where millions of people trapped in sub-zero temperatures have suffered catastrophic power blackouts unlike anything in recent memory.
Many are without water or heat, scraping around for firewood and even bringing farm animals inside to warm their houses. Hospitals are so low on water they've had to evacuate patients and use trash bags to clear out toilets. Turtles and monkeys are dying. The state's boneheadedly go-it-alone self-isolation from the US's larger energy grids has become a national talking point. And the death toll is rising.
Who wouldn't want to get on the next plane to Mexico? Wanting to escape is only human. It's not, however, the usual behavior of a politician.
When Storm Uri clashed with his holiday plans, the Senator could not be stopped from getting on that plane – not by the shame of flying for pleasure during a pandemic, not by the risk he would be spotted (pretty much immediately, as it turned out) and photographed by a horrified onlooker, and not by the moral obligation that's meant to bind a representative to those they represent.
It was already more than faintly appalling that Congress went into recess in just the fourth week of Joe Biden's presidency, not least just after Donald Trump's baldly curtailed impeachment trial. But Senators are not compelled to use dead legislative time to sun themselves. There is always work to be done, and given that voters of all sides are perpetually irritated by the amount of time their elected officials spend away from them, you'd think that swingin' by the ol' homestead would be the generous (and obvious) thing to do.
But Republican compassion has been in short supply in the Lone Star State this year, even as the coronavirus crisis claimed 41,650 Texan lives (and counting). There was Dan Patrick, the state's lieutenant governor, who notoriously told seniors that they should accept there were "more important things than living" and that the economy needed to open up even if it cost thousands of elderly lives.
Into the present crisis rode Tim Boyd, the mayor of Colorado City, some 250 miles west of Dallas, who scolded his desperate townfolk for daring to ask for help. "If you were sitting at home in the cold because you have no power," he wrote on Facebook, "and are sitting there waiting for someone to come rescue you because your lazy is direct result of your raising! [sic]. Only the strong will survive and the week [sic] will perish."
A world in which the weak inevitably perish is exactly the kind of world that dependable water and electricity utilities are meant to help save us from. Boyd has since resigned.
Even platitudinous thoughts-and-prayers waffle would be better than the Texas-till-I-die cant put out by ex-governor Rick Perry — a former energy secretary, no less — who wrote on Kevin McCarthy's blog that "Texans would be without electricity for longer than three days to keep the federal government out of their business".
Maybe some of the millions of people who suddenly found themselves snowbound without reliable power, heat or water really do view this as their moment to grit their teeth and take a stand for states' rights, less fearful of frostbite than they are enraged by the idea of FEMA sending generators to power Covid-19 vaccination sites. Then again, they might be even angrier at their own Senator jetting off to warm the cockles of his own cold heart.
Why is it that this perverse pride in impossible self-sufficiency so often trumps the urge to collectively rescue those in dire need? On the macho, rage-first end of the Republican spectrum where Cruz has built his brand, the scorn for compassion is, in fact, the whole point. Other people's feelings aren't just an inconvenience, but a temptation; pay them too much heed and you might crumble in the face of the ultimate threat: a feminizing agenda of open-mindedness and consideration for others.
Ted Cruz has over the years turned down many chances to extend those vital human qualities, including when he opposed a rescue package after Hurricane Sandy on the pretext that it was overloaded with "pork" for unrelated projects, which it wasn't. (The time he compared a filibuster he staged to a Bataan Death March was another low.)
Compassion, empathy, the impulse to spring into action when people need your help: these are not only things that make a person a person, but also the fundamental moral obligations of elected office. And needless to say, it's clear even Cruz is coming to realize he's made a mistake. Releasing a statement after hours of silence on Thursday, he wrote, "This has been an infuriating week for Texans... Our homes are freezing and our lights are out. Like millions of Texans, my family lost heat and power too. With school cancelled for the week, our girls asked to take a trip with friends. Wanting to be a good dad, I flew down with them last night and am flying back this afternoon. My staff and I are in constant communication with state and local leaders to get to the bottom of what happened in Texas." Infuriating does seem the word. And needless to say, it's a little less hard to bear when your home loses heat and power if you're not in it at the time.
Nowhere is it easier to ignore those obligations than at 35,000 feet – and nowhere is it harder, as Cruz may soon find out, than at the airport when they welcome you home.
Join our new commenting forum
Join thought-provoking conversations, follow other Independent readers and see their replies