Sorry to break it to you, but charging Betty Shelby with the manslaughter of Terence Crutcher won't change anything
We are being encouraged to see the murder as the fault of an individual 'bad cop' rather than the foreseeable and predictable realities of a rotten system and a rotten police force. Nothing hampers racial progress more than the illusion of racial progress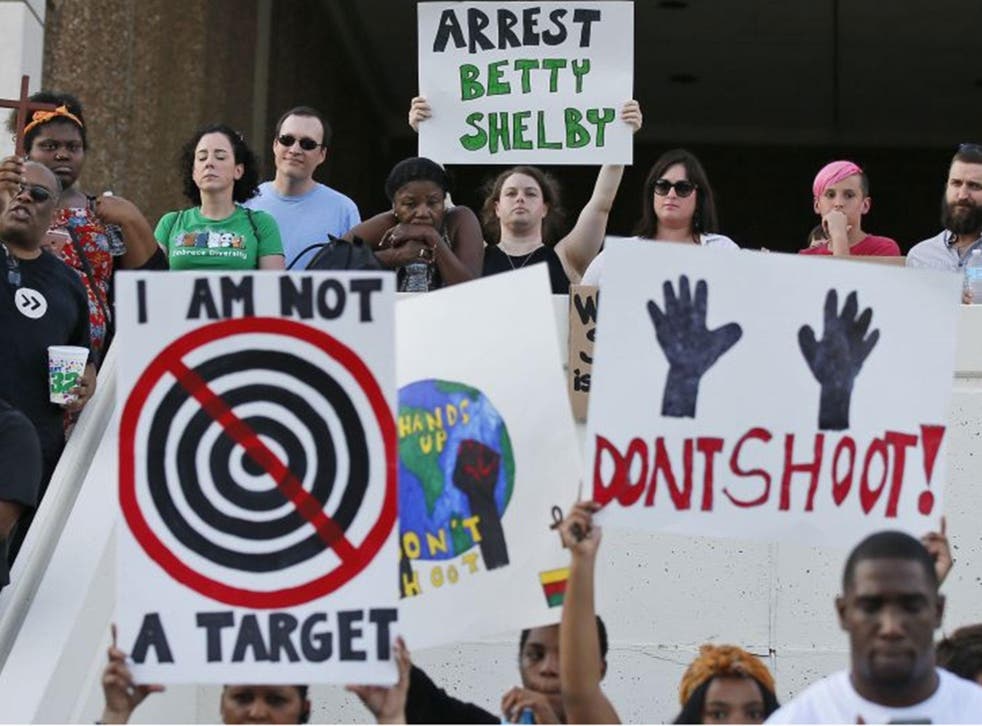 Last week the fatal police shooting of Terence Crutcher made him the latest in an immeasurably long line of black men and women murdered by the police. And after footage of the shooting went viral, news broke recently that the officer who shot Crutcher will face charges of first degree manslaughter. For many, it appears this is something to celebrate. Although it will not bring Crutcher back, and there is certainly no guarantee of a conviction, this charge represents hope of justice and redemption. Perhaps this shows that the US has a racial conscience after all.
But while this charge is certainly better than no charge at all, we should be wary of seeing it as a quick-fix solution. If attention is only focused on charging an individual officer, we surely lose sight of the much bigger picture. Through this lens we might see Crutcher's murder as only the fault of one trigger-happy police officer who does not see the value of black life, rather than a system that devalues black lives all over America.
This sort of discourse is in the interest of the US power structure. We are encouraged to see the murder as the fault of an individual "bad cop" rather than the foreseeable and predictable realities of a rotten system and a rotten police force. With the footage having gone viral, and racial inequality in the spotlight, those in power will be only too happy to individualise the problem, making this one officer the scapegoat. The charges are necessary to maintain the illusion of a racially just society.
The story of an individual bad cop helps to maintain the myth of a tolerant and "post-racial" society, one that doesn't need a Black Lives Matter movement. The charges create an illusion of progress, without doing the meaningful work needed to bring about real change. Rather than engaging in the introspection that the US (and the UK) so desperately needs, attention is shifted conveniently, the whole issue can then be dismissed after a single court case.
Police shooting of Keith Lamont Scott sparks riots in Charlotte

Show all 7
Individual manifestations of racism are part of the picture, but not the whole picture. Systemic racism permeates the police force particularly, and society generally. We shouldn't be given convenient excuses to forget that.
When we consider that black Americans are killed by police on an almost daily basis, it should be clear that Crutcher's death is not an isolated occurrence. Black deaths at the hands of the police are so frequent that, in a news cycle that seems to be permanently on repeat, Crutcher's murder is already becoming old news. As attention turns to the Charlotte killing of Keith Lamont Scott, the names might change, but the narrative remains a disturbingly familiar one.
We will not see an end to racial oppression if we only charge officers, but never change the system from which their actions arise. As the Macpherson report and subsequent reports have shown us in the UK – and as is so patently obvious in the US – our police forces are institutionally racist.
With the genealogy of US police forces stretching back to the need to control and oppress black populations through slave patrols, it should not be a surprise that racism remains deeply ingrained. Police continue to harass, abuse and murder black people every day – and although this is certainly more prevalent in the US, it's a problem in the UK too.
Terence Crutcher: Unarmed black man with his hands up killed by Tulsa police
Anti-racist efforts must remain focused on institutional change. Of course there is no reason why this cannot be reached alongside individual prosecutions, but we must see the bigger picture. Nothing hampers racial progress more than the illusion of racial progress.
So let us not be distracted by the quick (and often attractive) fix of persecuting an individual. For real racial justice, and a future where black lives matter, our efforts must focus on the disease, not just the symptoms.
Join our new commenting forum
Join thought-provoking conversations, follow other Independent readers and see their replies