I am a terror attack survivor and this is how I am fighting extremism
The questions I asked myself after the attack revolved around one word: why? Why would an adult want to mercilessly kill hundreds of innocent children? It took a long time but eventually I found the answer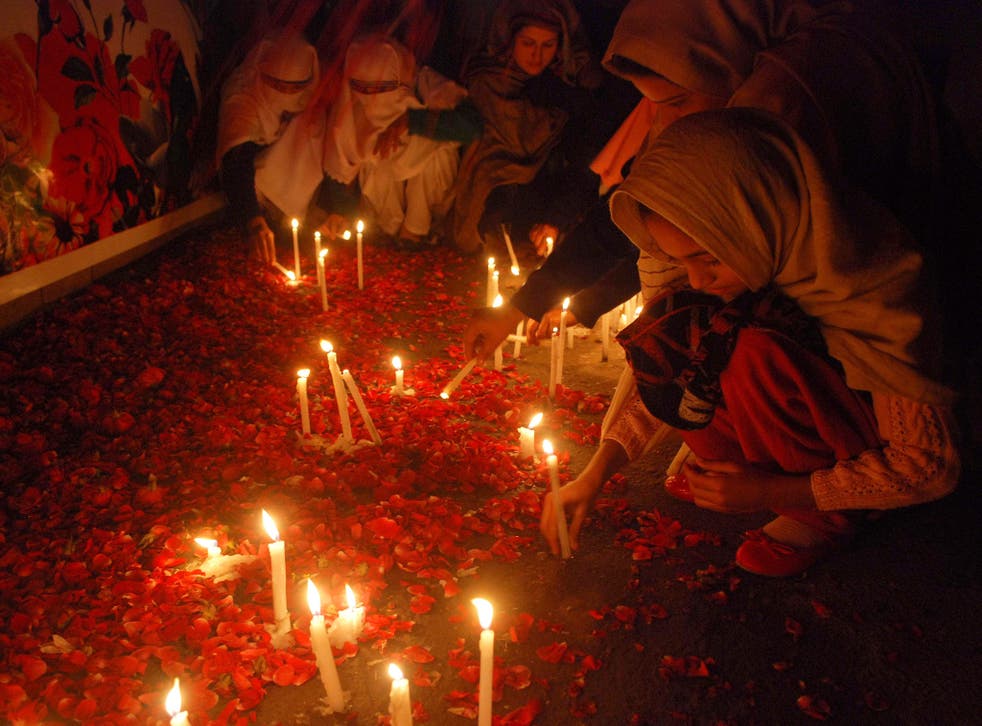 The last time I heard the joy and laughter of my classmates was on the morning of 16 December 2014 in Pakistan. It had been a perfectly normal start to the day and my friends and I were joking around in a lesson and having fun. But just after 10.30am, everything changed. Six men – terrorists – broke in to my school and started shooting indiscriminately at my friends and teachers.
I was badly injured. My teacher was burned alive in front of me. I laid there for hours on end, counting the bomb blasts, surrounded by the dead and dying, unable to help or do anything. By the end of the attack 149 people had been murdered. Some of the victims were as young as eight years old.
For my family the worst was yet to come. Fifteen days later, while recovering from my injuries in hospital, I found out that my brother Haris had been killed in the attack. That morning he hadn't wanted to go to school but I had forced him and now he was dead, shot in the head while trying to save someone else. He was only 13, a year younger than me. In that moment, I was suddenly broken into pieces. I was angry. I remember thinking that no one should have to suffer like this. No one should have to see that pain in their parents' eyes.
The questions I asked myself after the attack revolved around one word: why? Why us? Why would an adult want to mercilessly kill hundreds of innocent children? It took a long time but eventually I found the answer. What terrifies extremists is not capture or death – it is young people taking a different path, having their voices heard, shaping the future, resisting hatred, embracing knowledge. The terrorists who attacked my school did so because they were terrified of us and everything we represent: the hope and the potential that comes from education.
After the attack, my family and I moved to Birmingham where I could receive the medical care that I needed. We have been through so much – but the hand of friendship extended to us by our neighbours in Britain has made these painful years so much more bearable.
That's why, four years later, I am telling my story: so that people can understand how hate, division and extremism – wherever it is, whatever form it takes – ruins lives. I have already spoken in more than 100 schools across the country and yesterday I proudly stood in front of the Building a Stronger Britain Together conference in London to share my story and my vision.
Support free-thinking journalism and attend Independent events
I want to give something back to the people who have given so much to us. My dream is that my story and the memory of my brother Haris will open people's hearts and minds and encourage them to make the most of the opportunities they have, to turn away from hatred and work together for a better future.
Building a Stronger Britain Together matches what I believe. It brings together government with people and groups from across the country who are working to fight against extremism. Groups like the Anne Frank Trust, who I have worked with in Birmingham, as well as hundreds of others, including causes close to my heart such as helping young people and others who have been opposed to extremist views. We are all lucky to live in a country where there are so many people who do this vital work. That's why I wanted to get involved – to speak to these groups, to thank, celebrate and encourage them.
I believe that individually we can achieve so much but together we can achieve anything. That's why I'm supporting Building a Stronger Britain Together: to share the message that together we can defeat extremists of all forms, build the stronger communities we all want to live in and shape the future, free of hate and division. A future in which I can still hear the laughter ringing around that classroom: no gunshots, no fear.
The BSBT network includes grassroots campaigns across England and Wales that bring together young people from segregated communities, build resilience to extremism and challenge extremist narratives
Join our new commenting forum
Join thought-provoking conversations, follow other Independent readers and see their replies