Republicans can't afford to take Texas for granted, say polling experts
'They're basically polls that have been, you know, created to make the President feel good'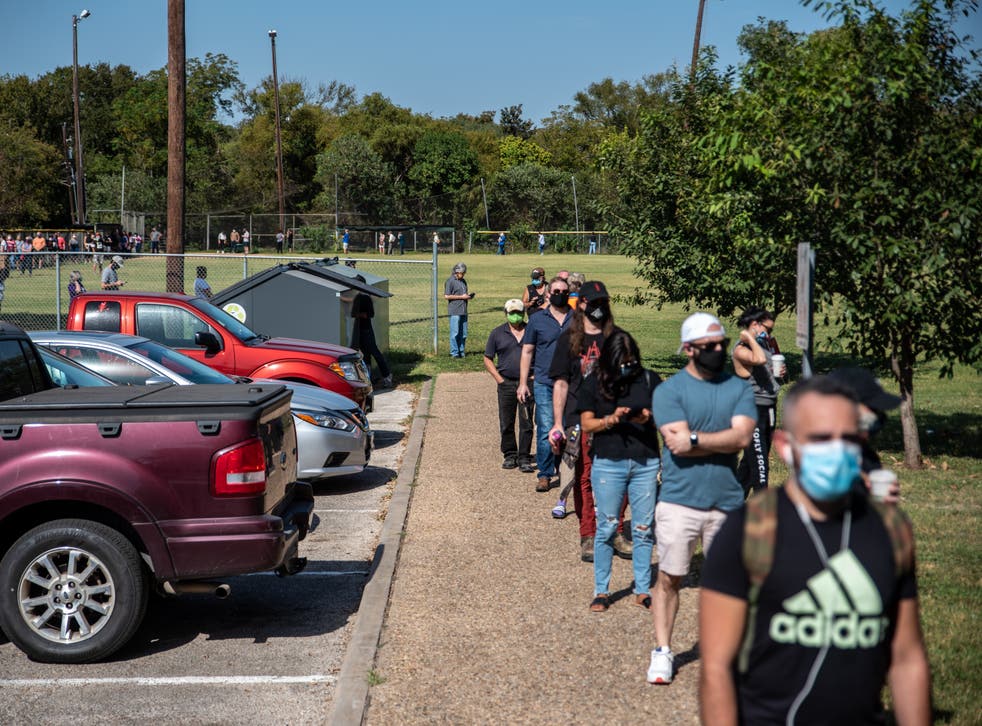 Leer en Español
With just seven short days remaining until the last votes of the 2020 election are cast, political veterans from both ends of the ideological spectrum have been chattering away about some strange goings-on in America's second most populous state. And while the results won't be known for a week, there is a bipartisan consensus that something is happening in Texas.
The Lone Star State and its 38 electoral votes have been a lock for Republicans since Ronald Reagan claimed them on the way to his 489-49 electoral college landslide over the last Democrat to win Texas, then-President Jimmy Carter. The GOP has also had a stranglehold over Texas' state house since 2003 and no Democrat has won a statewide election there since 1994.
But even in the face of loss upon crushing loss, Democrats have harbored dreams of a resurgence in what was once one of their largest and most reliable strongholds, powered by what has been a steadily increasing Latino share of the Texas electorate.
Could 2020 be the year Lone Star State Democrats finally bring home the bacon and effectively lock the GOP out of the White House?
One Texas politics graybeard, consultant-turned-TV-producer Mark McKinnon, does not see Democrats nailing down the big prize this year, but acknowledged that there is potential for them to have a better year there than they've had in a long time by picking off some newly competitive House districts and potentially flipping the State House of Representatives as well.
"Texas would be, if it comes through, a monster white whale. But if you're fishing, go for the fish you can get first," he said.
McKinnon, who helped make Ann Richards the last Democrat to occupy the Texas governor's mansion in 1990 before later shepherding her successor, George W Bush, to the White House, explained that urban areas around Fort Worth and Houston are "really blowing up demographically" in a way that could bode well for Democrats. But because a statewide victory would be a much heavier lift this year, he would advise the Biden campaign to be cautious in how it expends resources there.
"Just from a strategic point of view, I would not waste any time or resources there and… not do what Hillary did, which was spend time the last week in Arizona, back when Arizona was much more questionable," he said, adding later that the Biden campaign's decision to send Democratic vice presidential nominee Kamala Harris to Texas — rather than sending Biden himself — is "a rational deployment of resources".
But another veteran of many a bruising political battle in the second largest state, ex-GOP consultant and Lincoln Project founder Mike Madrid, is far more bullish on his new allies' chances.
Madrid, an expert on Latino voting trends, said predictions that Donald Trump will earn enough Latino votes to carry the day might hold up in Florida, with its large Cuban American population, but stressed that the large percentage of Mexican Americans in Texas make the Lone Star State a much heavier lift for Trump.
"The Mexican American vote is the most anti-Republican vote there is," said Madrid, who explained that aside from ex-Texas Governor George W Bush's two presidential runs, only around 27 percent of Latinos tend to vote Republican.
Trump would need to win a full third — 33 percent — of Latino voters to retain Texas' electoral votes, he explained, because the Biden campaign has already pulled away at least nine points' worth of the college-educated white vote from Trump's 2016 base. But despite polling that shows Trump doing better than previous GOP candidates not named Bush among Latinos, Madrid remains skeptical that the 45th President will buck historical trends that have remained consistent since the 1996 election.
"I don't think there's any data to suggest that it's not gonna be the same — I think it will be exactly the same," he said. "And that five points in the Hispanic vote is likely enough, coupled with the nine points moving of college-educated whites towards Biden, to get to Texas over the top for a Democrat."
Trump campaign officials and surrogates have repeatedly scoffed at the possibility that former Vice President Joe Biden could be the candidate to turn Texas blue, particularly after he said he would enact policies to reduce the country's dependence on fossil fuels during last week's presidential debate.
On a conference call with reporters last week, former Texas Governor Rick Perry opined that Trump "is going to do quite fine in Texas" and will carry the state "handily".
"We always hear this pipe dream that Texas is somehow going to go back into the Democrat column. I've been running statewide here since 1990… and will suggest to you on the fourth day of November this year, we will wake up and Texas will continue to be very red state," he said, while Trump campaign communications director Tim Murtaugh mockingly challenged those who might speak of "the great Democrat Texas hope" to "ask how Senator Beto O'Rourke is doing".
"Texas is not a battleground state. It's that simple," he declared.
Most recent public polling would appear to confirm Murtaugh's assertions. The RealClearPolitics average of Texas polling shows Trump ahead by 3.2 percentage points, and only two recent state-level polls have shown Biden either ahead or tied. The most recent state-level poll of Texas likely voters, conducted by The New York Times and Sienna College, shows Trump ahead by four points, just outside the poll's 3.8 point margin of error.
But despite polling which appears to point to Texas remaining in the GOP column next week, Dr Rachel Bitecofer, a political scientist whose voter turnout modeling gained significant attention in the wake of 2018's "blue wave" election, said the polling averages should not be taken as gospel because they include significant numbers of polls with shoddy methodology and small sample sizes.
"They're basically polls that have been, you know, created to make the President feel good," she explained, adding that her sense of the race is that Texas remains a "toss-up" in the presidential column, while Democrats have a good chance of flipping a number of congressional districts as well as the state House of Representatives.
"If that's happening, that makes the whole state competitive," she said, adding that Biden could benefit from those down-ballot candidates' "reverse coattails".
Another veteran reader of polls and one of the few living Americans to have run a successful Democratic presidential campaign — Clinton 1992 campaign manager James Carville — opined that the most accurate model from which to extrapolate the 2020 electorate is actually the 2018 midterm elections, which saw "astronomically high" turnout from both parties and was far more like a presidential election than a normal midterm year.
Moreover, Carville said the adjustments made to polling methodology in the wake of 2016 could be disguising Biden voters because the samples are including too many Trump voters to make up for 2016's errors.
"I think these pollsters… got burned by not having enough white non-college voters [in 2016] and so they're overcompensating this cycle because they're so nervous about it happening again," Carville said. "As a matter of human nature, I suspect a lot of polls — public polls in particular — are overcompensating for non-college whites. History tells us that people, if they undershoot one time, they overshoot the next time."
Register for free to continue reading
Registration is a free and easy way to support our truly independent journalism
By registering, you will also enjoy limited access to Premium articles, exclusive newsletters, commenting, and virtual events with our leading journalists
Already have an account? sign in
Join our new commenting forum
Join thought-provoking conversations, follow other Independent readers and see their replies