In defence of the aubergine emoji
Some people think the emoji's use has gone too far, and said even that it can constitute a form of harassment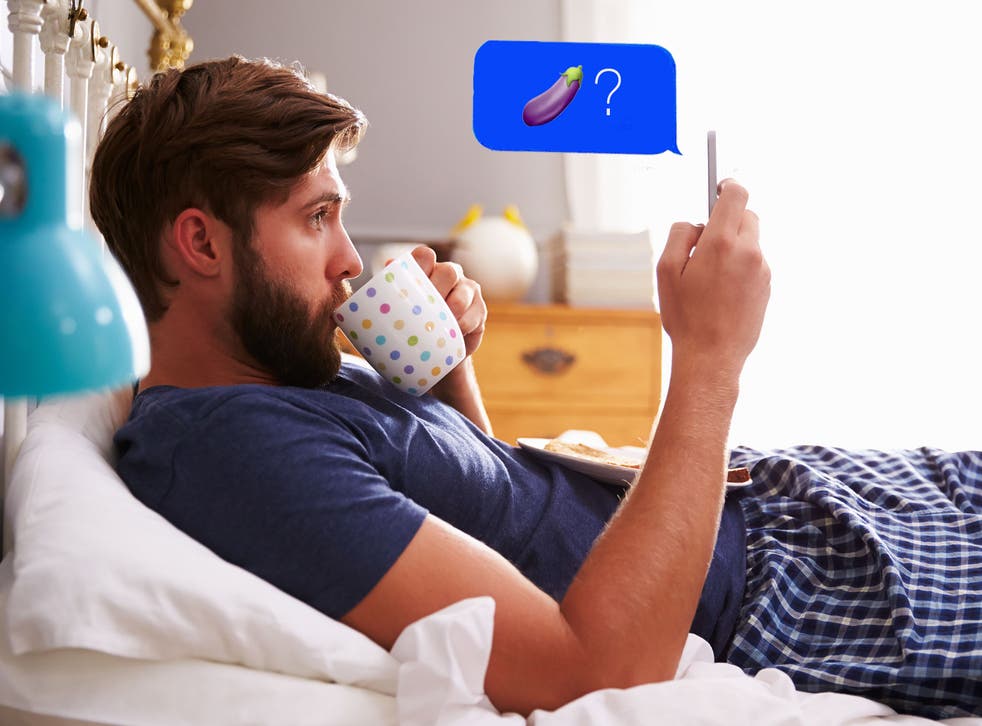 I bloody love an emoji.
Whether it's a heart from a friend, a happy face from a colleague, or a wine symbol from my drinking buddy, I appreciate them all. In fact, I would go so far as to say these symbols lubricate our society – turning us from grumpy bastards into pleasant communicators
But not everyone's a fan, and recently one emoji has caused some upset. That is, the big bad aubergine symbol.
I know, right? Who could get cross about aubergine. They taste so good in tagines and are soft and squishy like a baby's cheek. But in recent years they've become more than an innocent vegetable, and reclaimed as a phallic symbol. Forget buying a girl a rose, or a Rod Steward CD, lots of lads are now sending their loved ones aubergine on Tinder, Whatsapp and the like.
Some people think this aubergine action has gone too far, and have claimed that men are using them as a "digital catcall". They even go so far as to say that the aubergine can constitute a form of harassment, and that many Tinderellas feel violated when a message arrives featuring the bulging veg.
When I heard about these protestations I couldn't help but "lol". There is a certain type of so-called feminism that tries to find offence in anything that might slightly denigrate women, or promote male sexuality. It seems such a humourless and trivial attack when our sex has so many bigger issues to battle. To me and my pals, the aubergine is no threatening matter – just a bit of silliness, usually wheeled out in a dating context. Goodness knows trying to flirt through a phone is awkward enough. If an aubergine can move things along, well, who can object?
What's more, many of my girlfriends happily send aubergines back in the direction of their romantic counterparts. Some do it because it gives them a chuckle; others do it to see how they react. In fact, one of my friends uses it across Tinder as a barometer of a man. Does he make a witty comeback? It's on. Will he trade fruit-related emojis? It's still on. Will he just send a dick pic back? Game over.
My only main objection to men sending across aubergine is that they probably ill-reflect "what lies beneath", with many men able to grossly exaggerate the size of their manhood through the medium of vegetables. I reckon if I was a guy I'd stick to the more humble banana emoji, or lollipop.
But that aside I'm not ready to say goodbye to the aubergine. It may be daft, but it's something that eases up digital communications – and brings out the best and worst in people. If certain women are so offended by them, then they will always have the option of the "block" and "delete" buttons. But let's leave this emoji alone.
Register for free to continue reading
Registration is a free and easy way to support our truly independent journalism
By registering, you will also enjoy limited access to Premium articles, exclusive newsletters, commenting, and virtual events with our leading journalists
Already have an account? sign in
Register for free to continue reading
Registration is a free and easy way to support our truly independent journalism
By registering, you will also enjoy limited access to Premium articles, exclusive newsletters, commenting, and virtual events with our leading journalists
Already have an account? sign in
Join our new commenting forum
Join thought-provoking conversations, follow other Independent readers and see their replies