Why do we find it so hard to deal with transgender people in real life, rather than on TV?
Clarke shot to media prominence after uploading a video of himself experiencing an emotional meltdown, and being prevented from self-harming by his service dog Samson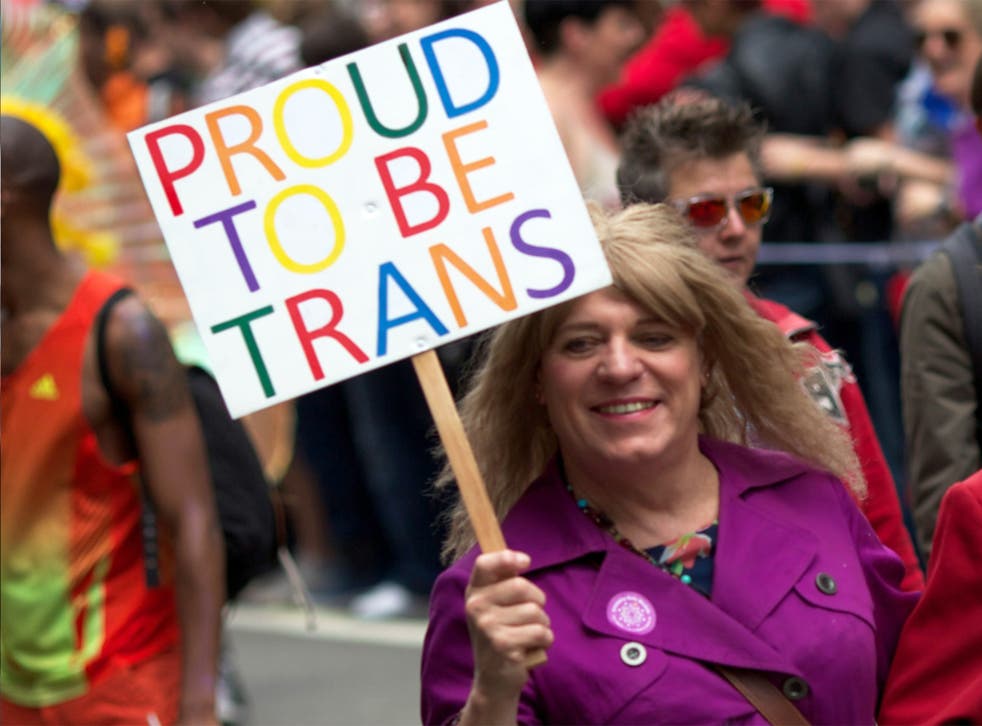 Kayden Clarke, an American trans man with Asperger's syndrome was shot dead by police last Friday. The police were sent to his flat in Arizona after a suicide call.
Kayden had gained visibility on Youtube after uploading several videos of his service dog, a Rottweiler called Samson, preventing him from self-harming during an emotional episode. However, another series he posted on the same website went fairly unnoticed: videos about his transition from female to male (F-to-M) and his challenges and struggles regarding the transition.
By now, most of the media have corrected their initial reports, according to which a woman named Danielle Jacobs had been shot dead by police in Arizona.
Like most media outlets, the Independent had initially based its reports on statements from both the police and Clarke's mother who continued referring to him using his birth name and female pronouns.
"Before the police arrived she wasn't posing a threat to the community at all. And the police came into her own place," said Clarke's mother, while the police used Clarke's birth name to refer to him.
While a lot of websites corrected their mistake after an outcry of the trans online community, a quick Internet search shows some have still failed to do so.
"Woman with Asperger's syndrome shot dead by police in Arizona," reads the Telegraph.
"Woman with Asperger's syndrome who shared touching video of her dog helping her cope is shot dead by police after suicide call," reads the Daily Mail.
"Woman with Asperger's who posted touching viral video with her service dog is SHOT DEAD by police," is the Mirror's headline.
In the past few years, the image of the transgender community has improved a lot in the media, where once it was demonised or merely seen as the butt of cruel jokes.
Slowly, the tide has been turning. Last April we saw the BBC's Louis Theroux documenting the transition of several American children in California. Channel 4 recently released both a TV and an online series called Born In The Wrong Body which follows several people who are part of the trans community.
French TV channel France 2 broadcasted a talk show where they hosted three transgender people last September. And while the lack of knowledge on the matter from the host and experts is obvious very early on during the show, the channel did break the silence on a subject that was previously taboo.
Belgian national radio and TV, RTBF, are currently hosting a campaign to raise awareness about LGBTQ issues, broadcasting testimonies of members of the community.
Thanks to these pioneering media and some stars coming out – most prominently, of course, Caitlyn Jenner – transgender people are slowly coming out of the shadows and controlling the narrative on their own experiences.
And entertainment programmes are also slowly paving the way for change; transgender actress Laverne Cox continues to portray trans inmate Sophia, in a programme (Orange is the New Black) which sensitively explores issues surrounding trans prejudice and the effects that a transition can have on a person's life and relationships. Meanwhile, ABC Family's series The Fosters, which revolves around a multi-ethnic family with same sex-parents, also included an F-t-M character played by trans actor Tom Phelan.
As Phelan pointed out in an interview for the Hollywood Reporter, however, "we've come a long way with being in the public eye, but in terms of lessening violence, there hasn't been a lot of change. Media representation is great, but it's not going to promote visible, genuine change."
Media visibility – especially in fictional settings - might spread knowledge and a bit more understanding, both of which are incredibly encouraging. But the case of Kayden Clarke shows us that when a real trans person hits the headlines, the resulting coverage can be a lot more complicated.
Register for free to continue reading
Registration is a free and easy way to support our truly independent journalism
By registering, you will also enjoy limited access to Premium articles, exclusive newsletters, commenting, and virtual events with our leading journalists
Already have an account? sign in
Register for free to continue reading
Registration is a free and easy way to support our truly independent journalism
By registering, you will also enjoy limited access to Premium articles, exclusive newsletters, commenting, and virtual events with our leading journalists
Already have an account? sign in
Join our new commenting forum
Join thought-provoking conversations, follow other Independent readers and see their replies