The decision to uphold Anders Breivik's human rights is the unpalatable, but right thing to do
Breivik, it emerged, is living in a state of solitary confinement – an existence that is not only inhumane but can be psychologically damaging in the long term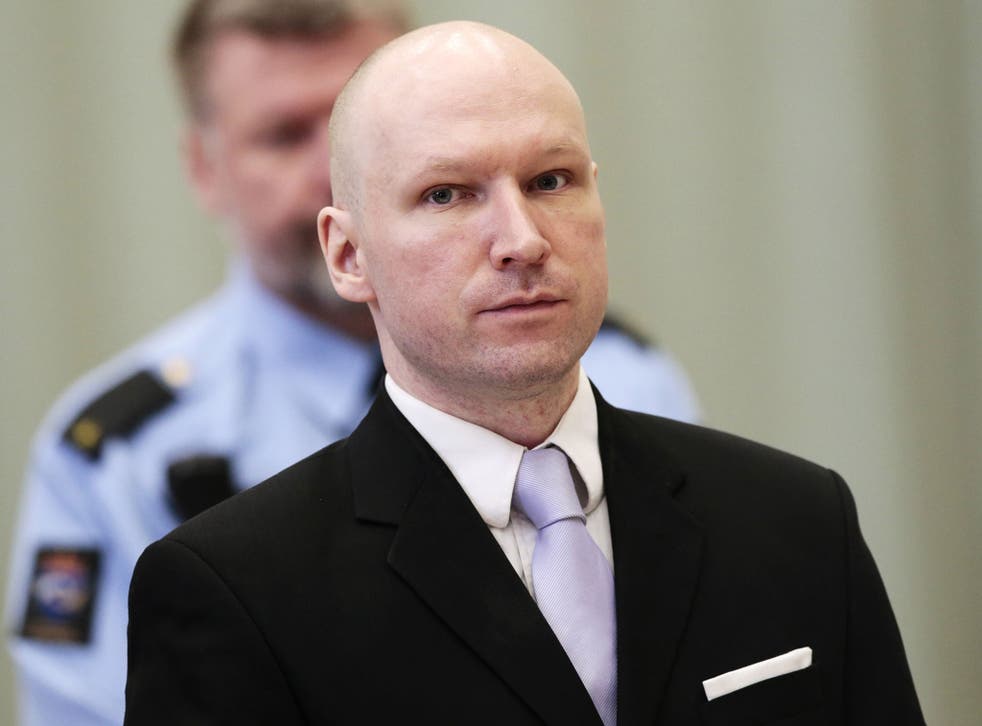 Late last year, something happened that took me by surprise. In the wake of the devastating terrorist attacks in Paris, I felt a visceral anger, a chilling feeling that troubled my liberal sensibilities.
As videos of the bloodied victims emerged, no punishment could be harsh enough for the evil perpetrators of such extreme wrongdoing. Their attacks were an attack on me: I had walked those streets; eaten in similar restaurants; enjoyed the Parisian nightlife; celebrated what it is to be European, to be Western.
That night, I felt a fierce commitment to the full force of retributive justice – an emotion, no doubt, shared by a majority of Westerners at the time. The people who brainwashed these young men, I felt (it was a feeling, and certainly not a thought), should be hunted down and punished, even shot dead to eliminate their hatred and intolerance from our society. The punishment should meet the crime: they kill us, we kill them.
These emotions troubled me because they challenged my long held beliefs: that capital punishment is both morally wrong and objectively ineffective as a deterrent to criminal activity; that the same applies to torture; that prison and 'punishment' rarely works; that penal reform would cut reoffending rates and improve the life chances of former criminals; that poverty and isolation lead to crime; and – importantly, that terrorism is in itself a symptom, as well as a cause, of fractured communities.
The tension between my rational views –rooted as they are in Western values of freedom and tolerance – and my emotional response to the graphic horror of a terror attack on European soil remind us why it is so necessary that the rule of law is upheld at all cost.
That troubling moment came to mind again this week, when the Norwegian far right terrorist Anders Breivik – who is serving a 21 year sentence for the massacre of 77 people in 2011 – won a lawsuit against the Norwegian government for the "inhuman treatment" he has suffered while imprisoned.
Given the minor freedoms the man reportedly has – access to a television, a games console and a computer without internet access; space to prepare food and to do laundry; three cells in which to live, study and exercise – and the extent of the freedoms he stripped away from 77 others, it may seem astonishing that such a verdict could be even considered, let alone upheld by an Oslo court.
But however unpalatable it may be, the decision is the right one. It is imperative that our values of compassion and respect for the rights of all citizens is upheld for all people – most especially in the case of those who have sought to rob us of those standards of virtue.
Breivik, it emerged, is living in a state of solitary confinement – an existence that is not only inhumane but can be psychologically damaging in the long term. He has been kept alone in his cell for up to 23 hours a day, denied all contact with other inmates and is only communicating with prison staff through a glass wall. Importantly, other prisoners in Norway are not living in the same fashion though some have, inevitably, carried out detestable and serious crimes.
Like my own kneejerk response to the Paris attacks, it appeared that Breivik has been singled out for extra punishment because the atrocity carried out at his hands was so shocking. Emotionally, this feels right. Legally – and morally – it is wrong.
Judge Helen Andenaes Sekulic, who delivered the verdict in the appeal, was correct to conclude that the right not to be subjected to inhuman treatment is a "fundamental value in a democratic society". Those values apply to each and every one of us - whatever the extent of our failures as a citizen. To uphold them is the most effective defence we have against the spread of terror and barbarianism.
Register for free to continue reading
Registration is a free and easy way to support our truly independent journalism
By registering, you will also enjoy limited access to Premium articles, exclusive newsletters, commenting, and virtual events with our leading journalists
Already have an account? sign in
Join our new commenting forum
Join thought-provoking conversations, follow other Independent readers and see their replies