The future of newspapers meets the future of politics
Letter from the Editor-at-Large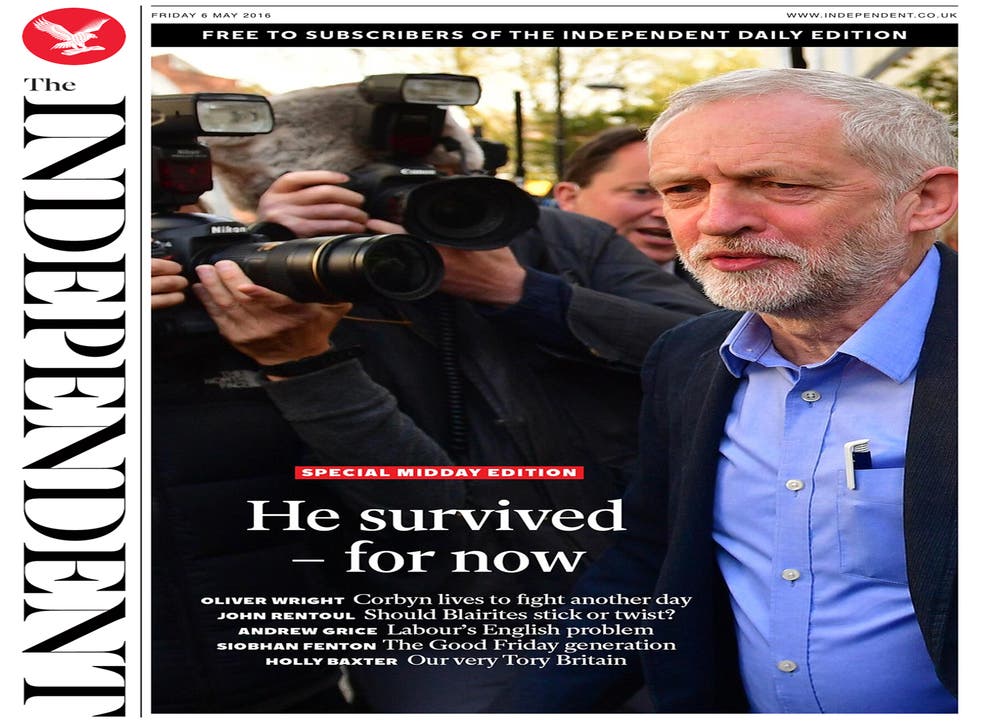 Well hello again. I'm back! Did you miss me? Yes, I thought not.
Four weeks of paternity leave is a great way to avoid news. Precisely for that reason, I think all of us in this industry should spend time away from the news more often. As journalists, we're constantly on call, forever looking out for the latest developments on pretty much every story under the sun. This has long been a reliable way of causing a range of mental illnesses, and that was before the internet, and particularly social media, compounded our woes.
That's why I've enjoyed being away from the news, immersed in nappies and engaging with events much more like you engage with them: listening to the radio in the morning, watching a daily bulletin on TV perhaps, and – yes – reading a daily edition. Not of a newspaper, but The Independent Daily Edition App.
Like you, and like the likes of our founder, Sir Andreas Whittam Smith, I have been pleasantly surprised by how much I enjoy this app, how much it seems to replicate the feeling and geography of the daily paper, and how navigable it is. I am acutely conscious, as you'd expect, of what we're missing, and though I've been slow to reply to them, the team here has noted each and every one of your comments and complaints.
Naturally you'd expect me to be boastful about our successes, but this being The Independent we're not excessively prone to lies and exaggeration; and I can tell you with complete sincerity that the feedback you, our treasured readers, have given to this app has been phenomenally positive. Over the coming weeks, we have a range of improvements in store which will go a long way, I hope, to addressing your worries.
Some of you will have seen our special edition at lunchtime on Friday (below), which followed the results in local elections. That's the beauty of this digital lark: we can get the latest news to you without having to go through the business of printing it, loading up vans, driving to your town and persuading you to enter a shop and part with cash there. Some of the excellent analysis in that noon edition is also carried in today's app.
Our coverage is dominated, of course, by the local election results. We've got pages of very clever writing by greater minds than I, so I leave you with just two thoughts.
First, Ruth Davidson is clearly one of the most talented politicians in Britain today. Quality of leadership is (almost) everything in politics, and by sheer force of personality she has transformed Tory fortunes in Scotland.
Second, when you bear in mind how downtrodden Labour MPs are at the moment – many of them not on talking terms with Jeremy Corbyn and those around him – it seems to me inevitable that Sadiq Khan's impressive victory in London will exert a huge gravitational force on the parliamentary party. With Corbyn's gang, those MPs see an unwelcoming cabal lurching from crisis to crisis, with (in their view) no hope of winning in 2020. With Khan, they see a smart, presentable winner with very high profile who has struck a blow for diversity. Of course he may be felled by some scandal or corruption or who knows what. But then he might not. Isn't he likely to make an ever greater claim on the affections of a disgruntled Labour movement?
He is, so picture this: it's 2030, a General Election has been called, and in the red and blue corner we just so happen to have – not because of their ethnicity or sexuality, but because of their competence as leaders – a Muslim against a lesbian.
Sadiq vs Ruth. Don't bet against it.
Register for free to continue reading
Registration is a free and easy way to support our truly independent journalism
By registering, you will also enjoy limited access to Premium articles, exclusive newsletters, commenting, and virtual events with our leading journalists
Already have an account? sign in
Register for free to continue reading
Registration is a free and easy way to support our truly independent journalism
By registering, you will also enjoy limited access to Premium articles, exclusive newsletters, commenting, and virtual events with our leading journalists
Already have an account? sign in
Join our new commenting forum
Join thought-provoking conversations, follow other Independent readers and see their replies