The Grand National is the UK's bull-fighting - we need to dismantle this cruel industry once and for all
If you think it's bad that horses die on the racecourses every year, you need to hear about the fates of the winning horses after they retire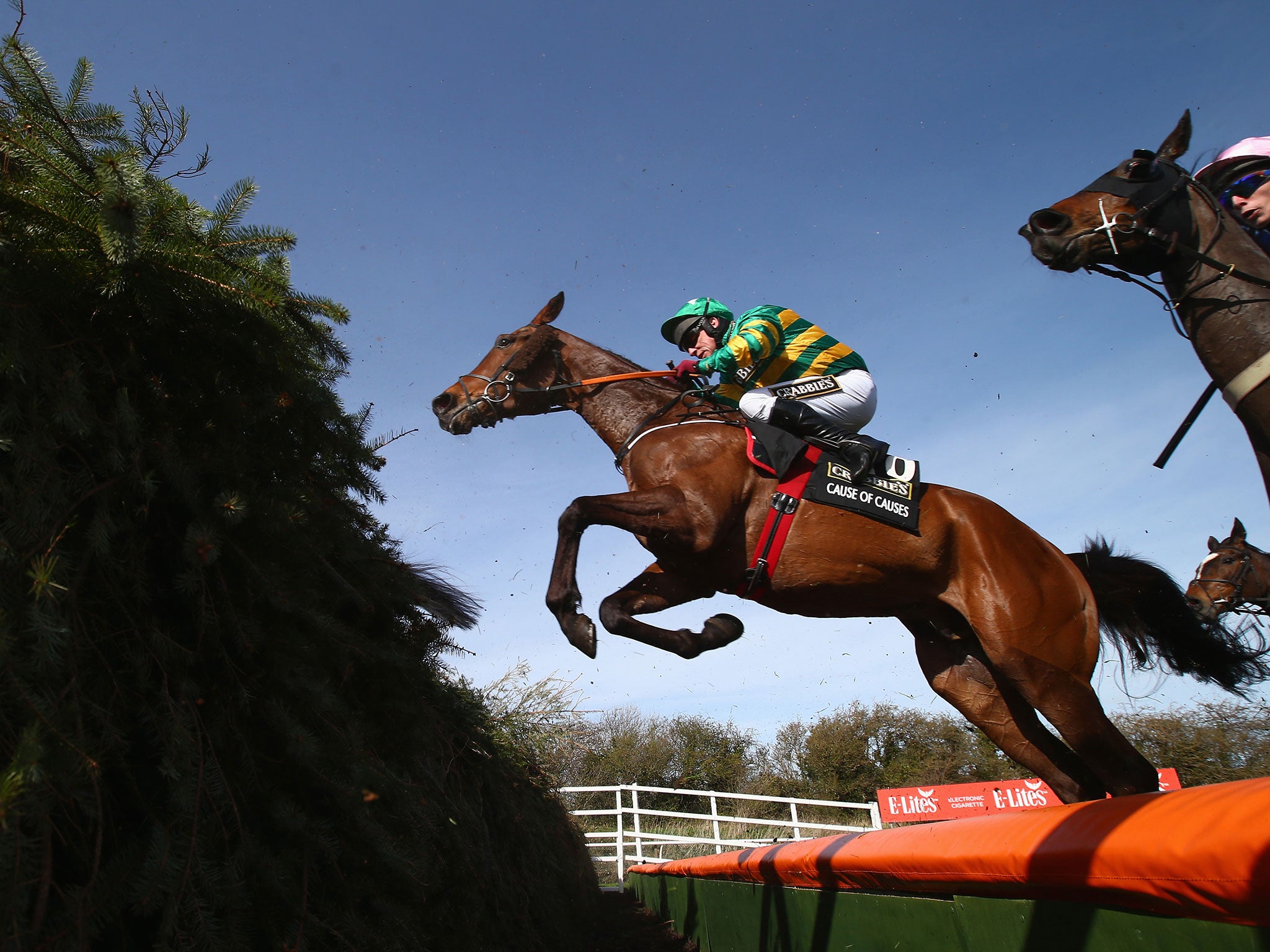 Isn't it high time we took a good, hard look into our own psyches and asked ourselves why anyone is still watching – or worse, cheering – the carnage of the Grand National?
The Grand National is, by design, an extremely challenging course. Forty horses compete for space on a 4-mile course of obstacles, jumps and dangerous terrain. In 2012, only 15 managed to reach the finishing post. Not even half completed the course in each of 2013, 2014 and 2015 races.
Horse-racing is a dangerous sport: in 2015 alone 156 horses died doing it. In response to media coverage of the death toll, race organisers may make some perfunctory alterations in courses from time to time, but these are never sufficient to create conditions in which horses are completely safe.
While a few of the obstacles have been slightly lowered on some courses, many remain dangerous. During races, horses can sustain pulled tendons, broken legs and other serious injuries when they crash face-first into the ground. And while deliberately hurting an animal is prohibited in many other circumstances, riders at the Grand National are actually required to carry a whip.
Of course it's not just during the Grand National that horses are treated as little more than replaceable inventory. Horses routinely pay with their lives on other British racetracks. Seven died in this year's Cheltenham Festival – three on one day alone.
Jockey Ruby Walsh epitomised this indifference when he blithely dismissed the death of a horse named Our Conor in the 2014 Cheltenham Festival, saying, "You can replace a horse". Walsh's comments were disturbingly prescient: two more horses died on the Cheltenham track the very next day.
Breeders churn out horses in hopes of producing a winner, but not every horse is a fast runner. It's estimated that 18,000 foals are born every year into the British and Irish racing industries. Only about 40 per cent go on to race. Those who don't make the grade face uncertain fates, which can include tragic neglect and slaughter.
Where not to visit if you love animals
Show all 9
The racing industry is not kind to its spent cast-offs, either. There are too many retired horses and too few retirement options.
Some former racehorses are simply shot, while others are slaughtered and their flesh exported for human consumption or rendered for dog and cat food. Yet others are left to languish in forgotten fields. This was the fate of the 1984 Grand National winner, Hello Dandy, who was ultimately found under different ownership, living in appalling conditions and suffering from rain scald.
Similarly, in February of this year, a horse eventually identified via microchip as the Weatherbys-registered racehorse Out of Nothing was found - again, under different ownership - in a pasture, emaciated, covered with sores and barely able to stand. This was a horse that, before 2014, had run 43 races in Ireland and the UK, with three wins and eight placings to her credit. Her condition was so grave that she could not be saved.
This cruelty will end only when the public realises that when it comes to funding the cruel and exploitative horse-racing industry. There is no such thing as a "harmless flutter".
This article was amended at 10.12am on 07/04/16 to correct factual inaccuracies related to horse injuries and deaths in the horse-racing industry
Join our commenting forum
Join thought-provoking conversations, follow other Independent readers and see their replies