The killers of Abu Khdeir would have faced a very different fate if they were Palestinians who killed an Israeli teen
In the West Bank, it's one rule for illegal Israeli settlers and another for the Palestinians whose family homes can be demolished if they commit certain crimes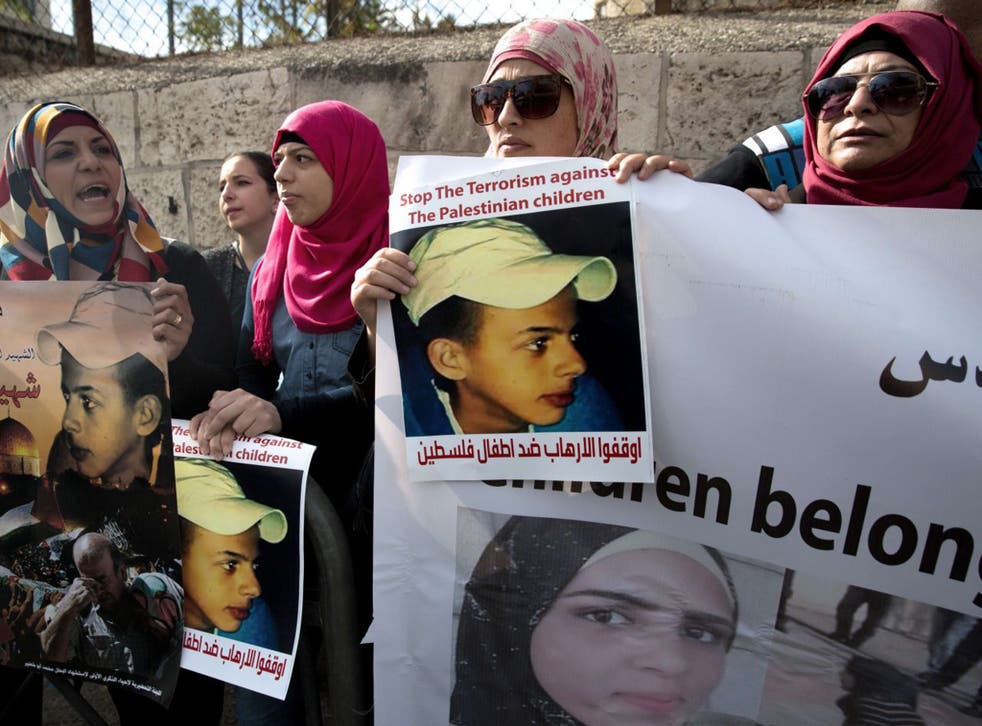 "When there is racism, there is no justice."
This was the damning verdict of the family of 16-year-old Mohammed Abu Khdeir - who was burnt alive by Israeli settlers in a Jerusalem forest after being kidnapped from the street outside his house last year - at the end of the trial of the three Israelis accused of killing him. Two, both eighteen, were convicted on Monday of the boy's murder and the third, 31-year-old Yosef Haim Ben-David, is pleading insanity.
The desperate words were spoken by Mohammed's cousin, Ansam Abu Khdeir, who has attended almost every court session since the trial began. She added: "If it was a Palestinian who did this to an Israeli child, they would kill him before even arresting him. Then they would demolish his house and arrest his family. What did they do for Ben-David? Did they demolish his house? They are trying to prove that he's crazy, that's it."
Two sets of laws are at work in the West Bank, where the Abu Khdeir family live. There are punitive military laws, which the ruling Israeli state imposes on the Palestinians who live under its occupation, and civil law, which is bestowed on the 600,000 Israeli settlers who live in Israel's illegal West Bank settlements.
There is also the lawlessness of Israel's extrajudicial killings of Palestinians who are suspected of a crime, or caught carrying out a crime. It is this unwritten law which Abu Khdeir's cousin refers to in her anguished words. These Palestinians are not given the right to a trial, to hear the charges against them, to be found guilty or not guilty; instead they are immediately gunned down at the scene of an alleged crime.
In October, Amnesty International released two reports accusing Israeli forces of carrying out "a series of unlawful killings of Palestinians using intentional lethal force without justification". The organisation documented cases "in which Palestinians were deliberately shot dead by Israeli forces…in what appear to have been extrajudicial executions."
In illegal acts of collective punishment, Israel will also demolish the family homes of the Palestinians who have been shot dead, leaving wives, children and extended family members, including parents, homeless. Collective punishment, of course, is banned under the Fourth Geneva Convention.
In October, the Israeli government went further, announcing that the families of Palestinians shot dead in occupied East Jerusalem on suspicion of stabbing or attempting to stab Israelis would be expelled from the city, their residency rights revoked by the occupying Israeli state. This amounts to the continued forcible removal of Palestinians from East Jerusalem, a policy which has seen at least 14,000 stripped of their residency rights since the occupation began.
In contrast, there is no legal retribution for Israelis who continue to settle freely in Palestinian East Jerusalem and across the Palestinian West Bank, despite the fact that their presence also violates the Fourth Geneva Convention and constitutes a war crime under the Rome Statute of the International Criminal Court.
There is, as Anam Abu Khdeir knows only too well, no justice in a situation like this, where Israel and its settlers appear to flout international law with impunity, and Palestinians, living under occupation, are stripped, not only of their right to their land, but of their human, civil and legal rights as well.
Amena Saleem is Media and Communications Officer at Palestine Solidarity Campaign.
Join our new commenting forum
Join thought-provoking conversations, follow other Independent readers and see their replies