The living wage is set to cause more problems than it solves, however popular it may be
Social care will go into decline as budgets are swallowed up by implementing the living wage - and we face a future of agency workers rather than regular staff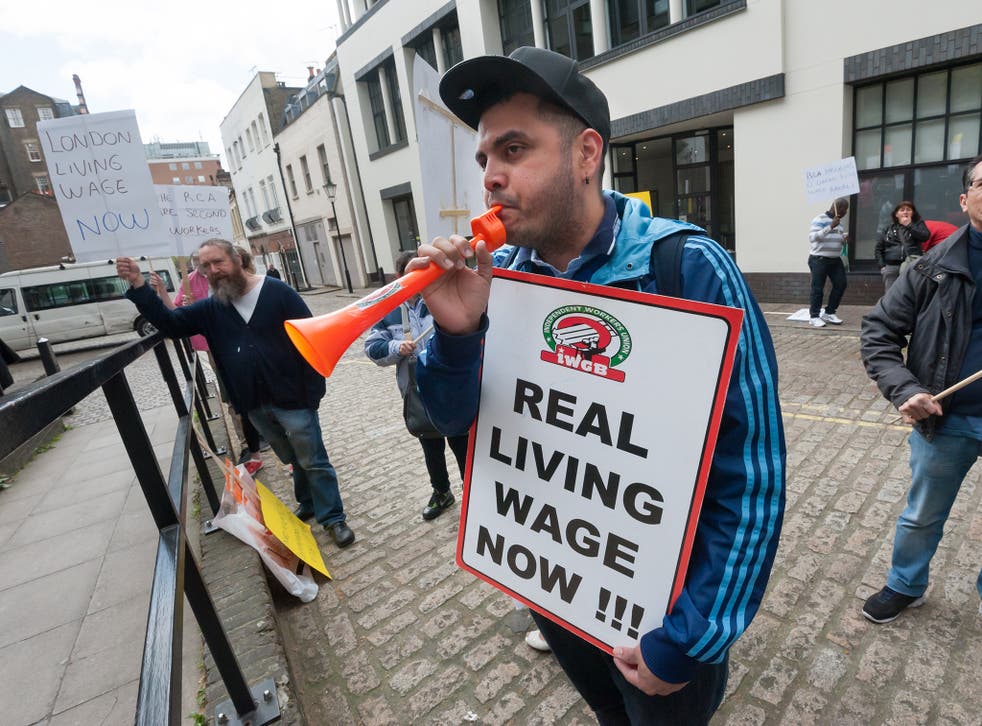 Ministers grumble that Europe dominates the headlines at the expense of their other policies. Yet they can hardly complain: David Cameron's energies are inevitably channelled into a referendum that could end his premiership if the public votes to leave the EU. His "legacy agenda" will have to wait until after 23rd June– if he wins the referendum.
Other things are happening, as policies in the pipeline come through. A good and popular one takes effect on Friday when the £6.70-an-hour national minimum wage becomes a £7.20-an-hour national living wage, as announced in George Osborne's Budget last summer.
It will give 4.5m people aged 25 and over on the minimum wage a 10 per cent pay rise, four times the national average. It is due to rise to £9 an hour by 2020.
While the Chancellor enjoyed stealing Labour's clothes and colonising the political centre-ground, he can claim there is a big Conservative idea behind the policy: a higher wage, lower welfare society.
It will reduce state subsidies for low wages through tax credits (which, despite Osborne's U-turn last November, will still be cut eventually via Universal Credit). Higher wages mean people will spend more, creating a virtuous economic circle.
Yet there is a danger that this apparently generous policy could backfire on the Government by exacerbating the problems in our already creaking social care system.
Although Osborne has allowed local authorities to find extra money by raising council tax, the Local Government Association (LGA) warns that at least £330m of the extra £372m revenue raised for home and residential care will be soaked up by the living wage.
The LGA's call for an immediate extra £700m for social care, rather than by 2020 as planned, is not special pleading. I have already seen with my own eyes the problems the living wage will cause in the sector.
The 10 worst areas for earning the living wage

Show all 10
My mother and my mother-in-law live in a residential and nursing home respectively. The overstretched staff in both are dedicated, but the service they can provide has declined in recent months in anticipation of higher wage bills.
At the same time, my mum's fees were raised by eight per cent in January, with the private provider blaming the living wage "bombshell".
Both homes are cutting back on staff cover. There is a growing reliance on agency workers, reducing the quality of care for the residents, who sometimes do not see a face they recognise for days.
Jeremy Corbyn was on to something at Prime Minister's Questions this month when he warned we are heading for an era of "agency Britain". He cited similar problems in hospitals and schools. It is a theme that will resonate with millions, and could halt the Conservatives' march on to the centre-ground if they fail to win people's trust on public services.
The living wage will also have a big impact in shops, hotels, restaurants and for administrative jobs.
Some employers are already trying to recoup all or part of the cost, for example by cutting bonuses or getting rid of higher payments for weekend working. Unusually, there seems to have been little analysis of the likely impact before the Chancellor announced his policy with a fanfare last July.
The blame for a full-scale social care crisis could fall on Osborne. Private providers are already shifting from delivering publicly-funded care to people who can afford to meet their full costs.
That is ominous; it will mean more old and sick people remaining in hospital because there will be nowhere else for them to go, in turn compounding the NHS funding squeeze.
One day, we will have a national care service. Politicians know it makes sense - but a big bang merger of the NHS and social care is still in the "too difficult" box.
It is time to get on with it. A properly funded, joined-up system would be a Compassionate Conservative legacy of which Cameron and Osborne could be proud.
Register for free to continue reading
Registration is a free and easy way to support our truly independent journalism
By registering, you will also enjoy limited access to Premium articles, exclusive newsletters, commenting, and virtual events with our leading journalists
Already have an account? sign in
Join our new commenting forum
Join thought-provoking conversations, follow other Independent readers and see their replies