The new domestic violence scheme that focuses on abusers, not victims, is one of the worst ideas we've ever had
A 2015 UK study found that after 12 months of programme attendance, 23 per cent of the men involved continued to punch or kick walls or furniture, slam doors, smash things or stamp. Proponents argue this shows perpetrator programmes work. It seems an odd definition of success to me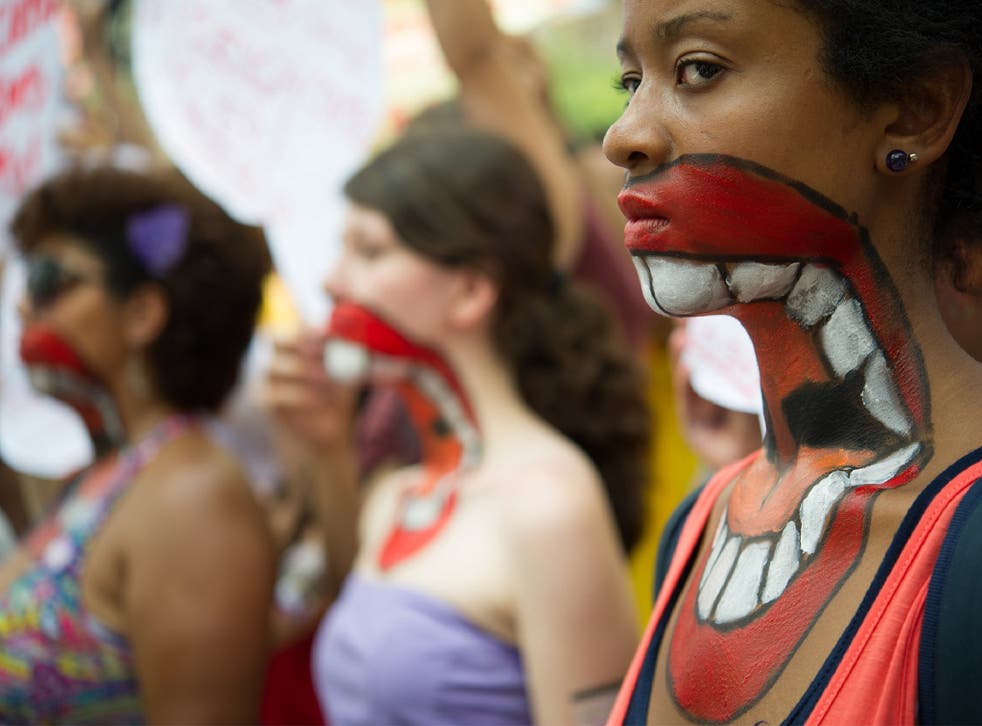 Domestic violence has the highest rate of repeat victimisation of all violent crimes; two women a week are killed by a partner or former partner in England and Wales; 800,000 incidents of domestic violence are recorded by the police every year; every 30 seconds a woman contacts the police for help. The sheer scale of domestic violence is staggering.
At the same time, the women's refuge sector is being decimated. Refuge has experienced funding cuts to 80 per cent of its services since 2011. Some of our services have been cut by 50 per cent. Finding a refuge space is like finding gold dust.
The Drive programme is a new pilot scheme that targets domestic abusers, rather than the victims. By intervening in their behaviour through therapy rather than concentrating on merely helping the victims to heal or escape, the logic goes, the cycle of abuse will be broken altogether.
This programme gives domestic violence perpetrators one-to-one support to change their behaviour. It is backed by Police and Crime Commissioners and local authorities. But the question we must ask is: at whose expense?
How can anyone justify spending money on therapy for some of the most dangerous perpetrators of domestic violence, when terrified and brutalised women and children have nowhere to go?
Even if we set aside this particular injustice and say, for the sake of argument, that it doesn't matter who is receiving the help as long as incidents of domestic violence decrease. There is no evidence – here or abroad – that individual therapy stops men being violent.
A 2015 UK study found that after 12 months of programme attendance, 23 per cent of the men involved continued to punch or kick walls or furniture, slam doors, smash things or stamp. 7 per cent of men slapped, pushed or threw something at their partner or former partner, and 10 per cent threatened to kill them or someone close to them.
Proponents argue this shows perpetrator programmes work. It seems an odd definition of success to me. 'Less' violence simply is not good enough.
In contrast, we know services for women do work. Last year, 66 per cent of the women who used Refuge's services reported feeling 'very frightened' when they arrived. By the time they left, only 0.5 per cent felt this way.
This is where we should be targeting our resources: safe accommodation that gives women and children the building blocks to start a new life.
The Drive programme claims it will hold men to account. It will offer one-to-one sessions, support around substance issues and even advice on employment. These services are not solutions to domestic violence – they serve the myths that perpetuate it.
When a man beats his wife and is offered help with his drinking or his 'uncontrollable' temper, it allows him to blame something other than himself. This isn't holding men to account – it is letting them off the hook.
Men do not commit abuse against women because they drink, or because they take drugs, or because they are struggling to parent. They do it because they feel they have a right to be violent towards women and society lets them get away with it.
Helping individual men with their various foibles ignores the fact that domestic violence is a social epidemic. It is about men having power over women. Domestic violence is systematic, patterned behaviour on the part of the abusive man designed to control 'his woman'.
Society needs to hold perpetrators accountable for their violent behaviour. The most effective way to do this is to arrest and charge them. HMIC's recent investigation found damning evidence that the police response is "not good enough" and that serious failings are putting women and children at "unnecessary risk".
Instead of giving therapy to a handful of violent men – the Drive programme is set to help just 900 perpetrators over the next three years – we should be channelling funds into improving the woeful police response to domestic violence. We need to be sending a strong message to abusive men and to the public: domestic violence is against the law and there will be serious consequences.
Perpetrator programmes may be attractive to politicians because they are cheaper, but they are not value for money. In the long-term, a rise in violence against women and the domestic homicide rate will cost the taxpayer.
This country needs a sustainably funded, nationwide infrastructure of services to protect women and children from the violence of men. Then – and only then – can we talk about giving therapy to the men who commit these crimes.
Domestic violence is a crime. Every woman and child has the right to a life free from violence. If you think you might be experiencing domestic violence, you are not alone, please visit www.refuge.org.uk for information and support.
Register for free to continue reading
Registration is a free and easy way to support our truly independent journalism
By registering, you will also enjoy limited access to Premium articles, exclusive newsletters, commenting, and virtual events with our leading journalists
Already have an account? sign in
Join our new commenting forum
Join thought-provoking conversations, follow other Independent readers and see their replies