The people who call it sport to shoot a lion like Cecil have no concept of humanity
We're supposed to believe that hunting is a private matter, but taking coke with prostitutes a matter of public interest. We've got it the wrong way round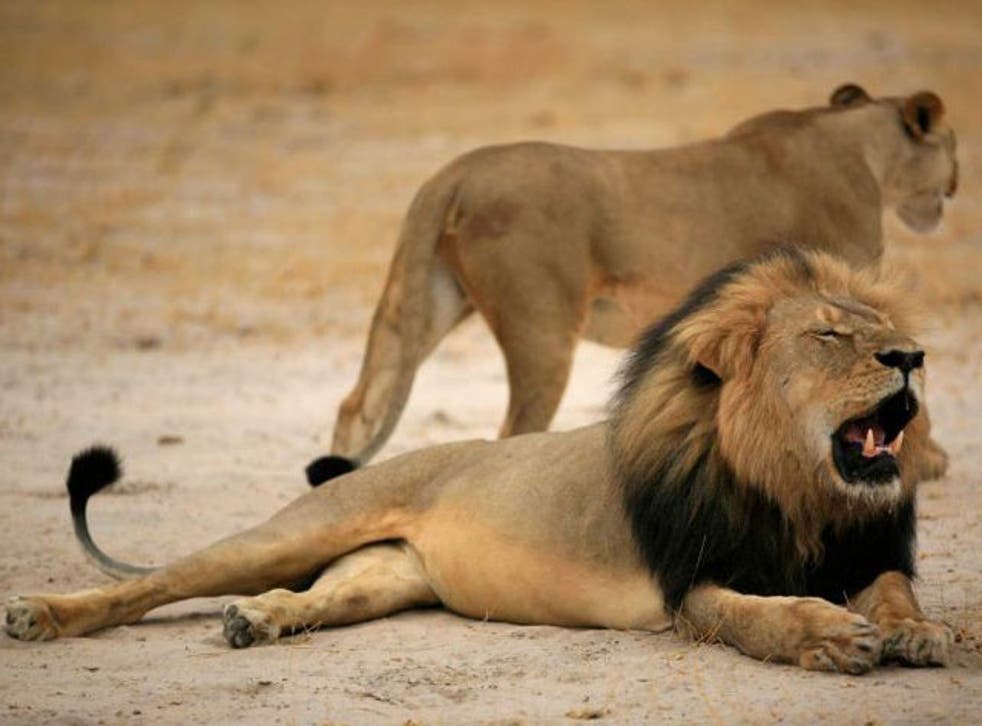 Sir David Scholey looks rather pleased to be him. He's got the polished look of a plutocrat, and the slightly crooked smile that speaks of a practised smugness. As a banker by trade, he's hardly likely to win a public popularity contest, and he's also described as a "Tory donor", although the extent of his generosity towards the Conservative Party, as far as we know, is a donation of £5,000 to Ken Clarke's leadership campaign in 2005. So we can't really hold that against him.
Overnight, however, this millionaire knight of the realm, who's also a former director of the Bank of England and a one-time BBC governor, has become public enemyNo 1, subject of the obligatory hate campaign on social media and of an internet petition aimed at getting his knighthood rescinded. Sir David is not pictured snorting cocaine with prostitutes. No, his crime is much, much worse. He's there, leaning, rather triumphantly, on the bloodied corpse of a lion he shot for amusement in Zambia.
"It's entirely a personal matter," said Sir David about the incident. Oh no, it's not, you ignorant man. Taking coke with sex workers is a personal matter. Lion hunting – and, to my mind, any other pastime that involves the killing of defenceless animals – is a matter of public interest. It is a question of humanity, and the fact that it still takes place diminishes us all.
The distressing story of Cecil, the 13-year-old lion who was murdered by a middle-aged dentist from Minnesota with plenty of previous (from illegally shooting a black bear to being accused of sexual harassment where he settled out of court) has provoked outrage around the world.
The defenders of big game hunting will say that the practice preserves the natural balance of wilderness areas, and protects weaker species. Moreover, the money made from this form of tourism is ploughed back into conservation projects.
I don't know whether this is true or not, but I'm more interested in the human impulse that drives men (and it is almost exclusively men) to think there's something clever, brave or entertaining about shooting an animal dead. I just don't get it. I once tackled a friend of mine on the subject of pheasant shooting. I couldn't understand why he insisted on referring to it as a sport. Until the pheasants are armed with shotguns and ammunition, I said, it can hardly be considered a contest.
Of course, there's a big difference between shooting a pheasant, which has probably been bred to be killed, and murdering a lion, but they are on the same awful continuum.
The most controversial animal killings

Show all 6
A game bird is regarded by its killers as a trophy in very much the same way as a lion. The only difference is that you may end up eating a pheasant, so at least there is a point to its death; a lion's head will merely be mounted on a wall as a testament to man's superiority, not to mention wealth.
The whole thing is warped and the revulsion expressed at the demise of Cecil will only serve a purpose if it causes the EU (who permit the import of lion trophies) to tighten the rules, and people such as Sir David Scholey to think again.
Register for free to continue reading
Registration is a free and easy way to support our truly independent journalism
By registering, you will also enjoy limited access to Premium articles, exclusive newsletters, commenting, and virtual events with our leading journalists
Already have an account? sign in
Register for free to continue reading
Registration is a free and easy way to support our truly independent journalism
By registering, you will also enjoy limited access to Premium articles, exclusive newsletters, commenting, and virtual events with our leading journalists
Already have an account? sign in
Join our new commenting forum
Join thought-provoking conversations, follow other Independent readers and see their replies