The Pope must be brave enough to save lives in Africa by speaking out against the criminalisation of homosexuality
"Gross indecency" and "sodomy" laws were a systematic export of the British Empire. Criminalising homosexuality is a British legacy. It is not African. But now it's a killer of Africans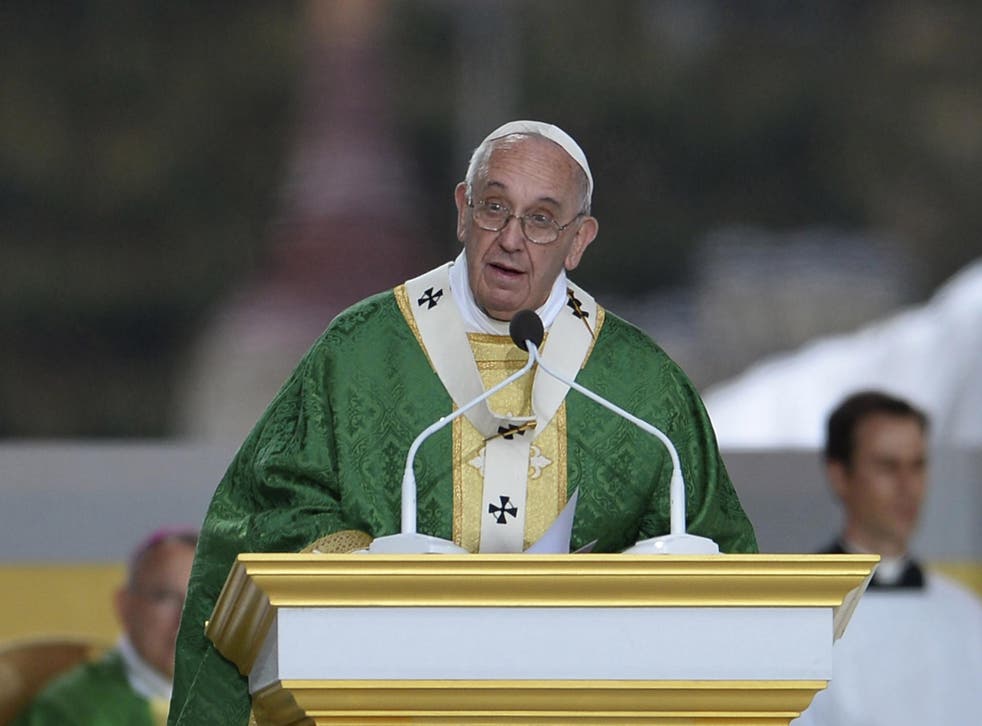 The Pope is in Uganda, while the Commonwealth Heads of Government are meeting in Malta. Elsewhere, Sir Elton John recently linked up with the US State Department.
What connects all three visits? AIDS.
AIDS is a crisis for Africa, particularly in Uganda. Elton's AIDS Foundation has launched a joint fund to fight stigma affecting LGBT communities and help end AIDS. That fund is vitally needed and will make a big difference empowering LGBT communities in Uganda. AIDS in Uganda is exacerbated because we Ugandan LGBT people are stigmatised and impoverished. The current crisis in Uganda and across Africa cannot end whilst vulnerable groups like LGBT people continue to be marginalised and shamed.
60 per cent of people living with AIDS live in Commonwealth - and the Commonwealth includes 2 billion of the 2.9 billion people who live in countries which criminalise homosexuality. Of the 78 world jurisdictions that criminalise homosexuality, 40 of them are Commonwealth states, with 14 of those states existing in Africa.
Additionally, 120 million LGBT people in the Commonwealth are forced to live in danger because of their sexual orientation or gender identity. This disproportionate risk to LGBT people within the Commonwealth stems from the fact that these "gross indecency" and "sodomy" laws were a systematic export of the British Empire. Criminalising homosexuality is a British legacy. It is not African. It is definitely not Ugandan. Sexual fluidity was a proud part of Ugandan identity before the British turned up.
In Uganda these laws marginalise, dehumanise and endanger the LGBT community. They force LGBT people to make the constant and often untenable choice between concealing who they are and facing shame, fear of arrest or worse. Criminalisation legitimises mob violence and the perpetration of other human rights abuses against LGBT people – just a month ago, eight trans women were separately attacked in one week. These homophobic and transphobic attackers can see themselves as vigilantes, merely upholding the law - a perception which is often given merit when these attacks are routinely not investigated by local police.
Criminalisation worsens the AIDS crisis and undermines efforts to combat it, as LGBT people are frequently unable to access healthcare services. Many LGBT people do not seek out HIV testing or treatment, for fear of their sexual orientation or gender identity being revealed. When members of the LGBT people do seek medical treatment, they are often refused, either because healthcare professionals do not want to be at risk of aiding and abetting criminal activity, or due to outright discrimination.
These issues are amplified when governments crack down on "gay organisations" – in Uganda the parliament has just passed a new law regulating NGOs. The organisation I run may now be unlawful. Criminalisation both boosts and causes HIV - but Elton John's fund could help stop all of this.
The new fund aspires to cut new infections by 90 per cent. That is possible, but only if the laws criminalising homosexuality are consigned to history. As long as the laws stay, so does AIDS. However, if the Pope committed himself to tackling the AIDS crisis by calling for an end to criminalisation, that would make a huge difference. The Commonwealth leaders also need to take AIDS seriously. They too need to stop these laws.
Criminalisation puts LGBT people at greater risk of violence, being infected with HIV and committing suicide. The Pope must speak up for us while he is here in Uganda. We have pleaded with him to do so.
I am a Catholic. I have prayed that he will call for the end of these criminal laws that torment us. Because these laws do not just discriminate; they kill.
Dr Frank Mugisha is the Executive Director for Sexual Minorites Uganda - an umbrella non-governmental organization fighting for LGBT rights in Uganda.
Register for free to continue reading
Registration is a free and easy way to support our truly independent journalism
By registering, you will also enjoy limited access to Premium articles, exclusive newsletters, commenting, and virtual events with our leading journalists
Already have an account? sign in
Join our new commenting forum
Join thought-provoking conversations, follow other Independent readers and see their replies