The truth about 'girl things': Three cheers for Heather Watson's honesty
Periods are not only the last taboo in sport, but across society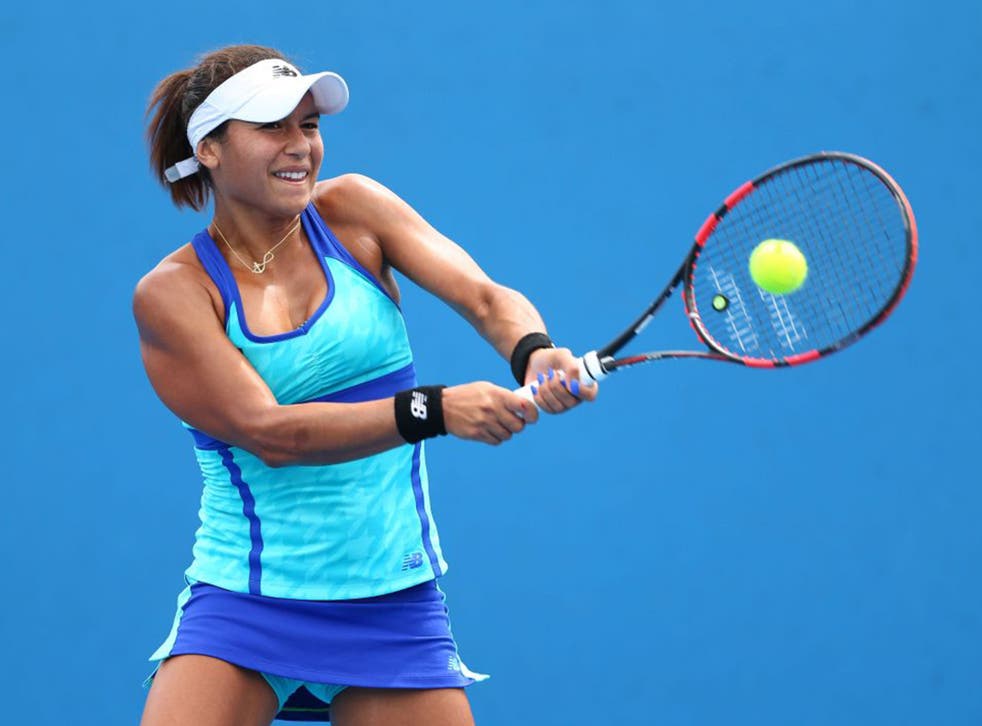 The British No 1 tennis player Heather Watson, after a brilliant run of form, crashed out two sets to love in her first-round match of the Australian Open last week. Afterwards, Watson said her performance was down to "girl things". Although the 22-year-old didn't actually say the word "period", this was close enough, and for that she deserves applause. Veteran sportswomen such as Annabel Croft, Martina Navratilova and Paula Radcliffe all cheered Watson for talking about what Croft described as the "last taboo" in sport. Navratilova said too often having a period was regarded as an "excuse" when in fact the reality is the difference between a match lost and won. Tara Moore, the British No 5, said she has nightmares about getting her period during Wimbledon because, not only can it affect her performance, there is the added horror of wearing white knickers under a white skirt, with scores of photographers watching.
Periods are not only the last taboo in sport, but across society. They are the one thing that nearly all women will experience in their lives, and yet the one thing that is brushed under the carpet, or, more appropriately, put into a pretty pastel-coloured wrapping and chucked in the bin. There are the lucky minority who never experience pain. But many do, and suffer in silence. Can you remember the senior female politician or chief executive talking about their excruciating cramps, exhaustion and, often, a menstrual migraine? That's even before going to the loo every hour because, I am afraid, after having a child even the combination of a Tampax Super Plus and an Always Ultra doesn't last that long.
Yet to admit any of this is to show weakness, to be embarrassed. In our attempts to be successful, to gain parity with our male colleagues, we pretend that menstruation doesn't exist. But if grown-up women don't talk about it, what message are we sending to teenage girls and young women such as Watson who have to contort themselves with euphemisms such as "girl things"?
A little over a year ago, while on a foreign trip with David Cameron to India, Sri Lanka and Dubai, I had the sort of horror moment that Moore dreads. While the Prime Minister's plane was in the air between Sri Lanka and Dubai, where he was heading to see the Red Arrows perform at an air show, I changed into white trousers for the dry heat of the desert. My period had finished some hours earlier – or so I thought. When the plane landed and we were hurried down the steps and into a British embassy convoy, I suddenly realised what a mistake I had made.
As our convoy got closer to the air show, I sank deeper into my seat, wishing that we were instead on our way to a bathroom in a comfortable hotel. "Everyone off!" shouted the woman from the embassy, and we all climbed out and started to walk over to where the PM was greeting the Red Arrow pilots, in front of a bank of photographers. It was clear that, in front of these symbols of turbo-charged masculinity, I was having a red arrows situation of my own. I scuttled over to the woman from the embassy and told her. We ran back to the minibus; she ordered the driver off and closed all the curtains, leaving me alone to get changed. No one else noticed and I told no one, not even fellow female journalists on the trip. My excruciating experience pales in comparison, of course, with that of a tennis player having to discuss her "girl things" in front of the world. But we need to recount our experiences if the issue is to become less embarrassing, less taboo.
We don't need to regard periods as an illness, a setback or a weakness. They are one of the most normal, natural things we go through. But we have to talk about them openly and unashamedly, if only to make things easier for teenage girls and young women like Watson. Period.
The scoop that never was
Fifty years ago tomorrow, Winston Churchill's coffin was brought to Westminster Hall where it was to begin a three-day lying in state. Westminster Hall was closed off as the coffin arrived amid tight security, but – in a story that can be told for the first time in half a century – the Press Association's legendary political editor Chris Moncrieff, then a young reporter, tried to get a secret vantage point, reached by a hidden stone staircase, to watch the statesman's body being lifted on to the catafalque.
But he never got to file his scoop: "Three-quarters of the way up the staircase I heard the heavy plod of a policeman's boots behind me. I tried to hide in a stone crevice but the policeman found me, grabbed me by the collar and hauled me out," the 83-year-old told me yesterday.
Moncrieff received a reprimand from the Lord Great Chamberlain for his "preposterous behaviour" and was almost dismissed from the Press Gallery. "I wrote an apology so grovelling it almost burnt through the paper," he told me. The incident never received wider coverage and, happily, he kept his job. Decades later, he received a CBE and now even the Press Gallery canteen is named Moncrieff's in his honour.
Men only in South Thanet
In Moncrieff's day, political parties used to have general election battlebuses, but they were phased out under the tight control of the Tony Blair era and the last one parked up in 2005. But I'm told that Nigel Farage is considering bringing back the battlebus for Ukip. It would certainly be fun.
Yet news reaches me of another very retro incident involving the Ukip leader: last week, Farage took part in a hustings in the South Thanet constituency where he hopes to become MP on 7 May. It emerges that the hustings, in Ramsgate, organised by the local Round Table, barred women from attending. The Conservative and Lib Dem candidates also took part, but it was boycotted by Labour and the Greens.
Matt Hudson, branch chair of the Round Table, insisted that "ladies" are invited to some events but "not on this occasion". He said: "We are not a sexist group… and, if I'm honest, many of the wives are happy, as they see it as a way to get the men out of the house." A spokesman for Farage said the Ukip leader would have been happy to attend to a hustings by the Women's Institute.
Join our new commenting forum
Join thought-provoking conversations, follow other Independent readers and see their replies