The US presidential election is rapidly becoming a race to the bottom
This election is not so much a battle of ideas as an exercise in mudslinging which, to tender British ears, is rather shocking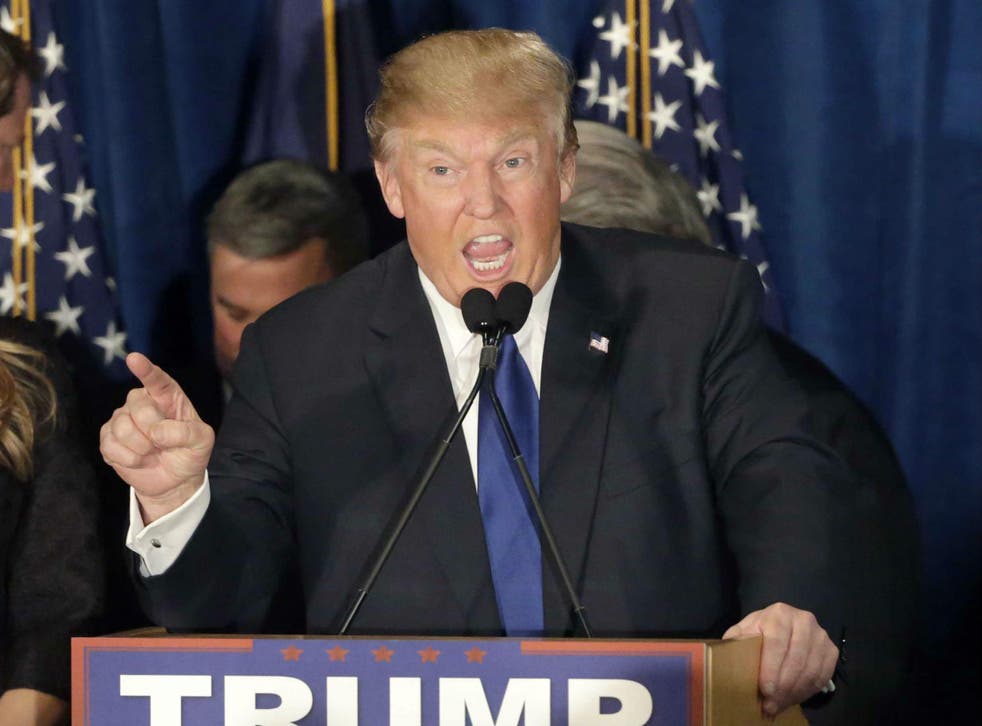 Michael Bloomberg, the 73-year-old former Mayor of New York, said the following when explaining his decision to prepare for his possible run in this year's US presidential election: "I find the level of discourse and discussion distressingly banal and an outrage and an insult to the voters." I have been in New York for only 24 hours, and even a brief exposure to the newspapers and television here leads me to the same depressing conclusion.
There is something invigorating and wholesome about American politics at this stage of a presidential race: it is a time when the politicians have to get close to the voters in a series of intimate events in small venues, and there's a candour and authenticity to the exchanges. It is politics in the raw, the like of which we don't see very often in the British electoral system.
The 2016 campaign, however, has a very different flavour, as Mr Bloomberg identified. This election is not so much a battle of ideas as an exercise in mudslinging which, to tender British ears, is rather shocking. Much of this – but not all of it – is down to Donald Trump, who has set the bar so low when it comes to responsible debate that some of his most crude interventions are not even regarded as extraordinary any longer.
Yesterday, I woke to the news that he'd insulted his rival for the Republican nomination, Ted Cruz. It took me some time to find out what he'd actually said.
On the TV news, the offending word was bleeped out, and in all the papers, it was decorously printed as "p****". The more colloquially-sophisticated among you will have worked out that this could have been one of two derogatory words, but my investigation revealed that Mr Trump had used a slang word for the female genitalia to suggest Senator Cruz was a softie. It was, it seems, a term acceptable for a presidential hopeful to use, but not for a newspaper to print. Yes, only in America.
Winding up the same stump speech, Mr Trump, in bidding farewell to an audience about to make their way home on a snowy New Hampshire night, said: "I don't really care whether you get hurt or not. If you drive like a maniac, make sure it's tomorrow night after you've voted." Statements like this, which would cause an earthquake during an election campaign in Britain, hardly register on the Richter scale here, so cauterised is the American public to low blows and coarse rhetoric.
The Democrats, too, have not shied away from getting personal, either across the political divide or within their own camp.
Former Secretary of State Madeleine Allbright said that there should be "a special place in hell" for women who support Bernie Sanders over Hillary Clinton, while Ms Clinton made a veiled jibe about people "talking about their extraordinary grandchildren" (Mr Sanders has three adopted Chinese grandchildren).
Hillary Clinton has said that this was the most important election for a long time because she couldn't imagine a greater ideological difference between the Republicans and the Democrats. "Their vision of America is one I fundamentally reject," she said, and there's no doubt that the audacity of hope has been supplanted by the promulgation of fear. A leading New York columnist called it "the pornography of pessimism".
Certainly, some of the virtues represented by Barack Obama – optimism, inclusiveness, and a touch of class – appear to have been disregarded in the race to the bottom. The American political system may be unfathomable to the untutored eye, but there is much that is admirable, and the parochial nature of the primaries ensures a commendable degree of public involvement in the process. I love the fact that the precise outcome of a dozen people voting in a small parish in New Hampshire made national news.
It is a long and winding road to the White House through backwoods America, taking in territories with vastly contrasting political hues, and it requires the American people to pay attention over an extremely long period. Candidates will start falling by the wayside, and maybe others – notably Mr Bloomberg – will join the race.
Indeed, Mr Bloomberg, who in contrast to Trump is self-made billionaire, has opportunistically cast himself as the person who will save America from itself. Whatever the merits or otherwise of his potential run for the presidency, he may well be right about one thing: politics is too precious to be left to this particular bunch of politicians.
Register for free to continue reading
Registration is a free and easy way to support our truly independent journalism
By registering, you will also enjoy limited access to Premium articles, exclusive newsletters, commenting, and virtual events with our leading journalists
Already have an account? sign in
Register for free to continue reading
Registration is a free and easy way to support our truly independent journalism
By registering, you will also enjoy limited access to Premium articles, exclusive newsletters, commenting, and virtual events with our leading journalists
Already have an account? sign in
Join our new commenting forum
Join thought-provoking conversations, follow other Independent readers and see their replies