The World's Biggest Eye Contact Experiment will finally legitimise a good stare
So far there are UK events planned in Brighton, Leeds, London, Nottingham, Sheffield and Totnes and all have Facebook pages giving details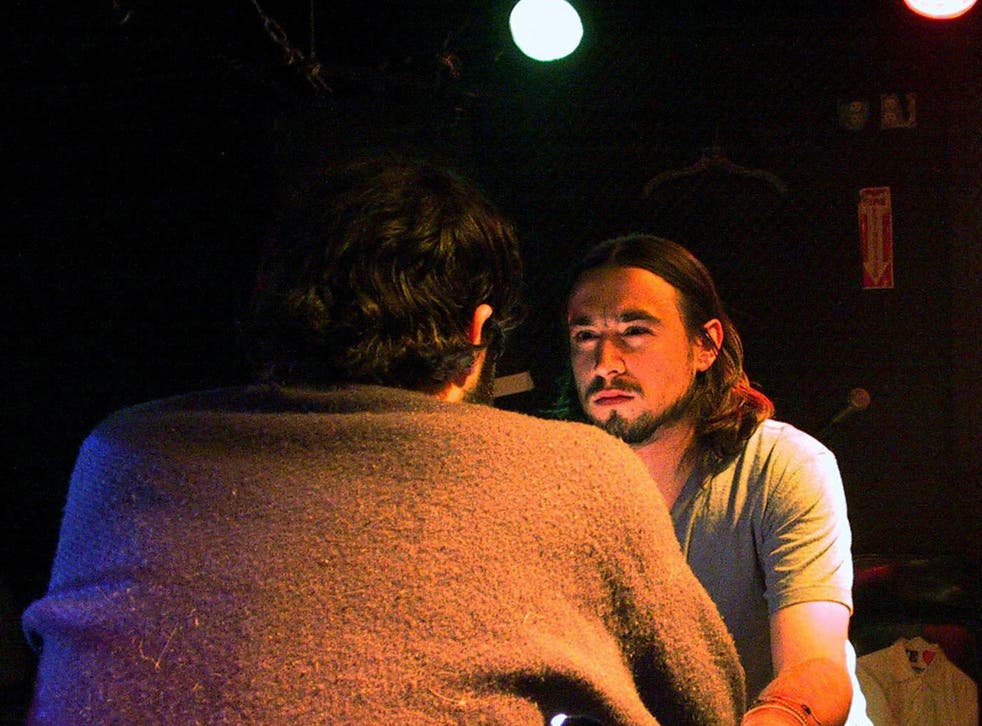 Warning: there will be hugs
Peter Sharp describes himself as a "social artist", but don't let that put you off. In fact, chances are that you have seen his work. The video of people breaking into song on the subway in Perth. That was him. The blindfolded woman standing in central London in her underwear with a sign that read: "I'm standing for anyone who has struggled with an eating disorder or self-esteem issue like me … To support self-acceptance draw a heart on my body." He was behind that. The photobooth in the middle of a city for strangers to get their picture taken together. That was him too.
Sharp, 26 and from Perth, is the founder of the Liberators and each time the group plans an event it posts clips in all the usual places for people to share. These videos have had countless views: the train sing-song alone got 23 million hits.
Sharp's latest venture is the biggest the Liberators have ever undertaken. On 15 October, the group are conducting the World's Biggest Eye Contact Experiment, in which 45,000 perfect strangers in more than 50 cities will get the chance to sit in a public place and stare at each other unflinchingly for a minute. If warm-up events are anything to go by, there will be tears and hugging. "I feel like this world is spiralling into self-absorption, isolation and disconnection," Sharp says. "My work is about creating the basics of human experience and creating platforms for people to experience that."
So far there are UK events planned in Brighton, Leeds, London, Nottingham, Sheffield and Totnes and all have Facebook pages giving details. Turns out it's not rude to stare after all.
Peep show
Another week, another internet outrage. This time it was the announcement of an app called Peeple, which – if it ever happens – will allow users to rate other people in terms of their friendliness, professionalism and dating skills with no way for the subject of their "review" to opt out. Though the people behind the app promise that all content will be pre-screened, academics and commenters were united in their opinion that this was "an ideal trolling tool" which should be renamed "Creeple".
None of the ample coverage, however, picked up on the fact that, when it comes to people rating her idea, the founder of Peeple, Julia Cordray, is not so keen. "Anyone know how to prevent people from posting on the comments of a company Facebook page?" she tweeted as her Peeple page was swamped with negative feedback.
Tel it like it is
Irish blood … big in the 1980s … known for a melancholy sense of humour … and now making his first foray into fiction … No, not Morrissey, but Terry Wogan, the "national treasure" whose fiction debut is published this week and called, with a wistful glint in the eye, Those Were The Days.
And while Morrissey has in the past attracted accusations of "flirting with right-wing imagery", could the exploits of Sir Terry's fictional characters provoke a similar reaction? Because lurking in the depths of his "funny, touching, charming" tome, as bank manager Tom reminisces about his life, we get the following: "Kitty was knocked down by a car and never really got over it – coming back to consciousness in hospital to see a black doctor leaning over her." And then later on, "The girls took off to Rhineland, where they were well enough received to be invited to a great Nazi rally. The jolly evening was ruined for the girls when some deluded gobdaw took a pot-shot at Bormann, and the rally disintegrated. Nonetheless, the girls came back with a very positive impression of life under the Third Reich."
Ah, those were the days.
Beyond reasonable snout?
Quis custodiet ipsos custodes? OK, I looked that up on Google but, you know, it's the one about who guards the guardians or, as Lisa Simpson put it in "Homer the Vigilante", who will police the police?
It's a question worth asking because last week the ever-excellent satirical magazine Private Eye got its first chance to reflect on Lord Ashcroft's Call Me Dave bombshell. While pointing out that there was not "a scrap of evidence" to prove the book's most headline-catching detail and questioning the "political hypocrisy" of those "gleefully disseminating a distinctly far-fetched sexual slur which even Ashcroft's 'co-author' Isabel Oakeshott was soon admitting she had not been able to stand up", the Eye, of course, held off on the temptation to join in with the porkie, porcine, ham and hog puns. How restrained was the Eye exactly? A casual count yielded 34 mentions.
No rhyme or reason
Another in a regular series of limericks based on recent events:
It has got all the residents reeling,
Made desirable homes unappealing,
Cos a circle of brown,
In their Hertfordshire town's
Left them all with that sinkhole feeling.
Join our new commenting forum
Join thought-provoking conversations, follow other Independent readers and see their replies