Theresa May refusing to tell Andrew Marr if she knew about the Trident fiasco is damaging to democracy
The Prime Minister refused to say whether she knew about the nuclear weapon's malfunction before declaring that she would be willing to authorise a strike that would kill 100,000 people and before allowing MPs to vote on its renewal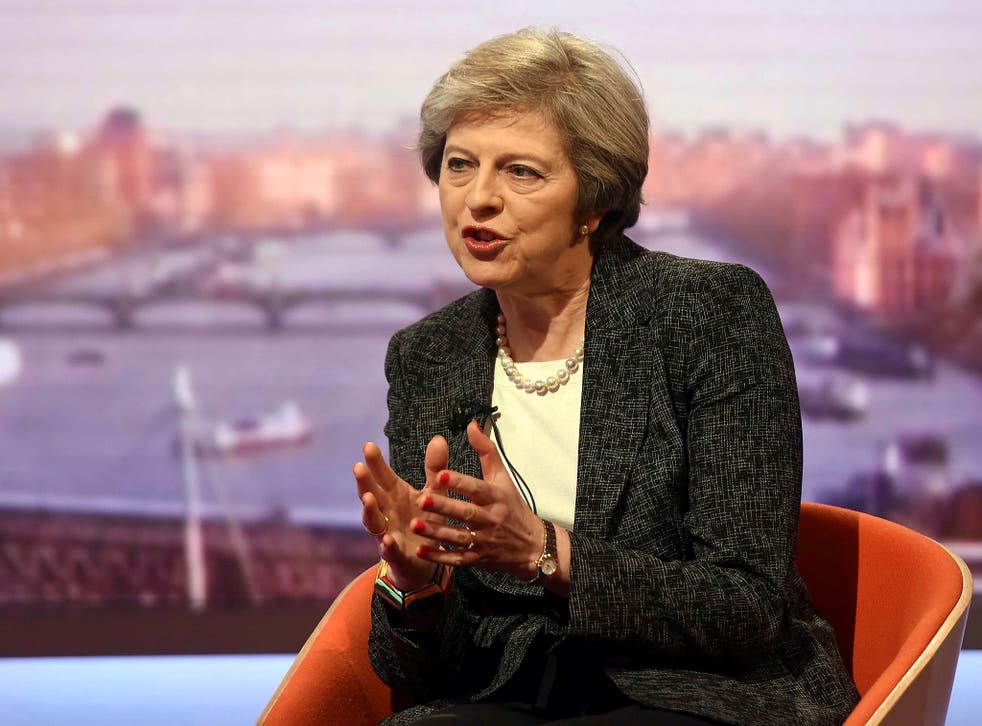 After watching Prime Minister Theresa May's interview on The Andrew Marr Show, I'm finally beginning to empathise with Donald Trump voters across America. However factually incorrect, at least the guy gives a straight answer. May on the other hand, has used the past six months to refine the art of saying as many words as possible, without communicating very much at all.
Despite Marr being 100 per cent more accurate than the malfunctioning Trident missile he was grilling May about, the Prime Minister managed to dodge his questions on the topic four times. When questioned whether No 10 knew about a failed test of the nuclear weapon – instead of hitting a sea target off the west coast of Africa, the missile veered off in the direction of the US – weeks before a House of Commons vote on its renewal, she refused to answer.
Marr pointedly asked: "When you made that first speech in July in the House of Commons about our Trident nuclear defence, did you know that misfire had happened?" May responded: "Well, I have absolute faith in our Trident missiles. When I made that speech in the House of Commons, what we were talking about was whether or not we should renew our Trident missiles…" I just hope those Americans living on the east coast had as much faith as the vicar's daughter, as a nuclear weapon misfired in their direction.
Theresa May dodges question four times over Trident misfire
Undeterred, he again asked: "Did you know that it had happened?" In an attempt to take cover from the question, she mumbled about defending our country and pulled out Labour leader, Jeremy Corbyn to use as a human shield: "I think we should play our role within Nato and have an independent nuclear deterrent. Jeremy Corbyn thinks differently. Jeremy Corbyn thinks we shouldn't defend our country."
This time, Marr went in for the kill: "This is a very serious incident. Did you know about it?" Again, the Corbyn defensive system was raised and undefeated Marr batted him out of the way: "Prime Minister, did you know?" Weary, and a little defeated looking, May finally acknowledged the question – sort of: "There are tests that take place all the time, regularly, for our nuclear deterrent." Finally, Marr conceded: "I'm not going to get an answer."
Used to her coquettish ways with journalists over Brexit, it's easy to brush off this exchange. But there is something deeply disturbing about it. May refused to say whether she knew about this malfunction before declaring to Parliament that she would be willing to authorise a nuclear strike that would kill 100,000 people, and before MPs voted on its renewal. Almost the entire Conservative Party and more than half of Labour MPs voted in favour. If the 355 MPs in question knew of the inaccuracy of the weapon, taking into consideration its £31bn cost and growing strategic irrelevance in an age of non-state actor and cyber warfare, would they have voted in favour?
Events look set to repeat themselves when on Tuesday, as expected, the Supreme Court will rule in favour of an Act of Parliament being necessary before the Government can initiate the procedure for leaving the EU. May was just as opaque in her interview with Marr over what Brexit Plan A or B might look like. When asked what would happen if the UK and the EU could not reach a deal, the Prime Minister insisted that there was no point thinking about alternatives because the EU had to reach a "good deal" with the UK, but if we did have to walk away it would be "competitive". Great, now we can build on our knowledge that "Brexit means Brexit", with the fact that in a best case scenario we will have a "good deal", and worst case, it will be "competitive".
Hopefully this will be enough information for our MPs to take a fully informed vote on the matter before they hand the Government the nuclear code to detonate Article 50 and usher in the UK's economic nuclear dawn.
Join our new commenting forum
Join thought-provoking conversations, follow other Independent readers and see their replies