Don't feel too sorry for Theresa May – she's to blame for this row between Philip Hammond and Jacob Rees-Mogg
The Prime Minister is negotiating with her own party as well as the EU – nightmarish enough in itself. She has to in order to keep her job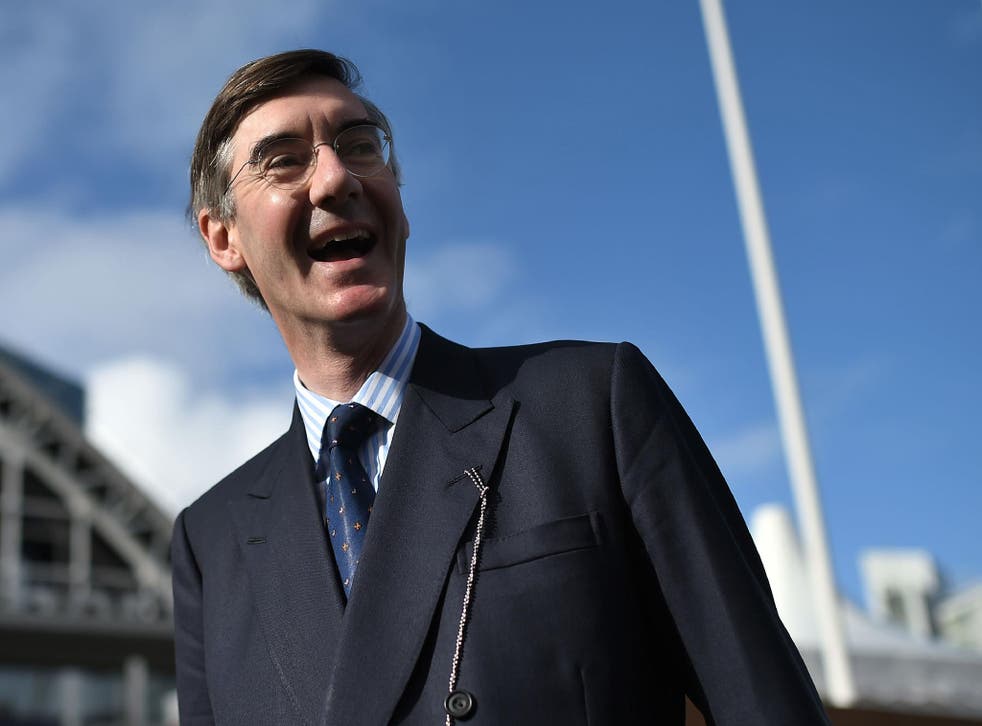 When Theresa May discussed with aides the speech she would make at the World Economic Forum in Davos, she was adamant it should be about the need for tech giants to stop providing a platform for terror, extremism and child abuse.
The Prime Minister is genuinely concerned about what is undoubtedly an important issue. But she issued the same message to the United Nations General Assembly in September. What her audience in a two-thirds full hall in Davos wanted was to hear was her plan for Brexit.
There are genuine fears that the UK is turning its back on the world; here was an opportunity to allay them. Yet May did not mention the B-word, saying only that the UK "will continue to be a global advocate of free trade."
She couldn't talk Brexit because there is still a giant hole at the heart of her strategy: what does she want the UK's long-term relationship with the EU to be? The vacuum meant the Conservatives' fragile truce on Europe was never going to last. Civil war has now erupted again, with Brexiteers led by Jacob Rees-Mogg attacking the Chancellor Philip Hammond for saying in Davos that he hoped to see the UK and EU move "very modestly apart."
The row eclipsed May's love-in with Donald Trump in Davos, as they put behind them recent tensions which were far greater than the "fake rumour" the US President described.
Hammond was ordered by Downing Street to clarify his incautious comments. He also managed to eclipse himself, in a speech insisting the EU trade deal must include financial services. May was forced to rebuke her Chancellor; her aides said the new EU relationship "could not be described as very modest changes."
The slapdown betrayed weakness, not strength. May feared the latest outbreak of Tory hostilities could provoke a vote of confidence in her as party leader, amid Westminster rumours that the number of her MPs calling for one has risen to 40 of the 48 required.
David Davis grilled by Jacob Rees-Mogg at Brexit committee
The Prime Minister is negotiating with her own party as well as the EU – nightmarish enough in itself. She has to in order to keep her job. Hardline Brexiteers were already firing off warning shots; that's probably why talk of a leadership challenge resurfaced. They sniff a Treasury-led Whitehall "sell-out" under which the UK would remain in a customs union. Hammond's words gave them an opening.
May has an unenviable task but we shouldn't feel too sorry for her. The two Cabinet ministers who made trouble for her this week –Hammond on Brexit and Boris Johnson over his demand for £5bn for the NHS — were the two big beasts who last autumn she wanted to move in her next reshuffle. But she left them both in place when the moment came this month.
It's a similar story on the EU negotiations. The Cabinet has still not worked out what long-term trade deal it wants; it is hopelessly split between the Hammond-led faction wanting to maintain close EU links and a Johnson-Michael Gove group seeking a clean break from EU regulation and more freedom to sign trade agreements with other countries. May refuses to disclose her hand, preferring to rise above the factions and keep her ministers guessing.
The Cabinet's Brexit sub-committee is supposed to be finally working out a compromise this month. But its discussions so far have focused mainly on the transitional agreement after the UK formally leaves the EU in March next year. Ministers have decided not to expend much political capital on this, saving it for the main prize of a trade deal, as The Independent revealed this week. David Davis, the Brexit Secretary, was due to spell out the "status quo" terms of the transition today but No 10 reportedly postponed this dose of nasty medicine to avoid further antagonising the hardliners. Another example of putting off the evil day, so that May can make it through another week.
UK news in pictures

Show all 50
Brexiteer backbenchers want to know "what we are transitioning to". So, perfectly reasonably, do the 27 EU countries. They find it remarkable that, with only nine months left to secure a deal, the Government still has no "end state" vision. The EU will not make an opening offer. One Brussels source said: "It's up to the UK to say what it wants. We cannot do its job for it."
The delay is damaging the UK's prospects in the negotiations. The closer we get to the October deadline for a deal, the more pressure on the UK to make concessions. Despite that, I wouldn't expect an outbreak of clarity soon. As one minister told me: "Her only strategy is to fudge, and try keep everyone happy from day to day. There is no sense of direction."
Sooner or later, May is going to have to make some people unhappy. Whatever she decides, it would be better for the country to do it sooner.
Register for free to continue reading
Registration is a free and easy way to support our truly independent journalism
By registering, you will also enjoy limited access to Premium articles, exclusive newsletters, commenting, and virtual events with our leading journalists
Already have an account? sign in
Register for free to continue reading
Registration is a free and easy way to support our truly independent journalism
By registering, you will also enjoy limited access to Premium articles, exclusive newsletters, commenting, and virtual events with our leading journalists
Already have an account? sign in
Join our new commenting forum
Join thought-provoking conversations, follow other Independent readers and see their replies