Tory Brexiteers need Theresa May to stick around until the divorce bill is resolved – then they'll waste no time replacing her
The Brussels talks are complicated enough, but May has other Brexit problems. The Cabinet has not even discussed the long-term deal and is badly split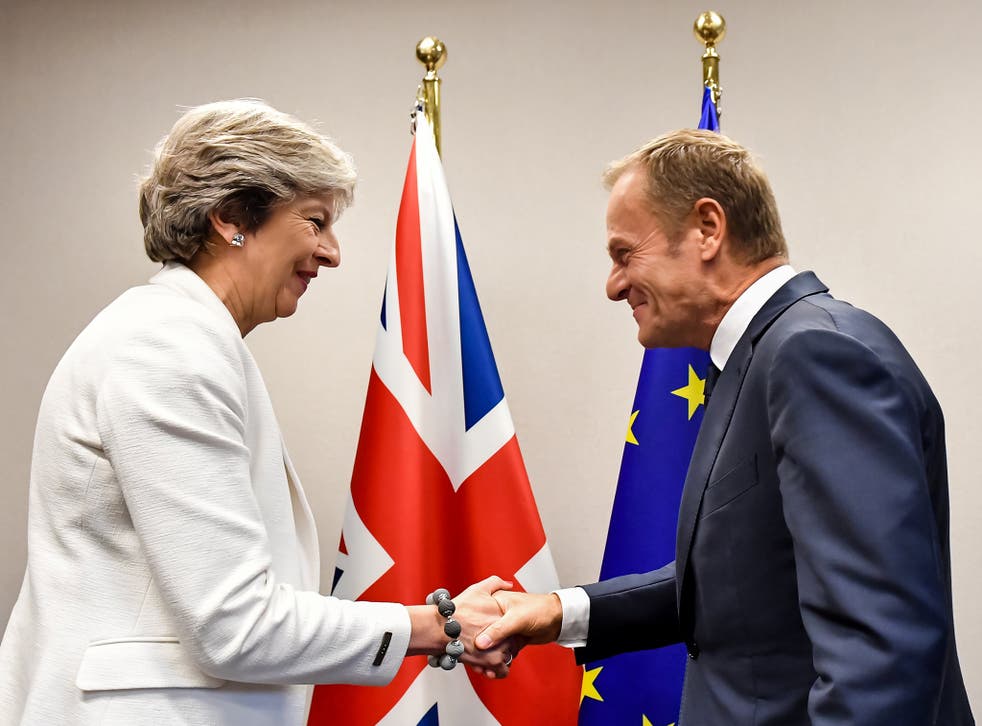 "We must work together to get to an outcome we can stand behind and defend to our people," Theresa May told the EU leaders' summit. Which, roughly translated, means: "You've got to give me something to sell to the hard Brexit brigade among my Cabinet and backbenchers."
The word "defend" was the giveaway; May did not use it in her press conference in Brussels today, speaking only of an agreement "that works for all our people".
The Prime Minister left the meeting with some warm words and friendly body language from her 27 EU counterparts, and a ray of hope that they might agree to open talks on a long-term trade deal in December.
In fact, May was benefiting from one of the leaders' club rules: to help members with domestic woes – for example, allowing them to put off a tricky EU decision in the run-up to an election.
UK news in pictures

Show all 50
So in public, EU leaders were deliberately upbeat about the prospects of agreement, while May was "positive and optimistic". Her admission that there is still "some way to go" was the understatement of the year.
In private, the two sides remain far apart. We shouldn't forget that May had hoped this summit would declare that "sufficient progress" had been made in the first phase of exit talks to move on to trade and a transitional deal. All May got was a fig leaf that the EU would start internal preparations for phase two, without any commitment.
May knows she will have to move further on the divorce payment. She claimed the two sides are "within touching distance" of agreement on citizens' rights, but there remains a serious dispute over the European Court of Justice's role in overseeing them. Possible concessions floated by UK negotiators appear to have been withdrawn – a reflection of the mood among Tory MPs, who reacted angrily when May admitted the ECJ's remit would run during a proposed two-year transition.
May knows that the inevitable messy compromises will anger Tory hardliners. They do not want her to go much beyond the €20bn (£18bn) divorce bill she offered in her Florence speech last month. May is believed to have suggested she would go further during Thursday night's discussions over dinner.
Today she gave a coded hint this would happen, saying the UK was working line-by-line through its list of possible commitments. The issue of pension payments to retired EU officials is solvable. The problem will be the UK's share of projects financed by long-term budgets; that could take the €20bn up to €40bn.
Theresa May admits for the first time that Brexit negotiations have been in 'difficulty'
One way through the minefield is agreement on the main budget headings ("baskets", in EU jargon) without a total figure emerging. Some areas of controversy might be set aside for another day. This would allow May to hold back a deal on money until the last lap of the negotiations next autumn, when the shape of the long-term UK-EU relationship would be clearer.
Again, May and her ministers are nervous; the media would add a huge £ sign to the budget headings, and the headlines would alienate many Tory MPs.
The Brussels talks are complicated enough, but May has other Brexit problems. The Cabinet has not even discussed the long-term deal and is badly split. May will likely try to navigate a middle course between the rival camps led by Philip Hammond, a soft Leaver who wants to hug the EU close to protect the economy, and Boris Johnson, who wants to break free of EU regulations as soon as possible.
Merkel: Brexit progress 'not sufficient' so far
Hardline Brexiteers claim they want a free trade agreement with the EU,but privately some prefer the "no deal" scenario they now talk up as inevitable, even though a World Trade Organisation tariff regime would harm the economy. They are putting growing pressure on May to walk out of the negotiations and put the Government's energies into preparing for "no deal" and a "clean break" in March 2019. One reason for their campaign is that they fear an attempt by Parliament to block "no deal" if the talks collapse.
Their pressure has forced May to speak more about preparing for "no deal" and the Cabinet will discuss the Government's contingency plans later this month. But hopes that this will force the EU to make concessions are misplaced; EU leaders believe the UK needs a deal more than they do. May's late night plea for help on Thursday will do little to dispel that.
To head off the dangerous "no deal" option, some loyalist ministers believe May's final duty to the country could be to "pay the price" twice over: keeping the EU talks on track by giving ground on money in December, and then being ousted by Brexiteer MPs in January. The compromises would be banked by the EU and still hold. But it would fall to May's successor to complete the Brexit process.
Register for free to continue reading
Registration is a free and easy way to support our truly independent journalism
By registering, you will also enjoy limited access to Premium articles, exclusive newsletters, commenting, and virtual events with our leading journalists
Already have an account? sign in
Register for free to continue reading
Registration is a free and easy way to support our truly independent journalism
By registering, you will also enjoy limited access to Premium articles, exclusive newsletters, commenting, and virtual events with our leading journalists
Already have an account? sign in
Join our new commenting forum
Join thought-provoking conversations, follow other Independent readers and see their replies