Theresa May's Cabinet reshuffle in January will be wider than expected
One key question for the Prime Minister will be whether to move Boris Johnson, who is plainly not cut out for his role as Foreign Secretary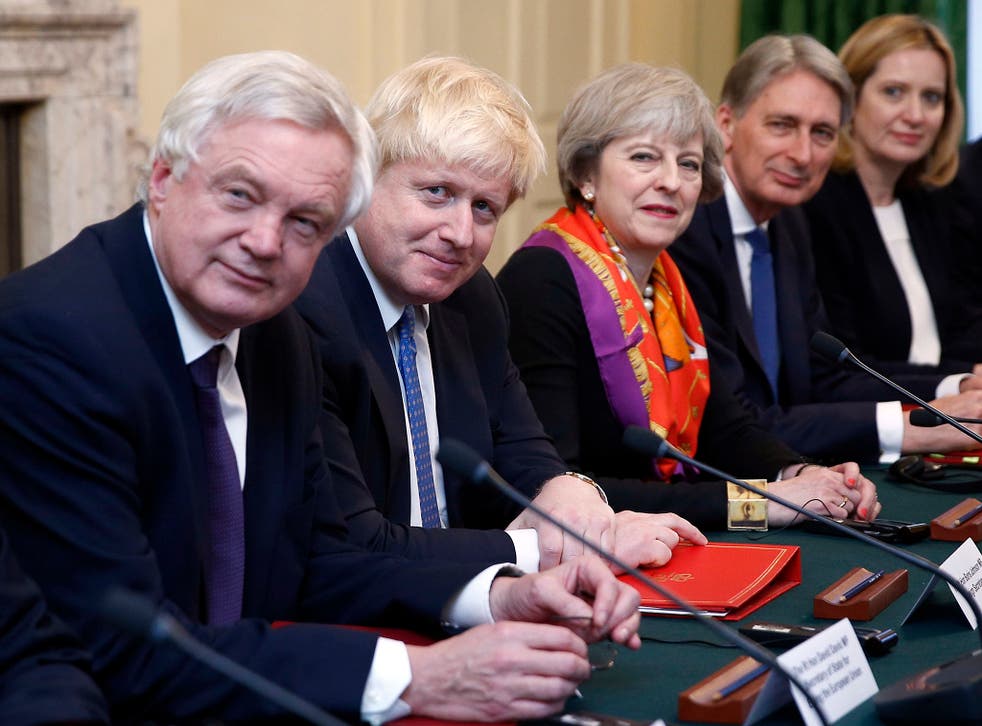 The safest Christmas bet is that the workaholic Theresa May will not switch off for long during her minibreak. Her mind will soon drift back to the item at the top of her in-tray for the New Year: a Cabinet reshuffle.
Before she sacked her deputy Damian Green on Wednesday, May's advisers had been urging her to shake up her top team and bring some fresh blood into the Government's junior and middle ranks.
No decision had been taken and some advised May to keep a reshuffle up her sleeve until after next May's local authority elections, when the Conservatives are likely to get a bloody nose, especially in London. Green's departure has now made a January reshuffle inevitable, and it will probably be wider than expected.
Although Green had known May since Oxford University, he was not her political soulmate. The only one is Philip – May, not Hammond.
Green felt a bit let down by her when he was sacked as Immigration Minister in 2014. It was David Cameron's decision, but May (his boss as Home Secretary) did not protect him. Nor was Green by any means certain he would return to government when May became Prime Minister in 2016. In the event, she promoted him to the Cabinet as Work and Pensions Secretary.
UK news in pictures

Show all 50
Green's most valuable role was not as a confidant but as a trusted Cabinet fixer who knew May's mind and could sort problems without bothering her. He helped to fill the vacuum when her two closest aides, Nick Timothy and Fiona Hill, paid the price for the June election disaster.
Green served on 19 Cabinet committees or sub-committees, chairing nine of them. He was a link man with the Democratic Unionist MPs who keep May afloat. He was certainly missed when, distracted by the inquiry into his behaviour, poor communications with the DUP almost sunk the phase one Brexit deal.
Downing Street insiders say Green will not necessarily be replaced as First Secretary of State, which made him "deputy PM in all but name". If May appointed Jeremy Hunt or Amber Rudd, the two frontrunners, it would be seen as anointing her successor and anger their rivals for the Tory crown.
So it is very possible that we don't get a new deputy PM. Someone will have to deputise for May at Prime Minister's Questions when she is away, as Green did. The job has sometimes been done by the Leader of the Commons. May would not hand it to the current holder Andrea Leadsom, her leadership rival last year, but she will likely be moved in the reshuffle.
The more important role will be oiling the wheels of government. Hunt or Rudd are good enough to do it and, crucially, are both trusted by May. Her first choice might be William Hague, but he has signalled he has no appetite to return to the frontline.
Michael Gove is close to two senior No 10 figures – Gavin Barwell, the chief of staff, and Robbie Gibb, the director of communications – who could therefore keep a close eye on him. But he might fail the "do I really trust him?" test.
David Lidington would pass it and maintain the Cabinet's balance on Brexit as a pro-European like Green, but May might want to keep him at the Ministry of Justice.
Gavin Williamson is a May favourite but has made enemies among envious backbenchers since his rapid promotion to Defence Secretary last month. It is too soon to mark him out as her favoured successor.
Two old hands from the Cameron era, Oliver Letwin and Francis Maude, have useful Cabinet Office experience but are not close to May. A good outside bet would be Ben Gummer, who also served there and co-wrote the Tory manifesto before losing his own seat in June. As luck would have it, he has been tipped for a peerage soon, removing an obstacle to a comeback.
One key question for May will be whether to move Boris Johnson, who is plainly not cut out for his role as Foreign Secretary. Some Tory MPs want him to champion "Global Britain" as Business Secretary. One idea last autumn was to shift both him and the Chancellor Philip Hammond to maintain the delicate Brexit balance. But Hammond now looks safe, so moving Johnson becomes harder.
Reshuffles can backfire; prime ministers usually create more enemies than friends. Some Young Tory Turks are bound to be disappointed.
Moving the deckchairs rarely makes much difference to the ship of state. The number one priority for Green's successor is to drive through the domestic policy agenda the May Government so woefully lacks. But don't hold your breath.
As one senior Tory told me: "There'll be a big push in the New Year – and then we'll all go back to talking about Brexit."
Register for free to continue reading
Registration is a free and easy way to support our truly independent journalism
By registering, you will also enjoy limited access to Premium articles, exclusive newsletters, commenting, and virtual events with our leading journalists
Already have an account? sign in
Register for free to continue reading
Registration is a free and easy way to support our truly independent journalism
By registering, you will also enjoy limited access to Premium articles, exclusive newsletters, commenting, and virtual events with our leading journalists
Already have an account? sign in
Join our new commenting forum
Join thought-provoking conversations, follow other Independent readers and see their replies