The Independent's journalism is supported by our readers. When you purchase through links on our site, we may earn commission.
When dust clears, Theresa May could be last Tory leadership contender standing
She is still third favourite with the bookmakers behind Boris Johnson and George Osborne, and just ahead of Michael Gove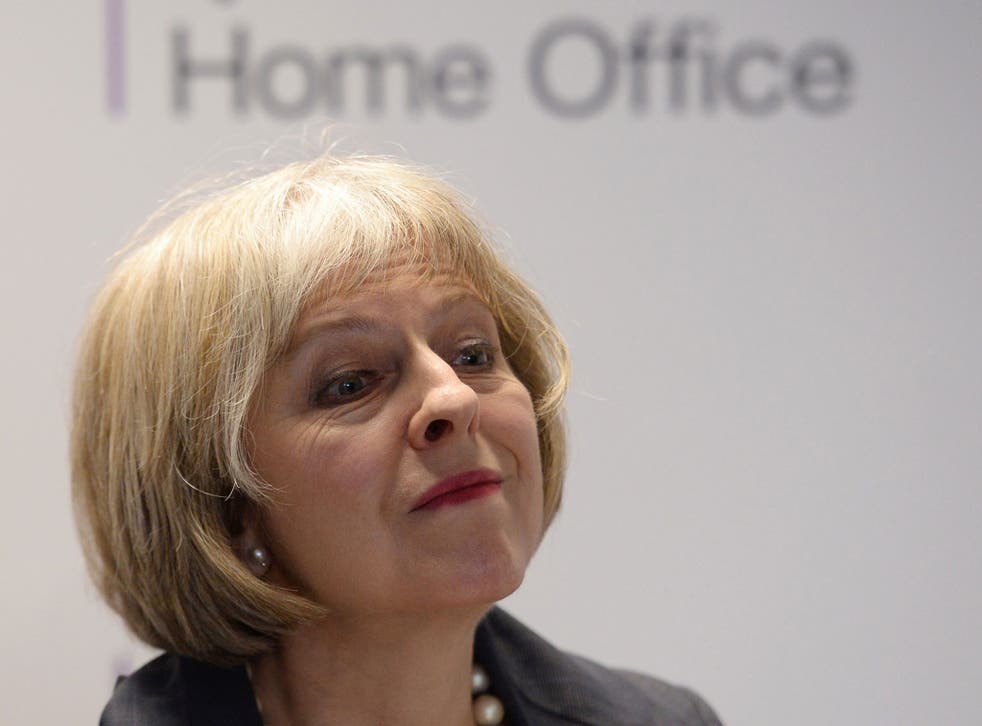 Theresa May has done two unexpected things recently. What did she mean by them? She appointed Joey Jones, recently deputy political editor at Sky News, as her official spokesman. The Daily Telegraph reported that his appointment "prepared the ground for a challenge for the Conservative leadership".
I cannot fault the Telegraph: I reported the discovery that George Osborne has 10 special advisers – five times the normal limit for cabinet ministers – as evidence of his ambition to succeed David Cameron.
Jones's appointment is a bit different, though, because he has joined the Home Office as a civil servant and not a political adviser. So it could be that the Home Secretary has appointed a respected and experienced journalist to manage communications for her important department.
Indeed, May resolutely refrains from the kind of campaigning pursued by those with a more obvious eye to the leadership. Osborne, Boris Johnson and even Penny Mordaunt and Priti Patel have been entertaining MPs – the voters for the first stage of the leadership contest – and touring local associations – the voters for the second stage.
May, however, seems to be following the unconventional course of getting on with her job.
What, though, did she mean by her decision to support Remain, and her speech that said Britain should stay in the EU but pull out of the European Convention on Human Rights? So keen are some commentators to see leadership calculations in everything that this has been interpreted as trying to be as Eurosceptic as possible – thus appealing to the party members – while staying in with staying in.
Equally, it could be that this is what she believes. Never rule out conviction. Just as I think Johnson is genuine in wanting to leave the EU, perhaps she is sincere in her support for staying in. In his case, I would note that his wife, Marina Wheeler, is an Outer. In May's case, it was interesting that her speech mentioned Scotland breaking away as a likely consequence of an Out vote, a powerful pragmatic sentiment that I share.
When I say some commentators have interpreted May's record as Home Secretary through the prism of the Tory leadership, I include me. Looking back I have written about her chances of succeeding Cameron – including a memorably bad line about Theresa Might – and how it was in her interest, if Boris didn't go for Brexit, to lead the Outers herself.
Two things happened to scupper that prediction. One was the rising numbers for net immigration, of which Thursday's were the most recent instalment, eating away at her reputation for competence. The other was Johnson's declaration for Leave.
Yet she is still third favourite with the bookmakers behind Boris Johnson and George Osborne, and just ahead of Michael Gove.
Her career in politics has been a triumph of persistence over the more showy virtues. For a time after her early promotion – she was shadow Education Secretary in 1999, two years after becoming an MP, and then party chairman – she seemed to be in the shadow cabinet's bed next to the door. She was shadow Leader of the House of Commons for four years, but after the 2010 election she went from Work and Pensions in opposition to the Home Office. She is now the longest-serving Home Secretary since James Chuter Ede, who lasted six years and two months until 1951.
She is not an exciting politician. Her technique in the House of Commons is to repeat herself when she cannot answer a question. But she does have a sense of humour. The Daily Mail noticed three years ago that she wore a dress similar to a model's and asked, "Is Theresa May the new Cara Delevingne?"
She said: "I think we can safely say that the answer to that has to be filed by John Rentoul as a question to which the answer is no."
And this month she began her evidence to the Home Affairs select committee by saying: "The sign outside says 'Prostitution; the work of the Home Secretary', which did somewhat concern me as to what you're going to ask me."
My simplified version of how the Tory leadership election will work is this: the MPs choose a shortlist of two to put to the party members. They will probably choose an Inner and an Outer and the members will choose the Outer as the new prime minister. Johnson is likely to be the Outer, although I speculated last week that Andrea Leadsom, who is having a good referendum campaign, might supplant him.
The Inner slot, on the other hand, is wide open, after the slump in the Chancellor's fortunes. A May versus Johnson leadership campaign would be intriguing, and you can never be sure of the outcome of such things.
Despite her failure to meet the Government's immigration target – a target set by Cameron – she has survived. Maybe, when the leadership election comes in three years' time, she will still be standing while all those around her have fallen.
Register for free to continue reading
Registration is a free and easy way to support our truly independent journalism
By registering, you will also enjoy limited access to Premium articles, exclusive newsletters, commenting, and virtual events with our leading journalists
Already have an account? sign in
Register for free to continue reading
Registration is a free and easy way to support our truly independent journalism
By registering, you will also enjoy limited access to Premium articles, exclusive newsletters, commenting, and virtual events with our leading journalists
Already have an account? sign in
Join our new commenting forum
Join thought-provoking conversations, follow other Independent readers and see their replies