Theresa May – as you travel to China, let me tell you about my family's treatment under Xi Jinping
You were Home Secretary when my husband was arrested in London for protesting Xi Jinping's visit – 27 months later, we are still waiting for answers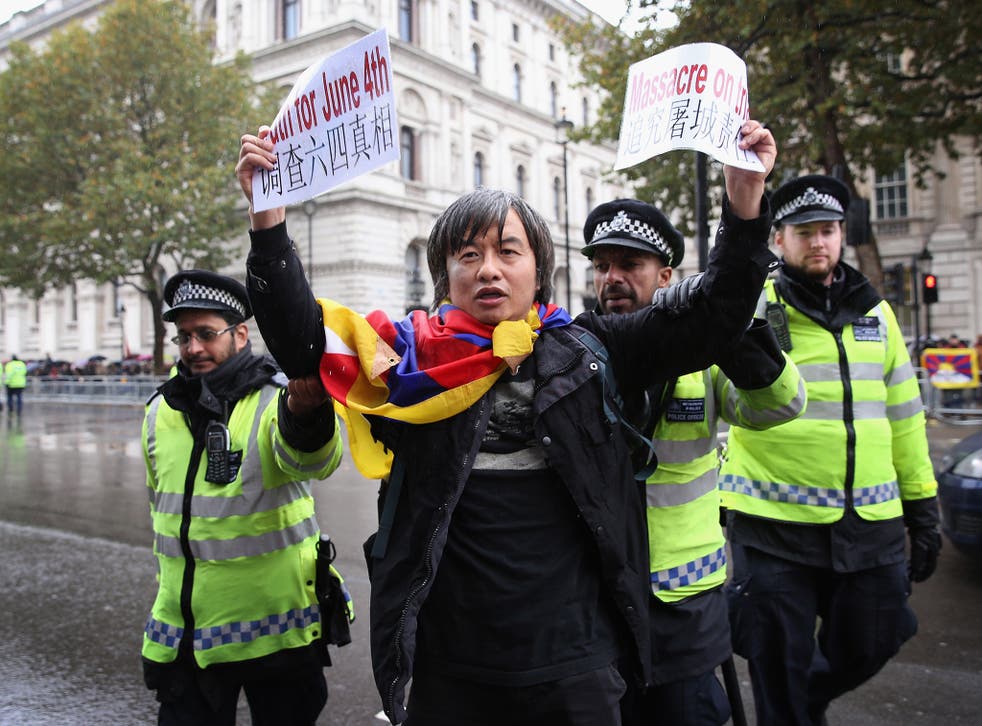 Dear Prime Minister,
As you prepare for your trip to China, I want to share my own recent experience to remind you about the host you will be visiting.
My name is Johanna Zhang and I am a British citizen and artist living and working in London. Last week, my father died and so naturally I travelled to China for his funeral. However, I only got as far as Beijing airport. There, I was prevented from saying goodbye to my father, or from comforting my frail mother. Like so many others in today's China, I was considered an unwelcome presence. I was cast out. Silenced. Removed. The people's republic is not for all people.
The immigration officer gave me nothing in writing and would only say that it had been determined that my presence in the country could "endanger national security and disrupt social order".
World news in pictures

Show all 50
If a daughter mourning her father is treated as a potential threat to Chinese national security, no wonder there have been more than 20 people arrested for mourning Liu Xiaobo, the Nobel laureate and democracy fighter who died after years in police custody last July. Simply calling for democracy in China is a dangerous undertaking – it can cost you your family, your freedom and your life. His wife, the poet Liu Xia, is still under house arrest, with no legal justification at all.
Amnesty International continues to call for her release and to raise concerns about her poor health. I am sure a visit to her will not be on your itinerary.
Could the Chinese immigration authorities' decision have had something to do with the fact that I am married to a Tiananmen massacre survivor? Perhaps you will visit Tiananmen Square this week, perhaps you will dine in the hall overlooking it, but you will not be told about the peaceful protests there in 1989, nor will you be told about how troops opened fire on the unarmed students, killing hundreds.
Or could it be related to my husband's peaceful protest during the Chinese state visit to the UK in 2015 which so enraged the dictator Xi Jinping? You served as the Home Secretary at the time, when my husband Shao Jiang was arrested for holding up a placard. While my husband remained under arrest our home was searched, our computers impounded. Given the close working relationship between the London and the Chinese police during the visit, this was of course a terrifying prospect which could have put so many people in danger.
Twenty-seven months later, you are the Prime Minister – yet we are still waiting for an IPCC ruling on our treatment. It's hard not to conclude that by trading human rights for lucrative business deals, the UK has not only betrayed activists in China, but has allowed its own civil standards to be eroded here at home too.
I have no doubt that your own visa will get you into China without issue – but when you are there, remember those of us who are not. You might be eager to sign a deal, but remember also just who you are dealing with – and at what cost.
Johanna Zhang is an artist who works with Amnesty International
Register for free to continue reading
Registration is a free and easy way to support our truly independent journalism
By registering, you will also enjoy limited access to Premium articles, exclusive newsletters, commenting, and virtual events with our leading journalists
Already have an account? sign in
Join our new commenting forum
Join thought-provoking conversations, follow other Independent readers and see their replies