Theresa May has just handed Scottish independence to Nicola Sturgeon on a plate
One career politician in Westminster is striking while the iron is hot, and so is another north of the border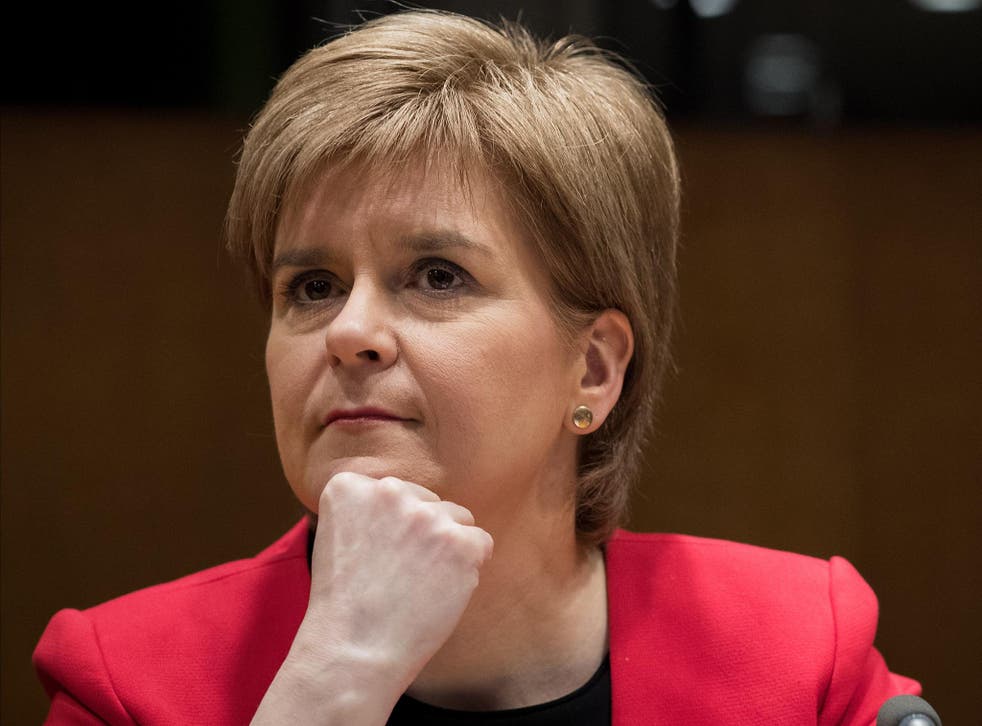 Nicola Sturgeon must be rubbing her hands with glee at this moment.
In the aftermath of Theresa May's announcement to hold a snap election, Sturgeon knows how most Scots will receive the news: badly.
Provided May is allowed to hold the election by Parliament, it will most likely lead to a Conservative victory and further degradation of the opposition – one poll predicts the Conservatives will end up with a 100-seat lead in Parliament. So long 2020: May could stay in power until 2022.
Sturgeon's tweet after the news hit the nail on the head: "The Tories see a chance to move the UK to the right, force through a hard Brexit and impose deeper cuts. Let's stand up for Scotland. #GE17," she said.
One career politician in Westminster is striking while the iron is hot, and so is another north of the border.
Sturgeon has already won the backing of Holyrood to hold another referendum between 2018 and 2019, but needed the people's support for a second push. She might have it now, and could force May's hand into the bargain.
Sturgeon: May using election to 'crush opposition' and take UK in an 'ever rightward' direction
No one has forgotten the £12 billion cuts to welfare. Austerity is a bitter pill to swallow when there is no light at the end of the tunnel. Yet the Scottish people might never have thought they would have to choose between debilitating cuts under May and breaking away from the UK altogether.
The Conservatives won the 2010 election off the back of false rhetoric which said Labour's expenditures caused a global financial crisis. They then whipped up a frenzy of xenophobia and ignorance to take us out of the European Union, walked away without a stain, and then convinced us they were the best ones to clean up the mess.
Over the past few years, the sustained media attack against Jeremy Corbyn, who was elected in a landslide – twice – has fuelled the perception that there is not a credible opposition.
It has only been seven years and we have already forgotten why we take pride in allocating money (less than 1 per cent of gross national income) to foreign aid, why we need immigrants to power our economy, why we need to stop spreading myths of welfare "hand-outs" and watching shows like Benefits Street.
Theresa May goes back on election promise
Nicola Sturgeon knows all of this; she knows the potential devastating impacts of a prolonged Tory government and the hard Brexit it's likely to bring. She knows people are growing tired and impatient of cuts to welfare, without seeing an equal attack upon big companies and wealthy individuals.
She knows that the tide might be turning in her favour. Ironically, May thinks now is the time to cement her hold on power, under the guise of creating unity in Westminster. What the snap election will do is just the opposite – and she might be surprised by how Scotland responds.
Register for free to continue reading
Registration is a free and easy way to support our truly independent journalism
By registering, you will also enjoy limited access to Premium articles, exclusive newsletters, commenting, and virtual events with our leading journalists
Already have an account? sign in
Register for free to continue reading
Registration is a free and easy way to support our truly independent journalism
By registering, you will also enjoy limited access to Premium articles, exclusive newsletters, commenting, and virtual events with our leading journalists
Already have an account? sign in
Join our new commenting forum
Join thought-provoking conversations, follow other Independent readers and see their replies