Theresa May was right to go to Scotland this week – but she can't ignore Northern Ireland for ever
The fall of the power-sharing executive in Northern Ireland was not the direct result of the Brexit vote, but the strain it put on the Union didn't help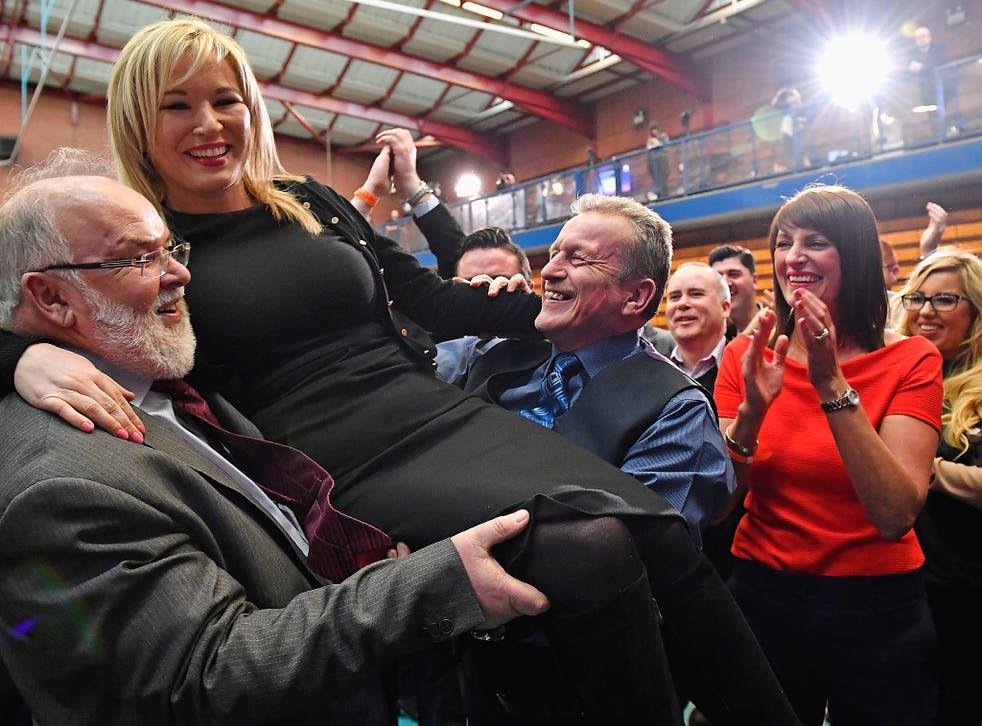 The Prime Minister was in Glasgow on Friday, reminding her party's Scottish conference that its full name is the Conservative and Unionist Party. She didn't say it got the Unionist part of its name from being opposed to Home Rule for Ireland in the 19th century, but while she was in Scotland trying to repair the damage done by the Brexit referendum, it was in Northern Ireland that we could hear the breaking sound.
The fall of the power-sharing executive in Northern Ireland was not the direct result of the Brexit vote, but the strain it put on the Union didn't help. As in Scotland, a majority of people in Northern Ireland voted to remain in the European Union. Most people in England and Wales, however, voted, in effect, to bring in customs checks on the border between Northern Ireland and the Republic. That was not uppermost in most of their minds, but it is often the unintended consequences that matter.
For the DUP, which supports Brexit, this adds to its crisis. Its leader, Arlene Foster, has been unable to shake off responsibility for a piece of third-rate incompetence: a green energy scheme that ended up paying farmers millions to heat empty sheds. Her poor handling of it allowed Sinn Fein to force this week's election, in which it gained ground at the DUP's expense. Now unionists in Northern Ireland, already feeling under demographic pressure, face the prospect of direct rule from Westminster which will only strengthen the hand of those who want the North eventually re-united with the South.
UK news in pictures

Show all 50
The parallel with Scotland is striking even though the timetable in both cases is unclear. In both cases, the majority wanted to stay in the EU, and in both cases there is an obvious way of doing so – a way that is divisive and not yet supported by a majority in either case. Northern Ireland could stay in the EU by joining the rest of Ireland, an option it rejected in the Belfast agreement and the two referendums north and south of the border in 1998. Scotland could do so by opting for independence, which it rejected in its referendum two and a half years ago.
For the moment, then, the important group of voters in Scotland and in Northern Ireland are those who voted Remain but who accept that the UK should leave. These are a large and misunderstood group even in England and Wales. About a quarter of voters (23 per cent) across Great Britain say they didn't vote to leave the EU, "but now the British people have voted to leave the Government has a duty to carry out their wishes and leave". In Scotland and Northern Ireland there must be a further category of voters, one on which I haven't seen any polling evidence: those who want to stay in the EU, but who do not want to break up the UK to do so.
What is surprising, in fact, is how little the Brexit vote has weakened unionism in both Scotland and Northern Ireland. Since the EU referendum, support for independence in Scotland has hardly shifted. Although one or two polls say it is close, and attract attention, most suggest that independence would lose again.
Northern Ireland election results: Who made gains and who lost out?
And in Northern Ireland, despite Sinn Fein's advance since last May, the unionist parties still have 40 seats to 39 for the nationalists and 11 uncommitted: we are still a long way from majority support for a united Ireland.
So that is why May was in Glasgow this week. She and Nicola Sturgeon, the Scottish First Minister, are engaged in an intricate game of bluff. Sturgeon has been inching towards calling for another referendum on independence, while trying not to lose control of the momentum of her own supporters. May scored a point by urging Sturgeon to get on with the real job of making Scottish schools better.
But in Aberdeen in two weeks' time, at the SNP spring conference, Sturgeon will have to decide – another grandmother's footstep, or a rush for it? I think she'll go for it, and demand another referendum. I think she has to, because the triggering of Article 50 is the obvious time: the next possible moment would be when the Brexit deal emerges, for which Michel Barnier, the EU negotiator, has set a target of October 2018. But that is a bit late to organise a referendum before the (rest of the) UK leaves the EU in March 2019.
Also, Sturgeon must know that May is likely to refuse to grant a referendum – a decision that is still in the power of the Westminster Government. That refusal would have the same propaganda value to the Scottish National Party as direct rule has for Sinn Fein. May is not a risk-taker. Even if the polls in Scotland remain favourable, she has seen what can happen when a prime minister offers a referendum when he didn't absolutely have to.
Her aim, therefore, is to stall the forces that are pulling Scotland and Northern Ireland out of the UK until after Brexit. Once the UK is out of the EU, the pull exerted by the EU changes. Then, the SNP and Sinn Fein would be arguing to go back into the EU, rather than to stay in, which is a very different proposition. That is why, I suspect, May was in Glasgow this week. The Brexit negotiations are daunting, but she knows that if they go badly she can blame other countries in Europe. And she thinks that Brexit will happen. If, on the other hand, she loses Scotland or Northern Ireland, she knows her name will go down in history as a failure. She will fight to avoid that at all costs.
Join our new commenting forum
Join thought-provoking conversations, follow other Independent readers and see their replies