If she really believes what she says about business, Theresa May should strip Philip Green of his knighthood
May has promised to create 'a country that works not for the privileged few but for every one of us.' To achieve that, her challenge will be to change a business culture laid bare by the BHS report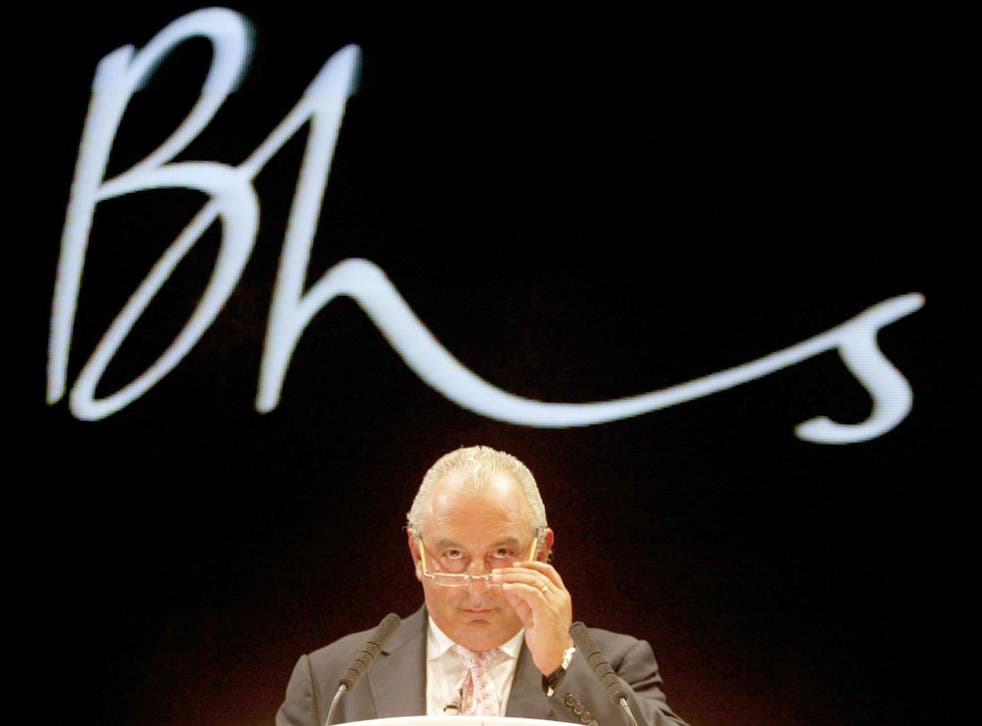 Sir Philip Green used to annoy some Government ministers by ringing them on their mobiles to impart his advice on what they should do – even, occasionally, when they were on holiday. They may have rolled their eyes, but were prepared to tolerate the calls from the man dubbed "the king of the high street." Now ministers have a golden opportunity to show that they are not part of a cosy club along with Green.
A devastating joint report by two Commons select committees has shone a spotlight on how he plundered BHS's assets for his family's benefit. Its 11,000 employees are losing their jobs as the company's stores close their doors, while 20,000 pensioners face a miserable retirement.
The MPs' verdict provides an early test for Theresa May, who cannot afford to miss the chance to turn her rhetoric about tackling "irresponsible behaviour in big business" into reality.
Whatever the niceties about the roles of the honours forfeiture committee and the Queen, May should make clear immediately that Green should lose a knighthood awarded for "services to retailing". The Prime Minister should ring Green on his mobile and tell him to use his vast wealth to make good the £571m deficit in the BHS pension fund. She should ensure that, in future, the pension regulator intervenes quickly so that company assets are put into a vulnerable pension fund rather than siphoned off.
Philip Green apologise to BHS
May also needs to acknowledge that BHS was not an isolated case, as the appalling treatment of its workers by Sports Direct has shown. Her Government should bring in swift legislation to make good her promises during her short and sweet campaign for the Tory leadership.
She raised the prospect of consumer and worker representation on company boards and annual shareholder votes on corporate pay being binding, rather than advisory as at present; she should bite the bullet by ensuring new corporate governance rules apply to large private firms such as BHS, as well as public companies.
But if May is really serious about creating responsible capitalism, she will need to go further. An important issue raised by the scathing report on BHS is the failure by supine lawyers and accountancy firms, and even a merchant bank, to raise the alarm about the sale of BHS to a man with no retail experience and who had gone bankrupt three times. The Government must ensure that such advisers act in the national interest rather in the interest of their fat fees.
The Prime Minister should adopt a tougher approach to corporate tax avoidance than we saw in the Cameron-Osborne era. Of course international action is vital, but Britain can do more to set an example. It is unacceptable that companies such as Google, which generate huge sales in the UK, should be taxed on profits diverted to other countries. May should ensure that the UK's 17 overseas territories and crown dependencies like Bermuda and Jersey open registers on company ownership to the public, rather than only to law enforcement agencies.
To her credit, May has promised to create "a country that works not for the privileged few but for every one of us." To achieve that, one of her biggest challenges will be to change a business culture laid bare by the BHS report. The working class families she vows to champion have seen the dice loaded against them since the 2008 financial crisis, with wage stagnation and the growth of zero hours contracts.
The 6 most important issues Theresa May needs to address

Show all 6
There are welcome signs that May wants to rebalance our economy and will be less in thrall to the City of London than David Cameron and George Osborne. She has revamped the Business Department so it will have a proactive industrial strategy and promised to block takeovers not in the national interest. However, it will be difficult to complete Osborne's unfinished "march of the makers" while the economy suffers the chilling effect of the Brexit decision. The planned new trade deal with China, if it happens, could suck in cheap imports.
No doubt May will run into opposition; there will be voices in business, and her own party, telling her not to turn into Ed Miliband or return to the corporatism of Sir Edward Heath's Tory government in the 1970s (which Germany has prospered with). Perhaps business will swallow reforms from a Conservative government that it would have greeted with howls of outrage if put forward by a left-wing PM.
May has set a high bar for herself by promising to make capitalism work for the many rather than the few. The BHS scandal shows that she must clear it, and gives her plenty of ammunition. To quote Miliband, she needs to rid British business of its predators.
Register for free to continue reading
Registration is a free and easy way to support our truly independent journalism
By registering, you will also enjoy limited access to Premium articles, exclusive newsletters, commenting, and virtual events with our leading journalists
Already have an account? sign in
Join our new commenting forum
Join thought-provoking conversations, follow other Independent readers and see their replies